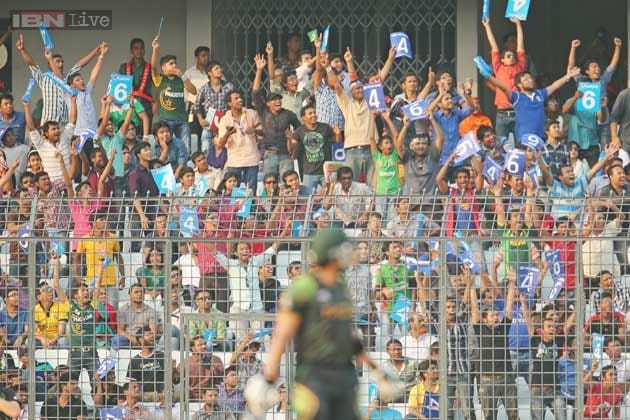 Pakistan authorities need to restore the confidence of the cricketing world to bring international activity back to the country, an Asian Cricket Council official said Tuesday.
Pakistan have not hosted any international cricket since a brazen militant attack on the Sri Lankan team bus in Lahore in March 2009.
The Asian Cricket Council (ACC) chief executive Ashraful Haque said the situation was improving but that Pakistan needed to do more to convince teams to tour there.
"At the ACC level we are doing our best to help Pakistan, through educational things, convincing Under-15 and Under-19 teams to come but Pakistan needs to restore the confidence of the cricketing nations," Haque told AFP on Tuesday after an ACC development committee meeting.
The attack, which left eight people dead and seven visiting players injured, caused foreign teams to shun tours to Pakistan, leaving it in international isolation.
The five years of exile have forced Pakistan to play most of its home series at neutral venues in the United Arab Emirates (UAE).
Haque said there efforts are underway to convince smaller Asian nations to tour Pakistan once again.
"I have no security concerns in Pakistan," said Haque, a former first class cricketer from Bangladesh. "We are trying to convince the minor Asian cricketing nations like the UAE, Hong Kong and Nepal to tour Pakistan in a programme which will give an opportunity to these fledgling countries to play bigger Asian countries like Pakistan, India, Sri Lanka and Bangladesh."
Haque said Bangladesh hosted the Asia Cup (February-March) and World Twenty20 (March-April) despite the initial security concerns in the lead-up to troubled general elections there.
"There were apprehensions about Bangladesh though both the tournaments were held without trouble," said Haque, adding however that Pakistan faced greater challenges, so would need to work harder for the same result.
Haque said Asian countries have shown solid improvement at the international level.
"(The) ACC programme for new nations is bearing fruit and it was evident during the World Twenty20 where four of the six qualifiers were from Asia," said Haque of the UAE, Afghanistan, Nepal and Hong Kong who featured in the World Twenty20.
"In the 2015 World Cup (50 overs), two of the four qualifying teams are from Asia, so our continent is the fastest growing in the world as far as cricket is concerned," said Haque.
Afghanistan and the UAE qualified for the 2015 World Cup to be jointly hosted by Australia and New Zealand.
"Nepal did so well in the World Twenty20 and Hong Kong beating Bangladesh in World Twenty20 are very good signs for Asian cricket," said Haque.