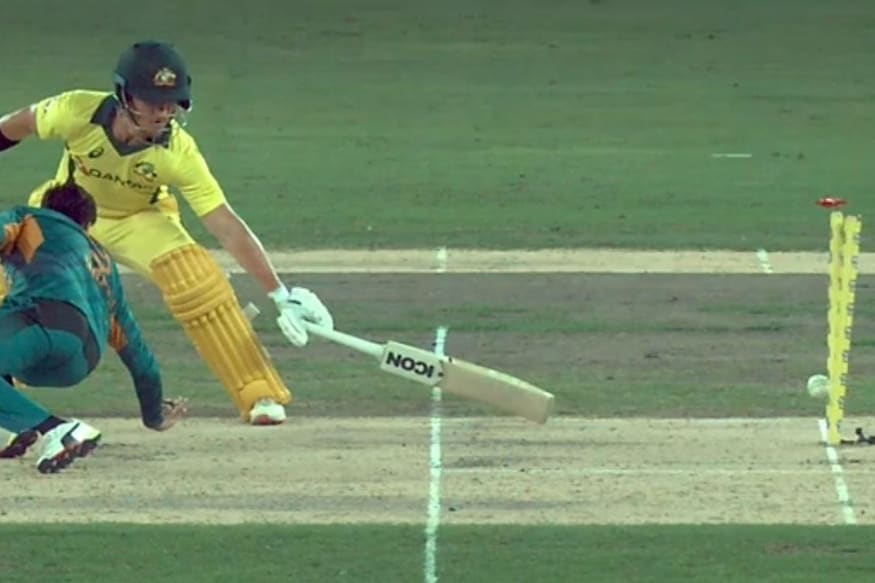 Australia batsman Glenn Maxwell reckons that an error was made by the third umpire during the dismissal of D'Arcy Short against Pakistan in the second T20 international in Dubai.

The opener was at the non-striker's end when spinner Imad Wasim managed to get his fingertips to the ball driven down by Aaron Finch that went on to hit the stumps. Replays suggested that as the bails were coming off, Short seemed to have slide the bat in the crease.

However, third umpire Shozab Raza had a different opinion. Even on air, Michael Hussey and Waqar Younis thought that Short had not grounded the bat.




D'Arcy Short's bat... up or down? pic.twitter.com/m25auZCdBa


— FOX SPORTS Cricket (@FoxCricket) October 27, 2018



After a terrible start, Maxwell's 52 nearly managed to take his side home but regular loss of wickets at the other end and his eventual dismissal in the final over, after three dropped catches, resulted in 11-run loss on Friday. At the post match press conference, the 30-year-old, and his teammates he said, were certain that Short should not have been given out.

"We certainly had a view as a team that we thought his bat was clearly grounded behind the line," Maxwell said after the loss.

"Maybe the third umpire pressed the wrong button. We've all made mistakes.

"As we probably saw it in the change rooms, there wasn't really any doubt.

"I think if you even look at the way he's holding his bat, it's very hard to hold it above the line with the bat sitting out of his gloves."

Speaking about his innings, Maxwell said, "It was nice to get some reward for a lot of hard work behind the scenes. I've had probably a bit of a disjointed start to the summer and been thrown around in a few different conditions. Hopefully it's the start of a long run of scores."

While the Australia camp was convinced Short was not out, Pakistan captain Sarfraz Ahmed was baffled after the game when asked about Finch's emotional response on the field, who was completely dissatisfied with the decision by the third umpire.

"I don't know why (there was) so much reaction because clearly it is out," he said. "The bat is not on the ground."

The win on Friday sealed the T20I series for Pakistan, with a game to go at the same ground on Sunday.

First Published: October 27, 2018, 2:24 PM IST