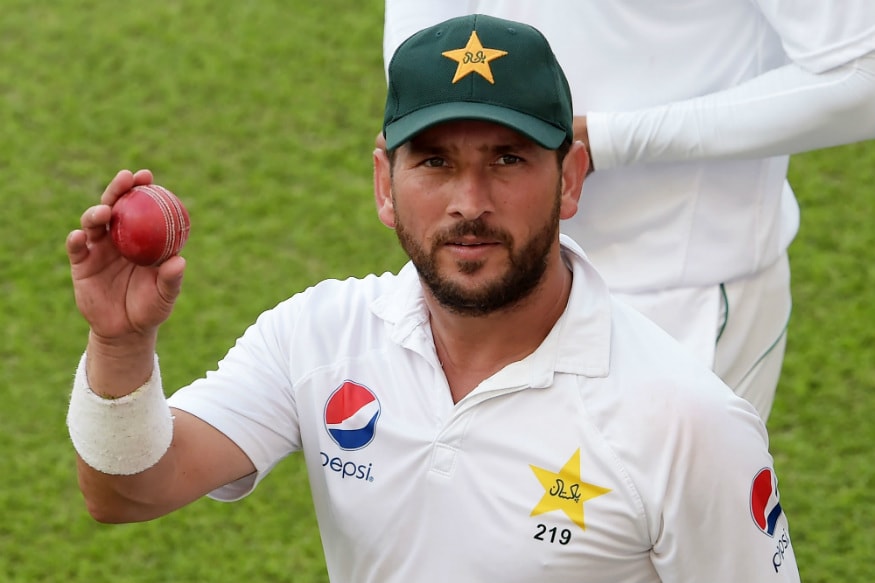 Yasir Shah became the fastest – in terms of number of Tests played – to pick 200 Test wickets in the game's history on Day 4 of the third and final Test against New Zealand in Abu Dhabi. He achieved the feat in his third over of the day when he trapped William Somerville leg before wicket.

Yasir reached the landmark in just 33 Tests breaking an 82-year-old record held by another leggie, Clarrie Grimmett from Australia, who had bagged 200 Test wickets in 36 Tests.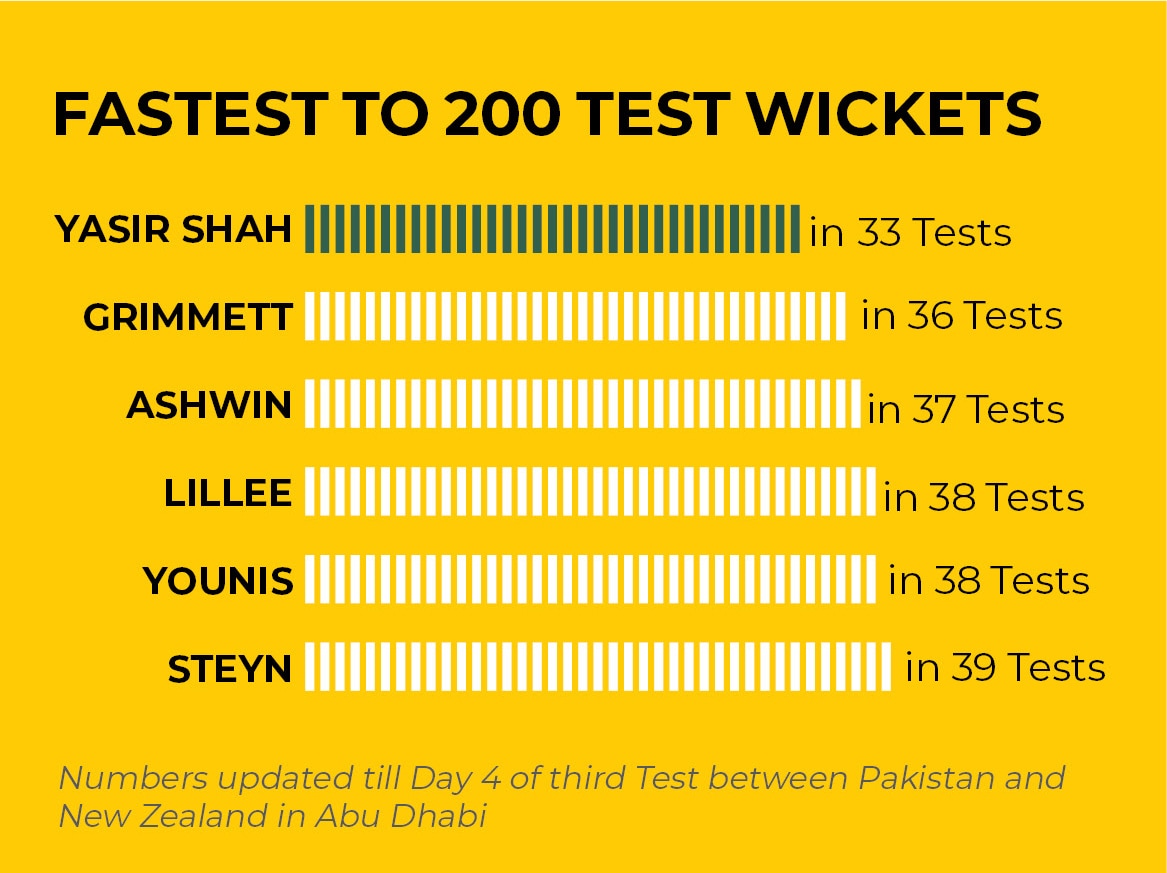 Yasir had picked 14 wickets in the second Test in Dubai, annihilating the New Zealand batting, to spin Pakistan to an innings win, thereby helping them level the three-match series 1-1.

Yasir's match-figures of 14/184 in this match were the second-best for a Pakistani bowler in their Test history after Imran Khan's 14-116 against Sri Lanka in Lahore in 1982.

AFTER 33 TESTS

Yasir has 10 more wickets than Waqar Younis (second-highest number of wickets) after 33 Tests. He betters R Ashwin's 183 wickets after 33 Tests – by 17 wickets.

Just for perspective, Warne had tallied 159 wickets after 33 Tests whereas Muralitharan aggregated 135.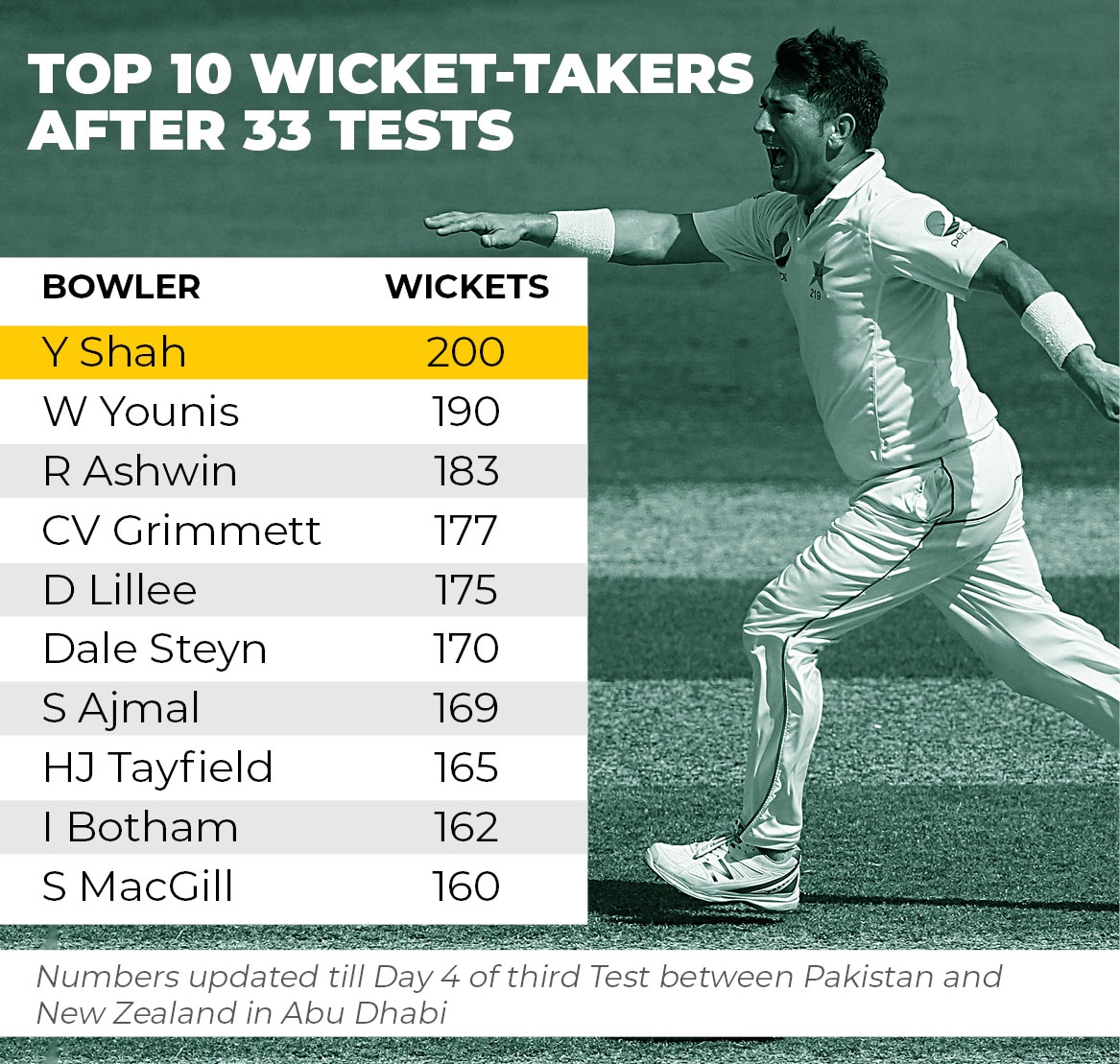 A SENSATIONAL WICKET-TAKER FOR PAKISTAN

Yasir has been a sensational wicket-taker for Pakistan. His bowling strike rate of 55.4 is the best for a Pakistani spinner in Test cricket (min. 100 wickets). Just for perspective, Saeed Ajmal had a strike rate of 65.1, Saqlain Mushtaq 67.6, Mushtaq Ahmed 67.7, Danish Kaneria 67.8 and Abdul Qadir 72.5.

In fact, his strike rate is the sixth-best in Pakistan's bowling history after Waqar, Shoaib Akhtar, Mohammad Asif, Imran and Wasim Akram.

Yasir, on an average, has picked 3.125 wickets every innings he has bowled for Pakistan. This is the best wickets per innings ratio for his country (min. 100 wickets). He is followed by Ajmal (2.66), Fazal Mahmood (2.62), Imran (2.55) and Waqar (2.42).

His bowling average of 28.43 is the third-best for a Pakistani spinner after Ajmal (28.10) and Iqbal Qasim (28.11). It is better than spin legends like Saqlain, Qadir, Mushtaq and Kaneria.

Yasir has picked 16 fifers in 64 innings – i.e. one fifer every 4 innings. This is the best frequency for a fifer in Pakistan's Test history.

AMONGST THE BEST OF ALL-TIME

Yasir is in an elite group of spinners in terms of his wicket-taking prowess.

Of the 36 spinners who have taken a minimum of 150 Test wickets, Yasir's strike rate of 55.4 is the fourth-best ever in Test history after Ashwin (53.1), MacGill (54) and Muralitharan's (55). It is better than Warne (57.4) – that is how exceptional Yasir has been with the ball in the 33 Tests he has played thus far.

Only two spinners in Test history – Murali (3.48) and Clarrie Grimmett (3.22) have picked more wickets per innings than Yasir (3.125).

Again, it is only Grimmett (3.19) and Murali (3.43) who have a better frequency of innings bowled per fifer than Yasir (4).

It is also the quality of wickets taken by Yasir that make him such a dangerous bowler. His percentage (60%) of top-middle order wickets (Number 1-6) is higher than the corresponding percentage for Murali (54.88), Kumble (58.16), Harbhajan (53.72), Qadir (55.93), Herath (57.97) amongst other all-time greats.

LEADING ROLE IN PAKISTAN'S HOME SUCCESS

Yasir is the third-highest wicket-taker in the world in Test cricket since his debut in October, 2014. Only Ashwin (229) and Lyon (208) have aggregated more wickets during this period.

37 bowlers have taken 50-plus wickets in this time-frame. Yasir's wickets per innings – 3.125, are the highest for any bowler on this list. He is followed by Ashwin (2.83) and Pakistan's latest fast bowling sensation, Mohammad Abbas (2.65).

In terms of number of innings per fifer, it is again Yasir who is right at the top. Yasir has picked a fifer every 4 innings, ahead of Ashwin (4.76), Shakib (5) and Herath (5.15).

Pakistan has been almost unbeatable at home (UAE) since the turn of the decade. They have lost just one series – to Sri Lanka in 2017 – in this period.

Yasir has been the highest impact bowler and player for Pakistan in their home domination in the last four years.

He has been the leading wicket-taker in five of the seven home series Pakistan has played in this period – 27 in the current series against New Zealand, 21 against the West Indies in 2016, 16 against Sri Lanka in 2017, 15 against New Zealand in 2014 and 15 against England in 2015 – that is simply sensational.

Pakistan has won four of these series, drawn 1 and lost 1 against Sri Lanka.

Yasir has picked 114 wickets in 33 bowling innings in the UAE at an average of 24.79 and strike rate of 52. He has 8 fifers and 2 ten-wicket hauls in UAE.

There have been 22 bowlers who have picked 50 or more home-wickets (min. 20 bowling innings) since Yasir's debut in October, 2014. Yasir has the highest wickets per innings – 3.45 – amongst them. He is followed by Ashwin (3.16), Herath (3.15) and Rabada (3). This suggests that Yasir has been a more prolific wicket-taker for Pakistan in UAE, than Ashwin has been at home for India, Herath in Sri Lanka and Rabada in South Africa – that is a mind-boggling achievement!

Yasir has already cemented his name amongst the pantheon of modern greats.

First Published: December 6, 2018, 9:00 PM IST