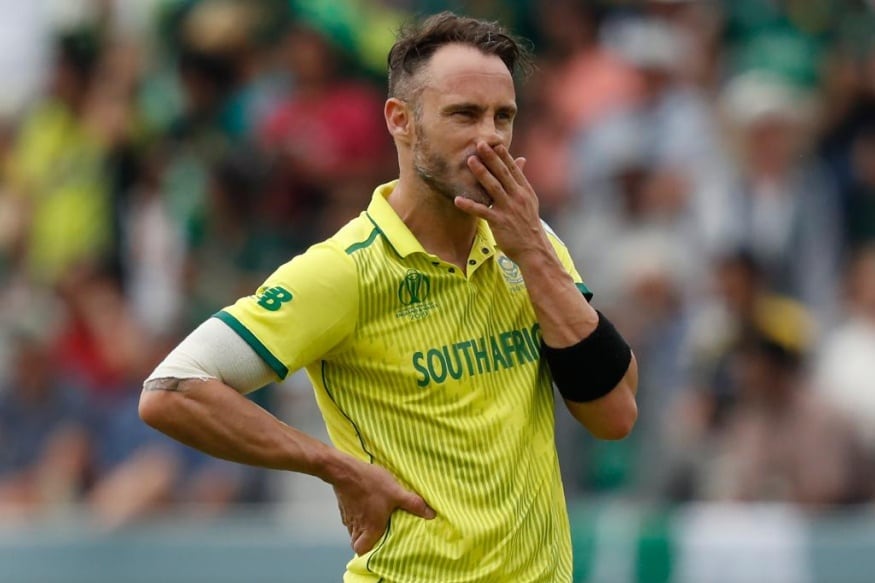 South Africa crashed out of the ICC World Cup 2019 after a despairing 49–run loss to Pakistan in Match 30 at Lord's London on Sunday (June 23).
Excellent performance Pakistan! The bowlers backed up Haris Sohail's brilliant batting effort. Hope the momentum will be sustained in the games ahead. BUT the fielding must improve so many dropped catches, can't be excused at all! #WeHaveWeWill

— Shahid Afridi (@SAfridiOfficial) June 23, 2019
Pakistan stays alive...but only just. Even after this win, they're nowhere close to getting into the top four. Must beat NZ and Bangladesh to compensate for the big losses vs WI and Ind. #CWC19 #SAvPak

— Aakash Chopra (@cricketaakash) June 23, 2019
.@OfficialCSA should probably look ahead of the next @cricketworldcup which will have spin as a big factor and today they looked clueless vs the turners. Also, just when Morris started looking dangerous, @WahabViki removed him, great job by PAK bowlers.#CWC19

— Reema Malhotra (@ReemaMalhotra8) June 23, 2019
A comprehensive win for Pakistan over a listless South Africa. In sharp contrast to last week, the selection was right, Sarfraz decided to bat first, and the bowlers did their job. Haris Sohail made the difference with the bat. Great atmosphere too #PAKvSA #CWC19

— Kamran Abbasi (@KamranAbbasi) June 23, 2019
Congratulations Pakistan Team aur Pakistanio! 🇵🇰 #PakvSA

— Fawad Alam (@iamfawadalam25) June 23, 2019
South Africa have been most appalling & underwhelming team in this World Cup. Last couple of years hv been horrendous for them. No flair, finesse or spunk. Hope they totally overhaul their cricketing ecosystem like England did after the 2015 WC debacle #PAKvSA #CWC19

— Navneet Mundhra (@navneet_mundhra) June 23, 2019
Job done for @TheRealPCB with the two points at Lord's. Three more wins required to be in contention for the last four. @cricketworldcup #PAKvSA

— Alan Wilkins (@alanwilkins22) June 23, 2019
Earlier, Fakhar Zaman (44) and Imam-ul-Haq (44) gave Pakistan a bright start after Pakistan won the toss and opted to bat first on a deck which looked a touch dry before Imran Tahir got rid of both of them.
All the hard work undone by a poor choice of shot by @FakharZamanLive and it was not needed! He is better hitting the ball in front of square. #PAKvSA #CricketWorldCup

— Alan Wilkins (@alanwilkins22) June 23, 2019
Now Imam throws it away, just bat just bat 30 35 overs, how hard is it to understand this isnt a 350 pitch?

— M. Sarosh Ebrahim (@msarosh) June 23, 2019
Pakistan should really have done much better than they have after getting the surprise Amir-Wahab boost.

Consistent horror selections and strategies have let them down.

— Alagappan V (@IndianMourinho) June 23, 2019
Imran Tahir has now taken 39 wickets in ICC ODI World Cups - the most for South Africa, going past Allan Donald's tally of 38 wickets. #PAKvRSA

— Umang Pabari (@UPStatsman) June 23, 2019
There was a moment when Tahir caught Zaman in the deep but replays were not conclusive enough to give it out and it left Twitter unimpressed.
There is no way the umpires can see something in real time the cameras cant, are we trying to keep the on field umpires relevant in some way.? #SoftSignal #Nologic #PAKvsSA #CWC2019 #BadriBytes

— subramani badrinath (@s_badrinath) June 23, 2019
Absolutely with you and just because it's been given doesn't mean that the right decision can't be reached.. Bizarre https://t.co/5Xa87PMFoC

— Kartik Murali (@kartikmurali) June 23, 2019
Forget whether it was out or not out for a second, how can we be using picture quality like this that belongs in the 1980s for such decisions? #CWC19 #SAvPAK pic.twitter.com/sve1B14nFG

— Tim-CricketGuy (@Tim32_cricket) June 23, 2019
Babar Azam once again shined with a brilliant 69 but it was the inspired selection of Haris Sohail that worked wonders for Pakistan as he scored a magnificent 89 to take them to a strong total on board.
What's amazing is the way Haris Sohail is reading the bowlers. He has read short balls, slow balls, yorkers and batted accordingly. The knowledge that comes from 10 seasons of first-class cricket. #CWC19

— Mazher Arshad (@MazherArshad) June 23, 2019
How did they not play him earlier! What an innings by Haris Sohail here! #PAKvSA #CWC19

— Nishad Pai Vaidya (@NishadPaiVaidya) June 23, 2019
Haris Sohail. The missing cog whose entry in #CWC19 was delayed for no reason.

— Abhishek Mukherjee (@ovshake42) June 23, 2019
Haris Sohail going at a 150+ strike rate in a must-win World Cup game after being benched for a while is, well...yet more peak Pakistan! #CWC19

— Srinath (@srinathsripath) June 23, 2019
Poor shot selection is the only reason @TheRealPCB couldn't make it a 330+ total, impressed by Haris for sure has sealed his spot but if SA don't make the same mistakes and play as a unit don't think PAK can stop them from chasing this.#CWC19 #PAKvSA

— R P Singh रुद्र प्रताप सिंह (@rpsingh) June 23, 2019
What a fabulous knock by Haris Sohail.. looked at ease from the start and just proper cricket shots.. #PakvSa

— zainab abbas (@ZAbbasOfficial) June 23, 2019
Well Played @iHarisSohail. Pakistan played pressure free cricket today. This is whats required. They should win the game from here and keep all of our hopes alive. #PAKvSA #CWC19

— Shoaib Akhtar (@shoaib100mph) June 23, 2019
In the chase, Quinton de Kock (47) and Faf du Plessis (63) began decently but were always behind the eight ball and despite Pakistan dropping catches, South Africa could not pose any threat at any time leaving many of their fans disappointed.
Looking at mickey Arthur's reactions to Pakistan's fielding.. plenty f words😜 rightly so!

— Herschelle Gibbs (@hershybru) June 23, 2019
It really has been difficult to watch. I try and consider the plans and thoughts but I'm baffled. #SouthAfrica #CWC19

— Graeme Smith (@GraemeSmith49) June 23, 2019
Easily the best fast bowler in #CWC19 #Amir

— M. Sarosh Ebrahim (@msarosh) June 23, 2019
Good of Saffers to ensure they play so bad in the tournament that rejection of AB's comeback offer essentially mean nothing at the end. Even he couldn't have done anything. Imagine RCB being the better team that AB represents!

— A/S (@slicesofIife) June 23, 2019
It is such a tragedy to see South Africa have this kind of a World Cup. One hopes they bounce back and become a force in cricket once again.

— Nitin Sundar (@knittins) June 23, 2019
And that's it. Misery ended. The Proteas have lost 6 out of 7 games. Their World Cup campaign is officially over (no mathematical chances) A real disappointing tournament. Both with the bat and ball. #PAKvSA #CWC19

— Naeemah (@NaeemahBenjamin) June 23, 2019