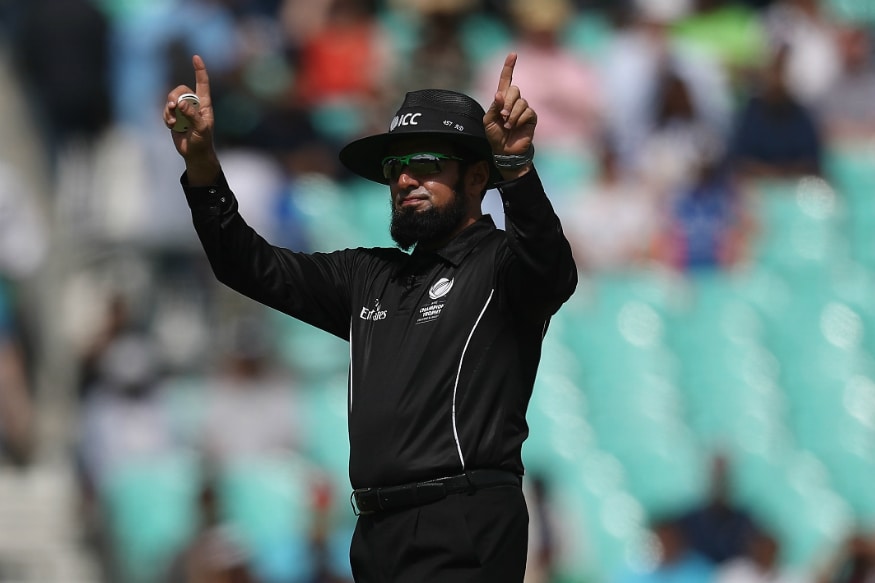 Aleem Dar, on Tuesday (May 7) became just the third umpire to officiate in 200 One-Day Internationals when the West Indies took on Bangladesh in Dublin.
The 50-year-old joins South Africa's Rudi Koertzen (209) and New Zealand's Billy Bowden (206) in the list of umpires who have stood in 200 or more 50-over matches. Dar has been on the ICC elite panel since 2004 and won the David Shepherd Trophy for Umpire of the Year from 2009-2011. He will be officiating in his fifth World Cup during the upcoming edition in England and Wales from 30 May to 14 July 2019.
Dar first officiated in an ODI in 2000 in a match featuring Pakistan and Sri Lanka and has since umpired in 125 Test matches, which is the second highest after Steve Bucknor's 128 Tests. He has also officiated in 43 T20I - the most for any umpire currently.
Adrian Griffith, ICC's Senior Manager – Umpires and Referees, congratulated Dar on this achievement in a release.
"Aleem has been one of our most reliable umpires, who has performed his duties consistently over a long period. The length of his career shows his quality and reflects our belief in him and the role he plays as a custodian of the game. On behalf of the ICC, I would like to congratulate Aleem for reaching this landmark and wish him continued success in his career," the release read.
Reflecting on his accomplishment, Dar said that he felt "honoured" and "privileged" to stand in 200 ODIs while also stating that umpiring in the 2011 World Cup remains his fondest memory of it all.
"I feel honoured to have reached 200 ODIs. Not only the number of matches, it has been a privilege to be in the elite company of some of the best match officials, to watch the best players of this century around the globe and be involved in some of the most fascinating cricket matches," Dar said.
"There have been lots of highlights in my career, but umpiring in the ICC Cricket World Cup 2011 is something I remember very fondly as all the 15 referrals against my decisions were upheld by technology."
The Pakistan Cricket Board (PCB) also sent out a release congratulating Dar on completing the feat.
"On behalf of the PCB and all cricket fans, I want to congratulate Aleem on the magnificent achievement of officiating in 200 ODIs. This feat is testament to Aleem's skill, judgement and commitment to excellence," said PCB Managing Director, Wasim Khan, in a release.
"Aleem is a strong role model for youngsters and retired cricketers who are looking at careers within the game. Umpiring is a hugely credible profession and provides incredible opportunities for individuals to serve the game and earn an excellent living.