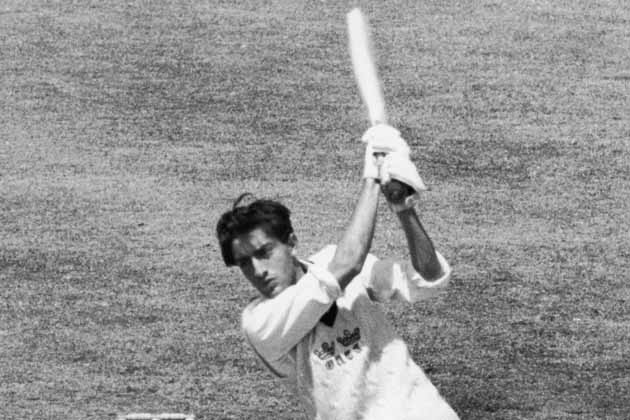 Nawab, Tiger, Pat, The Noob. The late Mansur Ali Khan Pataudi had several titles and nicknames, some of which his team-mates at school, Oxford University, Sussex and India found both themselves equally at ease with and uncomfortable addressing him by. This is but one interesting and endearing subtext in Pataudi: Nawab of Cricket, a collection of reminiscences contributed by former players, friends, journalists, editors, writers and even an actor.
The book, edited by noted sports writer and journalist Suresh Menon, is an enjoyable experience because it sheds light on Pataudi the individual, player, captain, husband, father, gentleman, hero and icon. In this anthology of essays Menon has succeeded in compiling a glittering list of contributors: Abbas Ali Baig, MJ Akbar, Bishan Bedi, Mike Brearley, Ian Chappell, Mike Coward, Ted Dexter, Rahul Dravid, Farokh Engineer, Sunil Gavaskar, Tony Lewis, Robin Marlar, Naseeruddin Shah, Mudar Patheya, N Ram, Saba Ali Khan, Soha Ali Khan, Rajdeep Sardesai, John Woodcock and David Woolley, QC. Each essay offers a different perspective on Pataudi.
Touchingly, the book begins with an intimate forward by Pataudi's widow, the film actress Sharmila Tagore, and ends with his daughters Saba and Soha writing lovingly of their memories of their father. In between these familial recollections of a caring husband and father – Tagore reflects on a "memorable partnership" of 47 magical years, Soha a man of few words and sly wit and Soha of Pataudi's love-hate relationship with the telephone – rests a fine lineup of remembrances and tributes.
The manner in which the book spans generations is effortless and a winning touch. Woolley, a lawyer and contemporary of Pataudi at Winchester College, chronicles a teenage Pataudi's rise into a prolific batsman, applauded by the likes of Denis Compton, and how through it all this boy to the manor born remained modest, almost diffident, and undeviatingly charming. Marlar remembers being hit for five "majestic" sixes by Pataudi and how he resolved to draft the college student into the Sussex team. Dravid recalls text messages and pats on the shoulder as moments to treasure, and credits Pataudi's efforts in an elevation in players' fees as highly influential.
In "The Self-Respect Movement", Menon summarizes Pataudi's legacy as his attitude, his greatest contribution being the self-belief he instilled in Indian players. At the same time, while dissecting Pataudi's strategy for playing to India's strength, spin, Menon himself notes matter-of-factly that it was the captain's practically that "killed fast bowling in India for a whole generation". It makes for a balanced narrative.
There are, as expected, many words reserved for Pataudi's batting. Chappell recounts stroke-filled innings of 75 and 85 against unimaginable odds during the Melbourne Test of 1967-68, a match still remembered for Pataudi's heroics 'on one leg and with only one good eye', and muses how Cyclops couldn't done a better job. Chappell singles out two strokes and the fact that he used a different bat each time he resumed his innings after an interval. "Those shots were played nearly half a century ago but they have left an indelible imprint on my mind," he writes. Those two knocks at the MCG were, in Chappell's words, a "memorable introduction" to Pataudi.
There are plenty of off-field reminisces too, and herein lies the real charm of this book. Gavaskar recounts how he, and most others in the Indian team, struggled with the correct title to address Pataudi with. Engineer touchingly informs us how he was the first to let his team-mates know that Pataudi, despite being a Nawab, was "a regular guy". Former England captain Tony Lewis reprints pages from his India diary of 1972-73 in which he and Pataudi partook of a sitar concert in what was then Madras. John Woodcock, the man believed to have seen more Test cricket than anyone else in history, tells of how Pataudi, who had an aversion to air travel, produced a bottle of brandy he had "rescued" from his Bhopal palace to steady the nerves on board a flight.
The most insightful come from men who played with Pataudi, namely Baig and Bedi. Baig, who became India's first debut Test centurion away from home, remembers his Oxford peer as prankster and leader rolled into one. Of his insightful memories, the most telling is of how India's Test captain, while playing in Bangalore for Hyderabad instead of Delhi, goaded a respected team-mate to perch himself atop of hedge outside the hotel at dawn and recite Winston Churchill's defining 'We shall fight them on the beaches' speech while himself cheering the player on. "Little wonder then that he did not win the Ranji Trophy despite our playing capabilities," writes Baig, "but if there were to be a trophy for the team which had maximum fun playing the game on and off the field, we would have won it." Coming in a close second is Baig recalling how Pataudi displayed the athleticism for which he would become famous for in the covers during a chase from two huge dogs in Barbados.
Bedi's reflections on "the rarest of rare phenomena in Indian cricket" shed light on Pataudi the unifier. Bedi's recollections on a man of great principle; astute yet fair, Pataudi is remembered by the left-arm spinner great as the first Indian captain who brought the culture of 'Indianness' to the dressing room. A speech given to his players in which Pataudi made it clear that parochialism had no place in the team environment – "Listen fellas, we are not playing for Delhi, Chennai, Mumbai, Bengal or Maharashtra. We are playing for India. Think India, for goodness's sake ..." – reflects what many have credited Pataudi's biggest achievement.
Bedi pinpoints the moment as having a profound effect on him as he made his first steps into Test cricket. There is also a humorous incident from their domestic cricket days when Pataudi asked Bedi to bowl the first over of the day even though he had bowled the final on the previous evening, just to see if the umpires were awake.
Gems like this, as well as Brearley's recollection of Pataudi's reply when asked when he first believed he could play Test cricket after his unfortunate eye injury - "When I first saw the English bowling" - highlight the dry yet wicked sense of the man in focus. A subtle humour which, as Bedi puts it, lit up the surroundings and made Pataudi much in demand in the West.
There is also the requisite fan perspective, with Hindi film actor and cricket enthusiast Naseeruddin Shah recalling not just of how he would scour the sports page for a photo of Pataudi or how listening, on radio, to VM Chakrapani and Devraj Puri was "an exercise in visualization", bit how he felt a sense of "dread and tremendous protectiveness" for a young man just six years his senior having to go out and face Charlie Griffith without a helmet. Rajdeep Sardesai terms Pataudi as the "Roger Pistorius of another era".
The book, priced at Rs. 499, is a valuable collection of reminiscences. You don't have to have followed Pataudi's career to cherish the anecdotes in this book, and whether you were a fan of the man or not, the essays in this book should not be ignored.
Title: Pataudi: Nawab of Cricket; Editor: Suresh Menon; Publisher: Harper Sport; Pages: 186; Price: Rs 499; Rating: 5/5