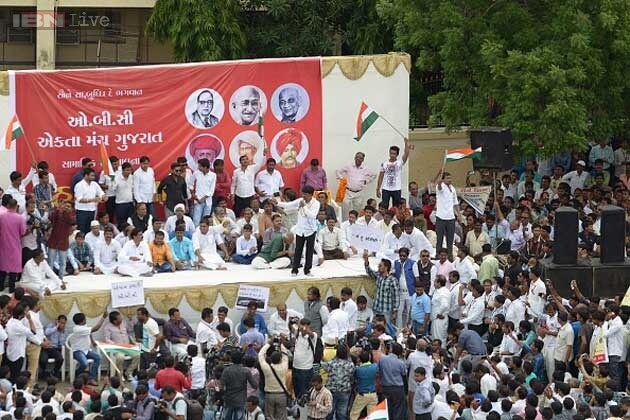 The 'Patidar' reservation controversy in Gujarat threatens to spill over to the cricket pitch during the third ODI between India and South Africa in Rajkot on October 18, which is giving Saurashtra Cricket Association (SCA) sleepless nights.
The Patel community, led by Hardik Patel and Lalji Patel, plans to be in the stands for the match at the SCA Stadium and stage a unique agitation wherein they will shout 'BJP Government Down Down' at the fall of a wicket and 'Jai Sardar, Jai Patidar' when a boundary is hit.
Considering what happened during the second T20I at Cuttack, where unruly fans threw bottles onto the ground to disrupt the match, SCA is under pressure to host an incident-free game.
After the news of the agitation, Chief Minister Anandiben Patel's scheduled stadium visit during the match is now also uncertain due to security reasons.
It is expected that around 15,000 to 18,000 protestors belonging to the 'Patidar' community will arrive in different groups. As a result, the state police and cricket board have taken steps to fortify the venue, which involves not allowing anybody entry without a valid identification (ID) card and strictly dealing with anyone found guilty of violating the law.
The association and police will take whatever steps needed in order to beef up security considering the present situation," SCA secretary Niranjan Shah told News 18.
"Nobody will be able to buy more than two wickets from the box office, and that too upon presentation of a valid photo ID. Spectators won't be allowed to carry anything inside. This is a good opportunity for SCA and it will try everything to host the match peacefully," Shah added.
Meanwhile, one of the leaders of the protest, Lalji Patel, told News 18 that they just want to protest with slogans and don't intend to cause disruption during the match.
"We will wear our cap and T-shirt that symbolises our community. We don't intend to cause disturbance. We have, in fact, told the management [SCA] that in case they need volunteers, then members of the 'Patidar' community are ready to step up. Our protest is not meant to create a ruckus but only to highlight our logical demands," Lalji said.