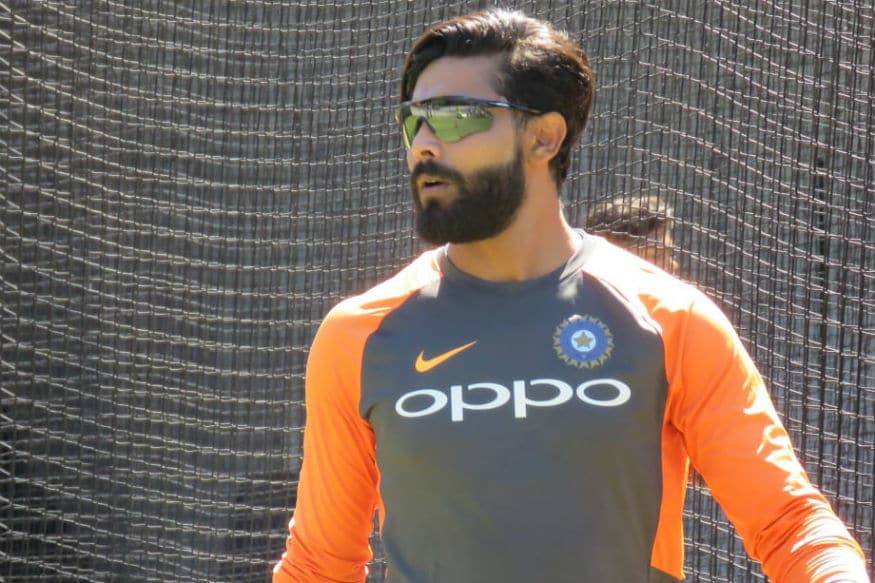 Ravindra Jadeja has done little precious over the last week or so in New Zealand apart from attending nets session and warming the bench during the One-Day International series. While his value as an allrounder in Test cricket continues to spike, the emergence of Yuzvendra Chahal and Kuldeep Yadav has pushed him down in the queue in limited-overs formats for close to two years now.
The team management fielded him in three ODIs in Australia, but he picked up just two wickets and batted just once. With Chahal taking six wickets in the final game of that series, Jadeja has been on the bench for the first four ODIs in New Zealand.
With India having wrapped up the series, whether Jadeja plays the final ODI or not is irrelevant because the very next day he will fly back to India as he is not a part of the T20I squad.
The last ODI is on February 3 – the same day that Saurashtra's Ranji Trophy final against Vidarbha gets underway in Nagpur. The question is would it have been better to relieve Jadeja after the third ODI so he could have joined the Saurashtra squad for the title clash? The management rested Virat Kohli after that game, so they could have surely made similar arrangements for Jadeja.
The only batsman to score three triple-centuries in 85 seasons of Ranji Trophy, Jadeja's credentials as an allrounder on the domestic circuit need no retelling. He has scored 3359 runs at an average of 59.98 and taken 188 wickets including 16 five-wicket hauls in 44 first-class matches for Saurashtra.
In the only Ranji game he played against Railways this season, Jadeja produced an impressive performance. An unbeaten 178 and a match haul of seven wickets put Saurashtra in a strong position, and then his 48 not out in the second innings helped them complete a tricky chase of 184 with three wickets in hand. That game must have been an injection of confidence similar to the 2015-16 Ranji Trophy where he took 38 wickets and made 215 runs in four matches to barge his way back into the Indian Test team.
Saurashtra know how it feels to be without a key player for a title clash. They had to play the 2012-13 final without Cheteshwar Pujara because he was in the reserves of the Indian ODI team for the home series against England. Around that time, Mahendra Singh Dhoni had been asked his view on the matter of freeing players in the reserve for Ranji matches.
"In the past, we have tried (having players from local association as substitute), but the problem is that you need a good fielder in the extra players who are playing," he had said then. "The other problem is that the association may say why you are releasing this player or not that player. I think most players want to play, but at the same time we will see what's best for our (Indian) team. We definitely want a fantastic fielder in the extras so that if some player is off the ground, we need that extraordinary fielder."
Going by Dhoni's logic, Jadeja should be in New Zealand because he is one of the world's best fielders currently, but the theory doesn't carry the same weight after a series has been won and a state team is trying to win its first major title.
Jadeja joining hands with Pujara this time would definitely have boosted Saurashtra's prospects against the likes of Faiz Fazal, Wasim Jaffer, Ganesh Satish and Umesh Yadav. However, there is also a bigger point about what is best for Indian cricket. Jadeja on field is definitely better than Jadeja on the bench. The chance to make an impact in a crunch game would have made Jadeja feel wanted, which is what every athlete desires. He would have also boosted the profile of the final, hence enhancing the marketability of the product.
To think that far ahead there has to be cohesion between the national selectors, team management and the BCCI. But in the current situation where the house is divided, that might be a bit too much to ask for.
It is not that players have not been released from the Indian squad during a series for domestic duty in the past. Rohit Sharma, Bhuvneshwar Kumar and Stuart Binny were relieved ahead of the first Test against South Africa in Mohali in 2015 to join their respective teams for Ranji matches. Mandeep Singh and Gurkeerat Mann had replaced them as substitutes.
Similarly, KL Rahul was asked to go and play a Ranji match after the home series against New Zealand in 2016. He scored 76 and 106 for Karnataka against Rajasthan, and was immediately recalled to the Indian team for the second Test against England a few days later. It is a common practice in Australia and England, but India joined the bandwagon late. The advantages are plenty.
True, these are examples from the home season, but BCCI is not short of funds to transport players from one continent to another on a short notice. It is after all for the benefit for the player and Indian cricket. Maybe, time has come to make a policy decision that if a player is certain to be in the reserves of the Indian team then he could be given an option to fly back home for a domestic game at least during the knockout rounds.
Rahul Dravid, India A and India Under-19 coach, acknowledged that it is not an easy problem to solve. Some players had to miss Ranji games because of India A's tour of New Zealand earlier in the season.
"It's not an easy one to avoid but if you would have noticed in this series, we didn't pick anyone who was involved in the Ranji Trophy, so we gave that importance to the quarterfinals, semifinals and final of the Ranji Trophy," Dravid told reporters in Thiruvananthapuram on Thursday (January 31) after India A's 4-1 triumph over England Lions in the 50-over series. "But it's not easy as we have to balance out the needs of some of these players. We have to develop those players and given them a level and standard that is higher than domestic cricket. If we don't challenge our players at a higher level than domestic or first-class, how are we going to develop them to play international cricket."
As always, Dravid is on the mark, but even he would agree that in the case of Jadeja a journey in the opposite direction would have benefitted Indian cricket. It is an opportunity missed.
(Sidhanta Patnaik has reported on six ICC men's and women's tournaments. He is the co-author of The Fire Burns Blue - A history of women's cricket in India. @sidhpat)