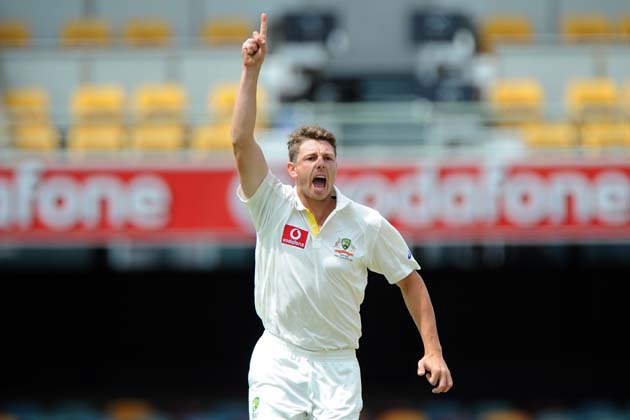 Melbourne: Australia's young fast bowler James Pattinson is taking advice from England's bowling coach David Saker to plot the downfall of the famed Indian batting order in the four-match Test series, starting with the Boxing Day Test at the Melbourne Cricket Ground from Monday.
The 21-year-old Pattinson said he has been in touch with fellow Victorian David Saker to learn about the techniques of the Indian batsmen, after the England attack orchestrated a 4-0 series win at home this year. The youngster wants to emulate the approach of England's James Anderson, who took 21 wickets at an average of 25 in that series.
"Pitching it up and swinging the ball in the right areas is pretty good, especially with their batting line-up, they've got a lot of right-handers so you're going to have to bowl that way. You say they don't like the bouncer but a lot of people could take that the wrong way and bowl them all the time, it's (about) bowling your bouncer at the right time and it has to be a good one," he said.
Pattinson, who has five-wicket hauls in each of his first two Tests, was confident of troubling the Indian batsmen.
"I have spoken to David Saker quite a bit because they had some good success against India over in England, so I spoke to him (about) a few of their plans. Again, you have to back yourself, keep it as simple as you can and do what got me to where I am now, as well as a bit of research into methods to get them out. I am 100 percent confident I can do the job and the bowlers can do the job," he said.
Pattinson, however, has great respect for the India's legendary batting top-order but will not be intimidated when he faces the likes of Sachin Tendulkar, Rahul Dravid, Virender Sehwag and VVS Laxman at the MCG. Pattinson was a toddler when Tendulkar first visited Australia.
"You respect them really well from who they are, what they have done, but come game day you can't be intimidated, you've got to be intimidating. So even though I've only played two Tests, I think I can do that, I can come with aggression, the same as Sids (teammate Peter Siddle), and we can lead the attack. It was great to get some performances in my first two Tests to sort of get them thinking about me as well as Sids," said Pattinson.
Pattinson admitted that it will be a huge challenge for him, but said the India's ageing batting order will be an advantage for him.
"It's going to be a pretty big challenge [but], you know, they're starting to get a bit older now, so I might hopefully have them at the right time," he said.