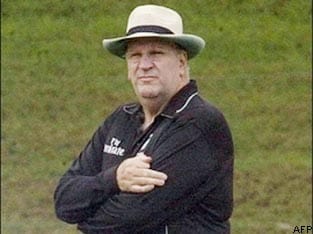 Karachi: The Pakistan Cricket Board has refuted racial discrimination claims made by Australian umpire Darrell Hair as the reason for his ICC ban from officiating in top-level matches.
"Hair's charges are incorrect," PCB chairman Nasim Ashraf said on Tuesday.
Hair, who is white, is suing the ICC over the decision to remove him from the elite umpires list in a case presently before an employment tribunal in central London. The International Cricket Council also denies the accusation.
Hair was banned from top-level matches in November because of his conduct during a Test between Pakistan and England in August 2006 at The Oval that led to the first forfeit in Test cricket's 129-year history.
Ashraf said that he was ready to testify in the tribunal.
"Since this is a case against the ICC, all the test playing members would testify and I am also ready to go to London," Ashraf said.
"There was no racial discrimination involved and it was a (ICC) board decision (in Mumbai last year) against Hair," he added.
Hair had accused Pakistan of ball tampering in the August 2006 match. When Pakistan initially refused to take the field after a break, Hair and fellow umpire Billy Doctrove awarded the forfeit.
A month afterward, the ICC cleared the Pakistan team of ball tampering, but banned captain Inzamam-ul Haq for four One-Day matches for bringing the game into disrepute.
Doctrove, a Dominican who has largely escaped the ensuing controversy, took several months off before returning to action during Pakistan's Test series in South Africa in January. The Oval Test was Doctrove's ninth as a Test umpire.
Hair's lawyer, Robert Griffiths, said on Monday that parts of the tape recording and transcript of the ICC meeting in November, when Hair was banned, were missing.
"Whether by accident or design, there is no record of this most critical aspect of the meeting," Griffiths said. "Is this cricket's Watergate? Hairgate?"
However, Ashraf denied the assertions.
"I was part of that three-member meeting and there was no tape. This is not correct," he said.
ICC president Ray Mali also denied the racism claims before attending the first day of the hearing in London on Monday.
"We are here today because we are an organization that believes in fairness, justice and equality," Mali said. "We believe racism was never an issue in this matter."
Ashraf said he had no knowledge of Inzamam being summoned to testify at the tribunal. He received a notice in London when he played for Yorkshire in the English County Championship last month.
"He has not contacted the PCB but if he wants he can go and testify," Ashraf said. "The PCB will certainly testify."