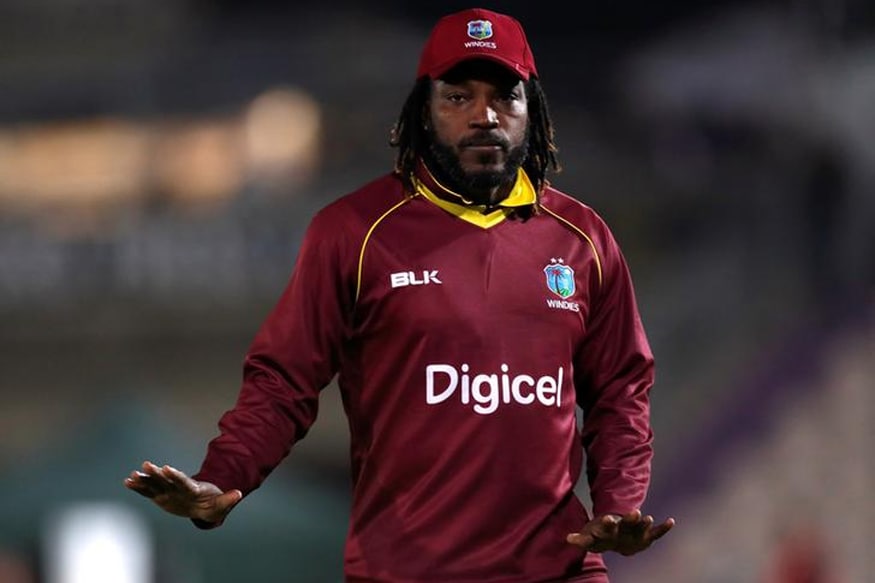 Chris Gayle is back! And with a bang. Although his explosive 135 in 129 deliveries – a knock that included 12 mighty sixes – did not ensure a West Indies to victory in Bridgetown, he surely made a statement on his return to the ODI team after almost seven months.

Gayle is the second-highest scorer for West Indies in ODI cricket (after Brian Lara). He has aggregated 9807 runs in 277 innings at an average of 37.71 and strike rate of 86. His exploits include 24 hundreds - the most by a West Indian in the format.

Gayle's experience and the firepower at the top is crucial to a predominantly young and inexperienced West Indian batting line-up. Having said that, a closer analysis of his innings in Bridgetown and record in the recent past suggests a definitive pattern and method to how he approaches an innings.

The West Indian southpaw is slow and cautious at the start, playing out a number of dot deliveries and then suddenly explodes after facing 20-25 deliveries.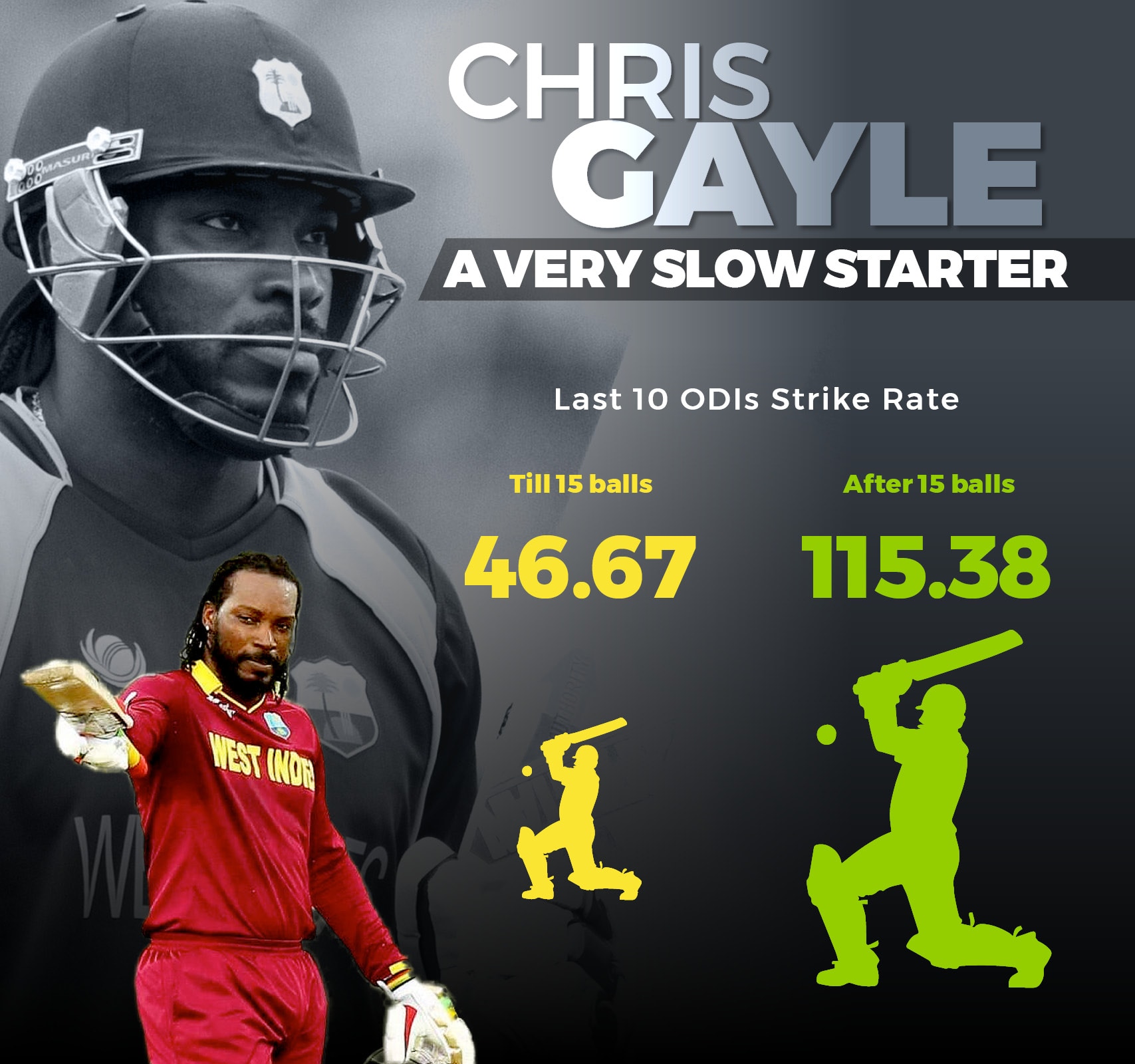 His innings in the first ODI was a perfect example of this formula Gayle has adopted. It took him 36 deliveries to register his first 12 runs. He hit no boundaries and played out as many as 23 dot balls.

Gayle went berserk thereafter and blasted 123 off just 93 deliveries at a strike rate of 132.26 helping West Indies post a huge total.

But what if he had been caught by Jason Roy off the bowling of Liam Plunkett when he was on just 9 (having faced 32 deliveries) in the 12th over?

It would have put enormous pressure on the batsmen to follow for not only they would have to score big but do so at a quick rate to make up for the dot deliveries played out by Gayle. In addition, the team would miss to capitalize on the fielding restrictions of the powerplay.

Also, even when the formula works for Gayle and he goes on to score big for the West Indies, his extremely slow strike rate puts tremendous pressure on his fellow-opener and number 3 and 4 to push the ante from the other end. And they can perish in the process taking uncalculated risks. Thus, it is important for Gayle to at least rotate the strike even if he does not go for the boundaries initially.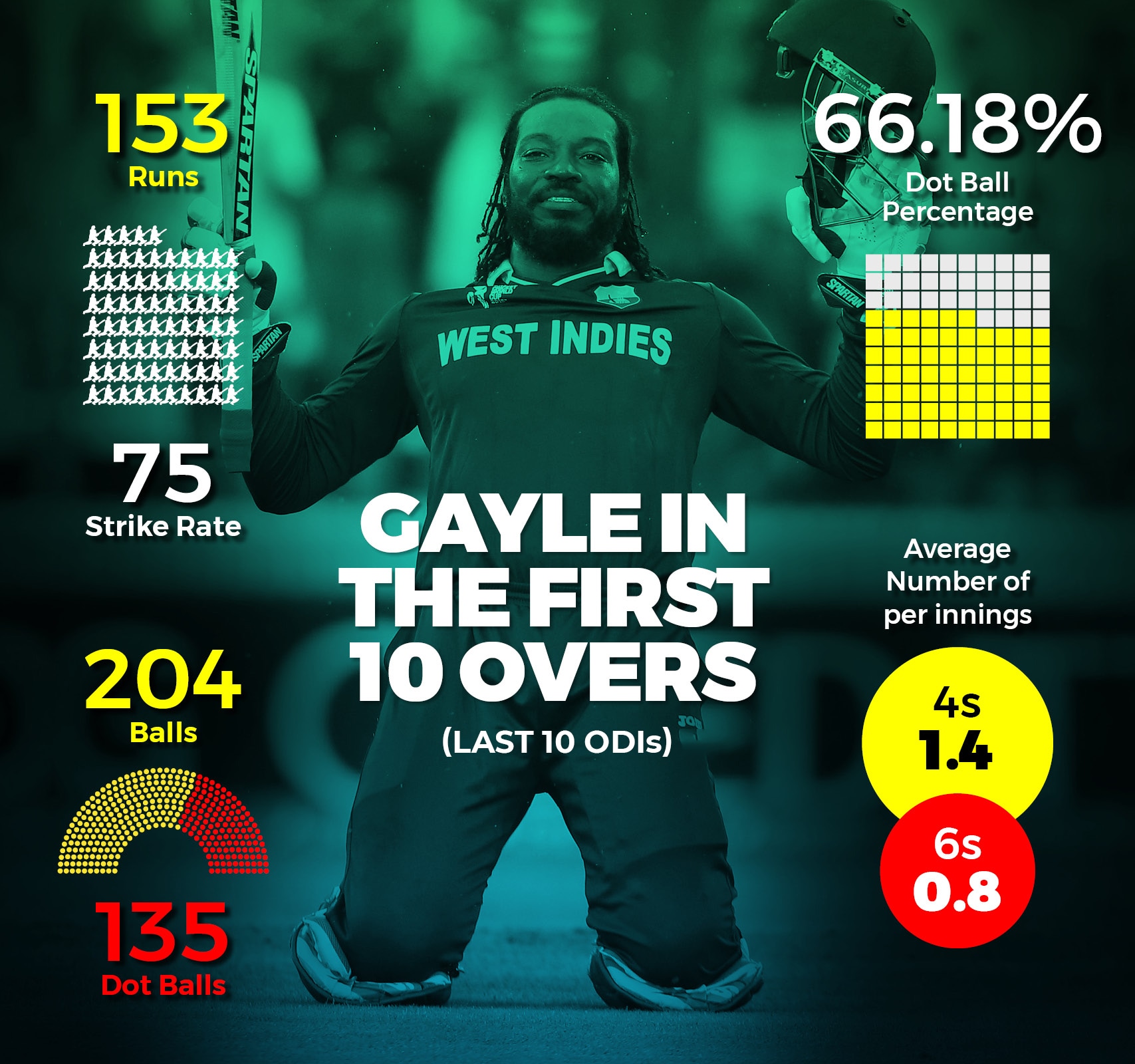 The most telling statistic is the dot ball percentage which is as high as 66.18%. This basically means that Gayle hasn't scored off 2/3rd of the deliveries he has faced in the first powerplay – when only two fielders are allowed outside the 30-yard circle.

Gayle's numbers in the first 5 overs (in the last 10 ODIs) indicate that he is even more cautious right at the start of the innings. He has scored 67 runs in 123 deliveries at a poor strike rate of 54.47. His boundary percentage is just 5.69% and dot ball percentage is as high as 69.11%.

Another telling statistic which showcases Gayle's extra-cautious start to an innings is the average number of deliveries he takes to score his first 10 runs. At 16.8 (in his last 20 ODIs; only considering innings where he has scored 10 or more), this translates to a strike rate of just 59.52 for his first 10 runs – that is just too slow for modern standards, especially batting in the powerplay.

Gayle has 11 'below-30' scores in his last 20 ODI innings. His strike rate in these 11 innings is just 68.71.

We can infer that when Gayle is getting out for less than 30 – which is more than 50% of the times – his average strike rate is just 68.71 – which is too low when compared with the world norm. This is bound to put pressure on other West Indian batsmen.

In the 9 innings where he has crossed 30, he aggregates 818 at an average of 90.88 and strike rate of 123.93 – including three hundreds and three fifties. This means that Gayle has 6 fifty-plus scores in his last 20 ODI innings. But his double hundred came against Zimbabwe and he registered another ton against the UAE.

Even to achieve a similar rate of consistency against the top sides in the world in such a high-risk method will not be easy. As he starts off tentatively blocking almost everything thrown at him, it builds extra pressure on him to accelerate at a much faster rate later in his innings. To be able to do that frequently against the best bowling attacks, even for someone of the caliber of Gayle, is a difficult proposition.

Strike rotation and a bit more initiative at the start will not hurt Gayle much. He can still build his innings and attack later. But it will definitely ease the pressure off his team-mates and increase the probability of a West Indian win.

* Stats before second ODI of ongoing series vs England

First Published: February 22, 2019, 9:23 AM IST