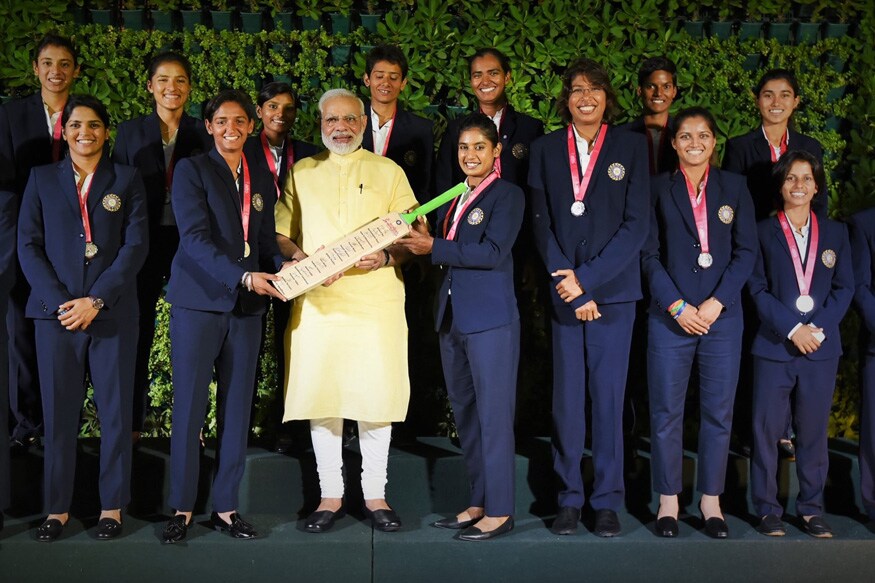 Prime Minister Narendra Modi met the Indian Women's Cricket Team in Delhi on Thursday, after the team returned from England after taking part in the World Cup.
India had a stupendous run at the World Cup, managing to reach the final before losing a close final against England.
Modi posted photos of him meeting each team member individually and also wrote a message for everyone,
Delighted to meet the proud skipper of a proud team, @M_Raj03. Congratulated her for her leadership and her game, Modi wrote for captain Mithali Raj.
Met @mandhana_smriti. This remarkable player overcame an injury & played the WC. Her innings against England at Derby was stupendous.
Was happy to meet Poonam Raut, who played consistently well through the World Cup. Her contribution to the team is invaluable.
With the talented @ImHarmanpreet...congratulated her for her memorable innings against Australia & wished her the best for the future.
Interacted with this all rounder par excellence, Deepti Sharma. At a rather young age, her remarkable accomplishments make us proud.
Was great meeting you, @vedakmurthy08. Keep playing with the same focus and determination. Good luck!
With @ImSushVerma...a reliable wicket keeper and wonderful player.
Jhulan Goswami is renowned not only in India but across the world for her bowling. Had a very good interaction with her today.S
Shikha Pandey is a promising player who made India proud in the recently concluded World Cup.
The contribution of Poonam Yadav to the team is immense. Spoke to her on a wide range of issues during our interaction.
Appreciated Rajeshwari Gayakwad's consistent bowling in the World Cup. Delighted to meet her today.
Met Nuzhat Parween. Had a very good interaction with her earlier today.
Interacted with the well known cricketer Mona Meshram, whose batting is admired by many.
Had a fruitful discussion with Mansi Joshi.
It was wonderful to meet cricketer Ekta Bisht. She has distinguished herself as a skilled bowler.
Delighted to meet the proud skipper of a proud team, @M_Raj03. Congratulated her for her leadership and her game. pic.twitter.com/qIQlOjPmHu

— Narendra Modi (@narendramodi) July 27, 2017
Met @mandhana_smriti. This remarkable player overcame an injury & played the WC. Her innings against England at Derby was stupendous. pic.twitter.com/WjVpsYEcn1

— Narendra Modi (@narendramodi) July 27, 2017
Was happy to meet Poonam Raut, who played consistently well through the World Cup. Her contribution to the team is invaluable. pic.twitter.com/GMSkUoyKIB

— Narendra Modi (@narendramodi) July 27, 2017
With the talented @ImHarmanpreet...congratulated her for her memorable innings against Australia & wished her the best for the future. pic.twitter.com/E2BRzLZNiv

— Narendra Modi (@narendramodi) July 27, 2017
Interacted with this all rounder par excellence, Deepti Sharma. At a rather young age, her remarkable accomplishments make us proud. pic.twitter.com/TC9yMZ03BO

— Narendra Modi (@narendramodi) July 27, 2017
Was great meeting you, @vedakmurthy08. Keep playing with the same focus and determination. Good luck! pic.twitter.com/C1So4kX9Bb

— Narendra Modi (@narendramodi) July 27, 2017
With @ImSushVerma...a reliable wicket keeper and wonderful player. pic.twitter.com/9PZCK4zbSy

— Narendra Modi (@narendramodi) July 27, 2017
Shikha Pandey is a promising player who made India proud in the recently concluded World Cup. pic.twitter.com/FeAO2iXQXq

— Narendra Modi (@narendramodi) July 27, 2017