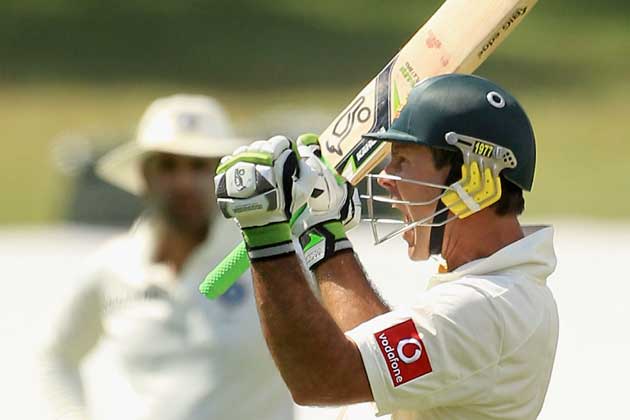 Ricky Ponting has been a marked man before in his life. He knows what its like to be hounded, scrutinized, and even hated. Today, November 29, 2012, the man so many love to hate has finally taken the call on his own terms.
This week Mickey Arthur, Australia's South African coach, publicly expressed his desire for Ponting to remain a part of the Test team's plans for the Ashes in 2013. It is not to be. Ponting knew he was at the end. The body was aging, the timing that once put fear into bowlers had now been his weakness. In two Tests against South Afrca he has managed 20 runs in three innings across Brisbane and Adelaide, bowled twice in the second Test for only the second time in a career that started in 1995. He knew the end was near, and admitted a couple days ago that he was worried about the way he had been dismissed by South Africa's quicks.
The decision was taken three weeks short of his 38th birthday. It is fitting that the finale will come at the very ground at which he made his Test debut 17 seasons ago – at Perth's WACA ground. It was here that Ponting made 96 in his first innings, playing alongside his hero and fellow Tasmanian David Boon. That innings confirmed the talent that was identified in his teenage years, and set him on course for greatness. It didn't come as quick as many would have imagined, but after a few hiccups Ponting stamped himself into the public's imagination with his maiden century against England in 1997.
Ponting's 17-year-career demands respect. He earned by a typically Aussie bloody-mindedness to his cricket, overcoming personal demons to sculpt a career that tallied over 13,000 runs in Tests and ODIs. He won three World Cups, including an unprecedented 34 consecutive undefeated games in the coveted tournament. He will retire from the game as the most successful Test captain in history after passing Steve Waugh's 41 wins.
Australia's 42nd Test captain was not the best they ever had, but as a batsman he is an all-time great. He remains Australia's highest run-scorer in Test cricket and looks set to hold that honour for a long time. If there was one batsman who consistently challenged Sachin Tendulkar in the mid-2000s, it was Ponting. Only Tendulkar has more centuries in Tests and ODIs combined than Ponting.
His three double-centuries in 2003 put him alongside Don Bradman for batsman to score in excess of 200 thrice in a year. In 2005, another double made Ponting just the third Australian, after Bradman and Greg Chappell, to score four more double-centuries in Test cricket. He capped his 100th Test by taking twin centuries off South Africa at the SCG in January 2006, and repeated the feat against South Africa a couple months later in Durban. In 2007, he extracted revenge for the 2005 Ashes defeat by captaining Australia to his country's first 5-0 sweep in 86 years.
There were hard times too, be it his battle with alcohol and gambling off the field or the overseeing of three Ashes defeats and a prolonged batting slump – in which he struggled against quality offspin and short-pitched deliveries - near the end of his career. But never could Ponting be accused of being selfish. He was a fighter, a battler. He overcame the odds on his own terms. He worked hard on his batting to ensure it was not soiled by attacks on his leadership, and runs from his bat more often than not prevented Australia from being overhauled. After the retirements of Mathew Hayden, Justin Langer and Adam Gilchrist, he batted with a purpose his team-mates struggled to match.
Unlike Mark Waugh, Ponting's batting never uplifted the soul. Neither did it touch the core of it, in the manner that Rahul Dravid's did. He had grace and power but there always remained something fallible about his batting, even when he was in the form of life. Ponting's pulls and on-drives - when he was at the top of his game – and flicks off the stumps, back leg in the air, were eye-catching. But through all this came the lunge, the uncertain footwork against spin when in Asia – remember 2001? – and front-foot press and edge into the slips and the falling-across-the-crease lbw. It looked like bowlers would have his number any delivery, but then he would go and score 150 or 196 or 206 and you'd be left marvelling at how he'd done so. Hayden and Langer above him were brute force and Zen accumulation, below were Steve Waugh (sheer grit), Damien Martyn (elegance), Michael Clarke (twinkle-toed brilliance) and Gilchrist (audacious). At No. 3, Ponting was tenacious, steely and a bully.
The last few years have been tough. He went almost two years – 33 innings - without a Test century. He looked a fading hero, his fluency having almost deserted him. He was clearly struggling against quality pace and the short ball. And the Ponting rolled back the years in January this year, scoring 134 and 221 against India. It wasn't the Ponting of old, but it reminded us that the man could never be written off. Another slump came around, and Ponting has taken the call himself because ha was never one to bow out on anyone else's terms.
This is a man who has scored centuries of outstanding class across the world, and who has battled his inner demons to resurrect himself into a world-beater, one of the leading batsmen of his era, and of all time. Thank you for the memories, Ricky.