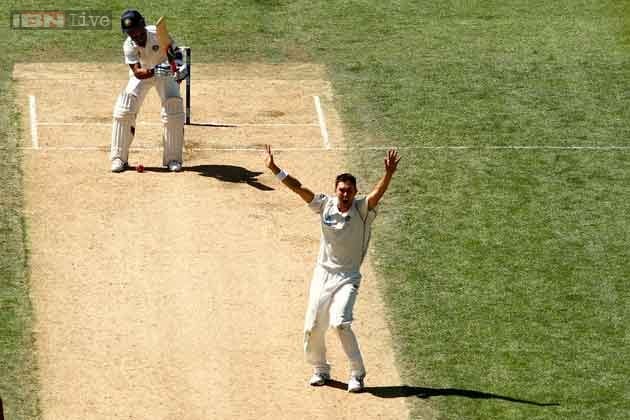 At the start of day four's play, the first Test match hung in a balance as New Zealand needed nine wickets and India 320 more runs for a win in Auckland. India put up a spirited chase and at one point looked in total control with Shikhar Dhawan and Virat Kohli at the crease.
Soon after Dhawan reached his century, Kohli (67) was dismissed by Neil Wagner and then the same bowler got rid of Dhawan (115) to put India on the backfoot.
But still India were in the hunt until umpire Steve Davies adjudged Ajinkya Rahane lbw for 18 when replays clearly showed that the batsman got a big inside edge before the ball thudded on to the pads.
The key for India was MS Dhoni with the match hanging in the balance but again poor umpiring came to haunt India. Dhoni going for a pull shot got played on but the onfield umpire checked with the TV umpire, Gary Baxter for no ball. The replays showed Wagner bowling wide of the crease with his right foot touching the outside of the crease.
After the match, Dhoni rued the unlucky dismissals and said: "I don't think we batted really well in the first innings. In the second innings, quiet a few of our batmen batted really well. We had few unlucky wickets. Ajinkya's decision was a tough one at a very crucial time."
Nonetheless, it was a thriller of a match, which New Zealand won by 40 runs after dismissing India for 366. Moreover, India should not be crying foul of the wrong wickets considering the BCCI is against the Decision Review System (DRS).
If the DRS was in place the result would have been in India's favour and it's high time BCCI does a rethink of the review system.