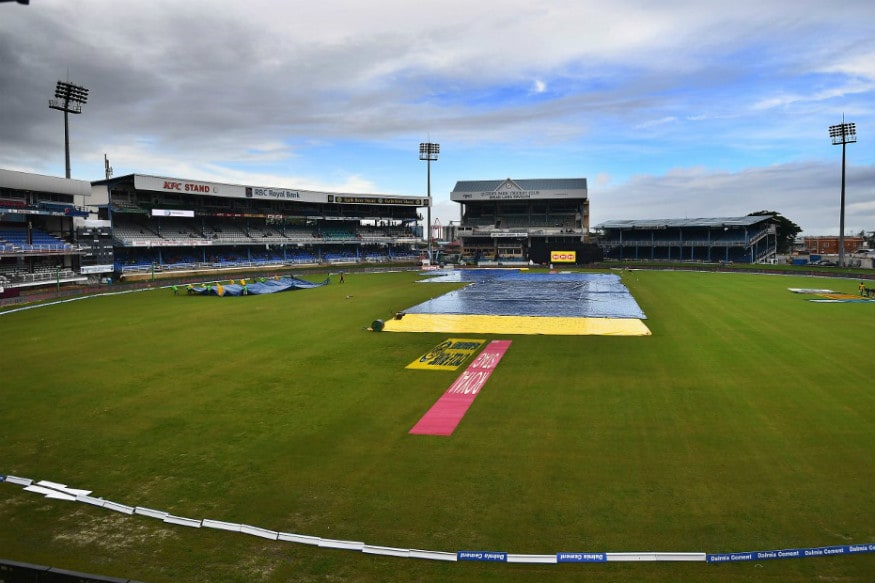 Gordon Greenidge and Desmond Haynes smashed the Indian bowling attack and put together 125 for the opening wicket as West Indies posted 215 for 4 in a curtailed 38.5 overs' innings. The likes of Andy Roberts, Malcolm Marshall and Joel Garner along with Larry Gomes ensured India were restricted to 163 for 7.
This was the first ever ODI hosted by the famous Queen's Park Oval ground (formerly known as St Clair Oval) in Trinidad and Tobago, Port of Spain on the 9th of March, 1983.
As India and West Indies prepare to battle it out at the venue 36 years later from when it all started, we glance through the ODI history of one of the world's most famous cricket grounds.
THE MOST CAPPED GROUND IN THE CARIBBEAN, TOSS FACTOR AND BATTING SECOND ADVANTAGE
Queen's Park Oval has hosted 67 ODIs – by far the most for any venue in the Caribbean.
The team winning the toss has won 34 matches while the team losing the loss has won 28 (5 matches have had no results).
Batting second is a slight advantage at the venue with the team fielding first having won 33 of the 62 matches.
The average score batting first at Port of Spain is approximately 222 while the average successful chasing score is 183.
Port of Spain has hosted 6 World Cup matches in 2007 but none featuring the West Indies.
INDIA'S HIGHEST AWAY TOTAL, LARA'S HUNDREDS AND HAYNES' RECORD
India's 413 for 5 against Bermuda in the 2007 World Cup is the highest score at the Queen's Park Oval. Virender Sehwag hit a hundred in the match and there were fifties from Sourav Ganguly, Yuvraj Singh and Sachin Tendulkar. It is also the highest score for India at an away venue.
The 202 run stand for the second-wicket between Ganguly and Sehwag in this match is the highest partnership at the ground.
There have been 7 other 300-plus scores at Port of Spain – only two before the new millennium.
Desmond Haynes scored an unbeaten 142 off just 132 deliveries against Pakistan in 1988 as West Indies amassed 315 for 4. Clayton Lambert's 119 helped the hosts post 302 for 5 against England in 1998.
Canada was bowled out for 75 in a tri-series encounter against Zimbabwe in 2006 – the lowest team total at the venue.
West Indies has won 27 and lost 23 of the 50 result-matches they have played at the Queen's Park Oval.
Their record at the ground over the years is almost a mirror reflection of their journey in ODI cricket. In 1980s when the West Indies were invincible, they won 8 of the 10 matches at the venue.
In the 1990s, their dominance weakened (in the latter half of the decade) and this is reflected in their 8 losses (and 11 wins) in 21 matches. The 2000s saw this worsen to 8 wins and 7 losses from 17 matches while since 2010 the West Indies have lost all 6 of the result matches at the venue.
Brian Lara's unbeaten 146 off 134 deliveries against New Zealand in 1996 is the highest individual score at Port of Spain. He scored 64.88% of the West Indian total of 225 in the chase – the fourth-highest percentage of team runs in an innings in ODI history!
Lara also has the maximum aggregate runs at the venue – he has scored 1276 runs in just 29 innings at an average of 55.47 and strike rate of 79.15, including 2 hundreds and 8 fifties.
Haynes has the highest average (min. 300 runs) at the venue – he has scored 828 runs in 18 innings at an average of 63.69 including 2 hundreds and 6 fifties at Port of Spain.
Kumar Sangakkara has the highest aggregate for a non West Indian at Trinidad – 359 runs in 8 innings at 51.28. He is followed by Virat Kohli – 337 runs in 7 innings at 56.16.
Vivian Richards' 39-ball 82 against England in 1986 is the highest strike rate (210.25) innings (min. score 50) at Trinidad.
STYRIS AND GRAY'S SIX-FOR AND DILLON'S SPLENDID PERFORMANCE
Curtly Ambrose is the highest wicket-taker at Trinidad with 24 wickets in 21 innings. But it is the record of another West Indian paceman which stands out at the venue – Mervyn Dillon has picked 15 wickets in 7 innings at just 16.6 apiece at a strike rate of 22.3 with one five-wicket and four-wicket haul each at Port of Spain.
Chris Gayle has also picked 15 wickets from as many bowling innings at Trinidad.
Joel Garner also has excellent returns from Trinidad with 12 wickets from just 6 innings. His fiery spell had reduced New Zealand to 18 for 4 (in 1985) who were ultimately bowled out for 116 with Garner returning with 4-10 in 6 overs.
The best bowling figures at the Queen's Park Oval are credited to Scott Styris of New Zealand - 6-25 in 7 overs against the West Indies in 2002. Little known West Indian pacer, Tony Gray, playing at his home ground, tormented the Allan Border led Australian side in 1991 seeing the back of the likes of Geoff Marsh, Dean Jones, Steve Waugh and the captain himself amongst others in the only other six-wicket haul at Port of Spain.
Interestingly and rather bizarrely, injuries and the emergence of a certain Ian Bishop meant that Gray only represented West Indies in 25 matches in which he returned with 44 wickets at a phenomenal average of 18.97 and strike rate of 28.8.
INDIA 9-9, KOHLI AND DHAWAN'S RETURNS AND BHUVI'S RECORD
India has won 9 and lost 9 (no result 1) of the 19 matches they have played at Trinidad. Against the West Indies have won 6 of their 14 matches (lost 7 and one no result).
Kohli (337 runs in 7 innings) and Dhawan (304 in 7 innings) are theleading run-getters for India at the venue. Sehwag scored 302 runs at an average of 43.14 and strike rate of 105.59 at Trinidad. Ganguly also aggregated 296 runs in 6 innings at 59.2 at the ground. Tendulkar also has 3 fifties from 6 innings at Port of Spain.
Interestingly, it is Bhuvneshwar Kumar who is the highest non West Indian wicket-taker in Trinidad with 11 wickets in 4 innings at an average of 6.36 and economy of 2.59! Bhuvneshwar picked 4 wickets in 6 overs conceding just 8 runs and skittled Sri Lanka for 96 in a rain-curtailed encounter in 2013 at the venue.
Ajit Agarkar and Munaf Patel also tasted success at Trinidad with 10 wickets in 7 and 6 innings respectively. Ravindra Jadeja has also picked 8 wickets in 3 innings at an average of 10.5 at Port of Spain.