Positives, but Zimbabwe sweep isn't huge for India
India were always expected to win against a weak Zimbabwe side, and so their 5-0 sweep does not merit beating the drums.
Updated: August 5, 2013, 4:40 PM IST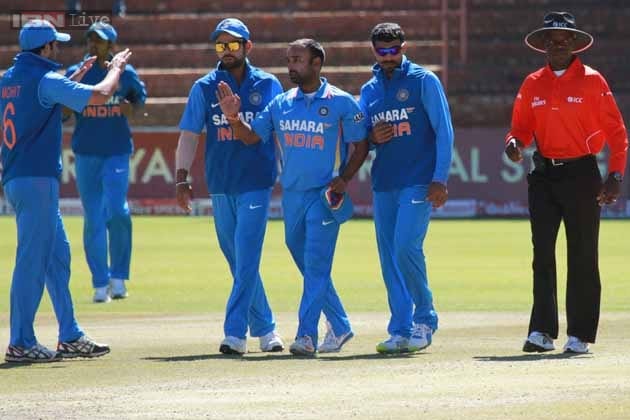 While India's 5-0 sweep of Zimbabwe - their first such series result outside of home - is reason to celebrate, not a lot should be read into the success that Virat Kohli's side achieved on tour. India were always favourites to win in Zimbabwe against a side that had not played international cricket for ten weeks and of whom Ray Price, who until last week was part of the squad, said was always going to struggle at the international level given the gulf in standard at the domestic level. Zimbabwe were poor, very poor, and even a weakened India had few hassles in dispatching them.
Zimbabwe were sloppy in the field, dropping catches and fumbling many takes and throws. The most wickets any of their bowlers managed was four. In all, eight of their bowlers managed 18 wickets. For India, Amit Mishra alone took that many. Five Zimbabwe batsmen crossed 100 runs, only one made it to 150. Shikhar Dhawan made 209 all to himself, Kohli got 197. The gulf in statistics and standard was palpable. It was, by all means, a one-sided series.
Were there positives from the tour? Yes. A few. But they can only be properly gauged if those who did well repeat it against tougher teams.
Mishra sends out a message
Mishra was the standout bowler, spinning a web over Zimbabwe's hapless batsmen that resulted in 18 wickets at an average 11.61 per wicket. Named in India's ODI squad for the low-key series as a specialist spinner alongside allrounder Ravindra Jadeja, Mishra played a key role in keeping run-scoring in check during the middle overs. Throughout the series caused problems to Zimbabwe's batsmen, especially with the use of the googly, a delivery he employed with canniness to flummox and destroy.
In the first ODI - incidentally his first in over two years, his 3 for 43 played a big role in limiting Zimbabwe between the 30th and 40th overs. In the second he took 2 for 46. His 4 for 47, the fourth-best figures by an India spinner against Zimbabwe, to help set up the series win. As the tour moved to chillier Bulawayo, Mishra grabbed three wickets in six deliveries to skittle the tail and take his series tally to 12. On Saturday, he surpassed all that with a career-best performance of 6 for 48, the best figures by an Indian against Zimbabwe in ODIs.
Mishra's tally of wickets after 20 ODIs now stands at 37 wickets at 21.18. The 18 taken in Zimbabwe can only have impressed the selectors and its possible Mishra will see some playing time when India play Australia for a seven-ODI series at home in October-November.
Dhawan shrugs off the blues
Dhawan endured a tough time in the West Indies, managing scores of 11, 24, 69, 15 and 16. He started the Zimbabwe for with 17 but regained form with 117 in the second ODI, using three lives to score his third century of the summer. It wasn't the prettiest of innings - Dhawan was dropped twice and let-off by a no-ball - but the 27-year-old needed runs. The determination Dhawan displayed in getting India from 64 for 4 to 237 for 6 when he fell in the 44th over was commendable. Dhawan made 35 and 41 in his remaining innings.
Unadkat, Mohit should be persevered with
With the ball, the efforts of left-arm quick Jaydev Unadkat and Haryana seamer Mohit Sharma were appreciable and the young bowlers may have done enough to earn themselves extended time traveling with the Indian team. Unadkat in particular used his opportunity in Zimbabwe well, taking eight wickets in five matches to finish second in the tally behind Mishra. The best fast bowler on tour, Unadkat, 21, will still remain firmly behind India's preferred trio of Bhuvneshwar Kumar, Ishant Sharma and Umesh Yadav but should be persisted with.
Mohit's performance in may open more doors for him as India's selectors search for a pace bowlers beyond the main three who have done the job in recent times. What he lacks in raw pace can be made up for with accuracy and movement, much like Bhuvneshwar has achieved in a short international career. Accuracy has not been a forte with most of the fast bowlers India have used over the last couple years, and so in that regard Mohit may find preference from the selectors.
---
---
Team Rankings
Rank
Team
Points
Rating
1
Australia
3028
116
2
New Zealand
2406
115
3
India
3085
114
4
England
3882
105
5
Sri Lanka
2454
91
FULL Ranking
Rank
Team
Points
Rating
1
England
5405
123
2
India
5819
119
3
New Zealand
3716
116
4
Australia
3941
109
5
South Africa
3345
108
FULL Ranking
Rank
Team
Points
Rating
1
Australia
6047
275
2
England
5959
271
3
India
9319
266
4
Pakistan
6009
261
5
South Africa
4380
258
FULL Ranking
Upcoming Matches