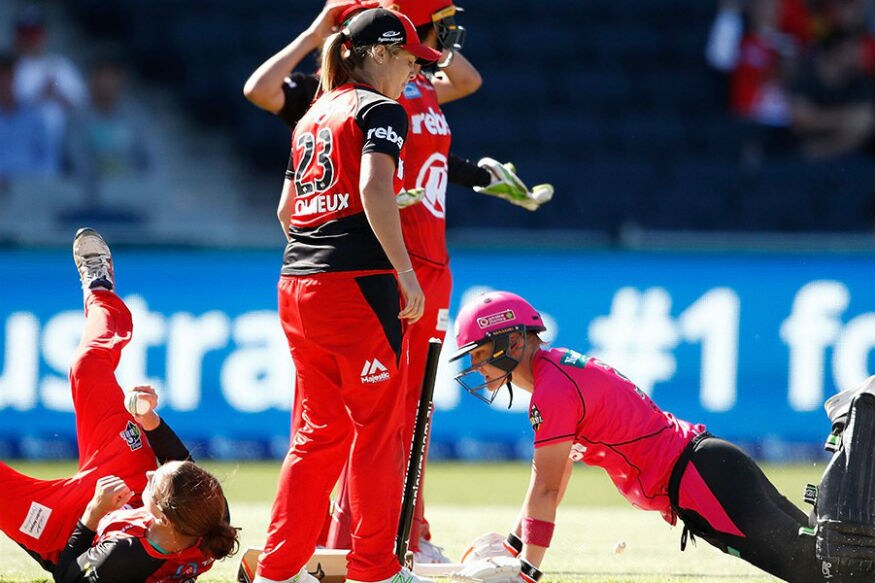 They always say never count your chickens before the hatch, but in Australia, in the Women's Big Bash League a similar happenstance almost led to an embarrassment for the Melbourne Renegades. The Renegades eventually clinched a cliffhanger of a contest against the Sydney Sixers, but had to wait till the super over.
The Sixers needed only three runs of the final ball, and Melbourne wicket keeper Emma Inglis nearly cost her side the win as she began celebrating too early, giving Sydney a chance to steal a second run and force a super over. The stolen second run meant the Sixers and the Renegades were both level on 120 runs each.
Renegades bowler Amy Satterthwaite pitched up the delivery to Sarah Aley of the Sixers, who drove it, but the ball hit the inside of the edge and went to fine leg.
The fielder in the deep threw the ball back to the keeper accurately, but Inglis in her moment of excitement began celebrating while the ball was still in play which allowed the Sixers to steal another run.
😳 > INSANE! It doesn't get much crazier than this!

Incredibly intelligent cricket from Sarah Aley on the final ball of our innings forces a SUPER OVER against @RenegadesWBBL! 🙈#smashemsixers pic.twitter.com/WG5ofYAMWF

— Sydney Sixers WBBL (@SixersWBBL) January 3, 2018
Satterthwaite seemed to be the only one Renegades player who noticed this and sprinted towards the stumps. But before Inglis realised what had happened the spinner, Satterthwaite charged towards the stumps with the ball. She though was beaten to it by Aley with a timely dive. Thereafter, the players and umpires were embroiled in a discussion around the incident.
There was more drama that would unfold as, the Super Over also went down to the wire with the match decided off the final ball. Sixers lost two wickets and could muster only 8 runs in the over while Renegades started with a boundary but had to wait till the final ball to seal the result.