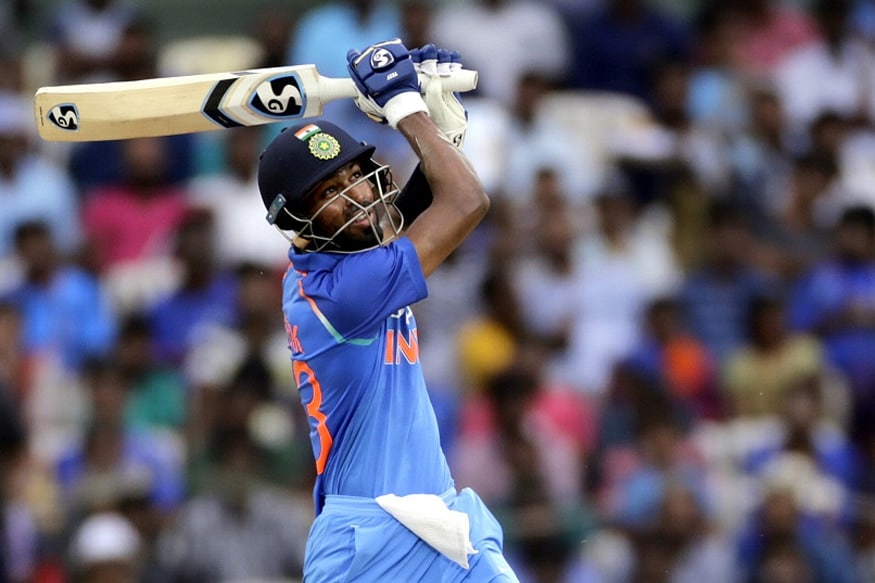 In January of 2016, 22-year old Hardik Pandya was introduced to the Indian T20 international team after an eye-catching performance in the Syed Mushtaq Ali Cup, India's domestic T20 competition. There had been glimpses of his ability in the previous IPL season but as Baroda's highest run-getter in the tournament, he produced a string of impressive performances that convinced the men who matter in Indian cricket that it was time for a step up.
On his debut in Adelaide, Pandya didn't get to bat and was plundered for 37 in his three overs though he did pick up a couple of wickets. More importantly, project Pandya was underway. This was a classic punt, once a player with collar-grabbing potential started to find rhythm and tempo, don't wait for him to make a case on statistical evidence gathered over time at the game's lower levels. Discover instead, how the deep end works out by throwing him into it right away.
On Sunday in Bristol, Pandya provided further evidence that not only has he learnt to swim at the deep end, he is in fact shredding the water apart as he strides rapidly forward. If "impact" is the measure of a player, Pandya created just that with ball and bat. Not only did he recover from a 22-run over first over pasting to pick up four wickets for a mere 16 more runs, he settled the contest with an innings of sparkling brutality – smashing 33 in a mere 14 balls to get India over the line with an over and a bit to spare.
There is little doubt that Pandya is a venture of sorts in Indian cricket, fast-tracked into the set-up to provide all-round heft found so desperately wanting. The search for a player of Pandya's skill-set has been largely fruitless in recent years. Once Irfan Pathan faded, the net was spread wide but the likes of Stuart Binny never quite fit the bill. While Binny batted and bowled, he was no more than a steady operator, unable to grab a game by the scruff of the neck and alter its course.
Pandya is visibly different, a game-breaker that can counterpunch, especially with the bat but potentially also with the ball. Introduced to Test cricket less than a year ago with very little to show for as a First-Class record, he was identified as the player that allows India to balance its XI in their bid to win consistently on the road. In a sense, he was the anti-Binny, not a bits and pieces player that performed a role unconvincingly, but the fulsome bearer of a promise that if realises capacity, could take his place among the very best.
Project Pandya was simple to comprehend, if only a player of his kind was desperately hard to locate. His presence was meant to allow Virat Kohli the luxury of playing just five frontline batsmen with Pandya coming in behind them as an occupant of the top six. With India's other lower middle order options including the likes of R Ashwin, Wriddhiman Saha or Dinesh Karthik and Ravindra Jadeja, – all adept batsmen - India could count on batting depth that other Test teams couldn't.
With the ball, Pandya's role would be to round the attack off. In conditions that aid fast bowlers, slot in behind the top three quicks, performing a holding job if the skipper so desires by bowling into the wind. If India play a second spinner, Pandya ensures there is seam bowling back-up once the new ball bowlers have completed their first spells but the ball is still relatively new and returns later to operate with the older ball.
With the bat, the investment on Pandya has already shown signs of return in his brief seven-Test career so far. In the third Test of his debut series in Sri Lanka, Pandya demolished the home team with a stunning 108 in just 96 balls, a knock that included seven sixes. It was in fact, his first First-Class hundred. In the first Test in South Africa in Cape Town, he chanced his arm to score 93 and took India from a precarious 76 for 5 to 209. He also bossed the Afghanistan attack for 71 in Bengaluru in his latest Test, helping India post a big first innings score.
However, with the ball, Pandya is still a work in progress. His seven Tests have only delivered only seven wickets so far and India will eager to get those numbers to start looking up over the course of the next few months, with away assignments in England and Australia. It is here that Pandya's development will be closely monitored as India will turn to him often to break partnerships, dry up runs from one end as a more attacking bowler seeks wickets from the other and work in tandem with the senior bowlers to create sustained pressure. Pandya won't be expected to run through batting line-ups day in and day out, but if he can continue to progress as a reliable fifth option, India will become that much harder to beat.
In white ball cricket, as evidenced in Bristol, Pandya is already on firmer footing. With a top order brimming with high quality strokemakers, he has delivered often when tasked with muscling the ball towards the latter half of the innings, striking at 115+ in ODIs and 153+ in T20s. And as the fifth bowler in a line-up that quite often doesn't have a reliable sixth turn to option, he is adding greater nuance, as he explained after bouncing back to break the back of England's batting in Bristol.
"My focus was that I just bowl different balls and keep it simple rather than just go for yorkers, because the shortest boundary was the straight," Pandya said. "So, if I missed my yorker, it would go … In shorter formats, when I bowl I think as a batsman. Generally, when I bowl, batsmen are going hard in this format. So, I try to think as a batsman and I try to outplay them."
Quite clearly, the early signs of Project Pandya are encouraging and he is already among a handful of players who can claim a regular spot in all three formats for India. In South Africa, for instance, he played in each of the 12 international matches of the tour. Over the next few months, Indian cricket confronts an assembly line of stern challenges it is upon the boy from Baroda to continue along this upward curve.