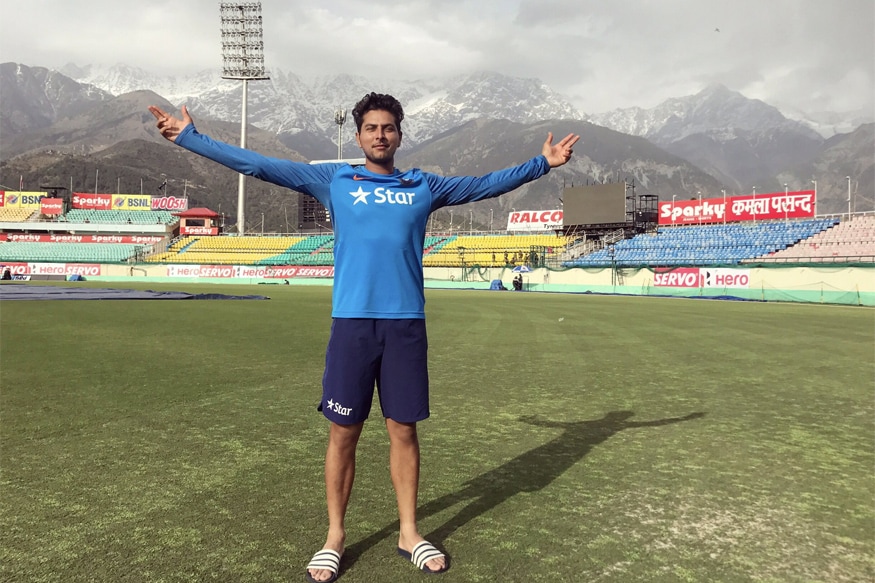 New Delhi: The hottest topic around Indian cricket at present is how the young duo of Kuldeep Yadav and Yuzvendra Chahal have taken over from the experienced duo of R Ashwin and Ravindra Jadeja in the limited-overs format, raising question marks over their chances of being a part of the 2019 World Cup team. But chinaman Kuldeep Yadav begs to differ.
Speaking to CricketNext, Kuldeep said that there was no sense of competition and both Ashwin and Jadeja are like elder brothers who keep mentoring him and teaching him the tricks of the trade. In fact, he is looking forward to unite with the duo for the Sri Lanka series that starts in Kolkata.
"I have no idea where this comparison comes from. Yes, Chahal and me have done decently in the limited-overs format, but that does not mean we are competing with Ashwin and Jadeja. Just look at their numbers and what they have done. We are just starting out and for me, I look up to them for guidance. In fact, they keep telling me how to go about doing my job in different match situations. Let us get this straight that they are not competition at all," he said.
Interestingly, as the Lankan Test series beckons, the spot behind the wicket is set to be taken by Wriddhiman Saha. Does Kuldeep miss MS Dhoni's guidance from behind the wicket, something clearly audible in limited overs matches, Kuldeep says both are equally helpful and with Dhoni comes wider knowledge because he has played more.
"Saha is just as good. He keeps guiding you with little inputs. But obviously, Dhoni is in a class of his own. With him, you just need to do 40 per cent of the job. The rest of the 60 per cent he does it for you. He is so good that he can read the batsman's mind even before you bowl. While people love comparisons, I would say they are both very calm and that makes the job of the bowler easier," he said.
Speaking of jobs, he is definitely skipper Virat Kohli's go-to-man when the opposition batsmen are sending the bowlers on a leather hunt. And Kuldeep feels that while everyone says a captain is as good as his team, it works the other way as well. And the bowler has his reasons.
"We have often heard that while the captain gets the applause and the brickbats after a performance, he can only be as good as his team. But, the same holds true the other way round. Sometimes, the team is as good as the captain and ours is a prime example. We have a role model in Kohli and we try and work just as hard as him. He raises the bar and we try to follow that. Then comes the support. With Kohli, you will never have negativity. He will find you a positive out of any situation and help you learn.
"The best part is that he never stops you from experimenting and learning new things. He wants you to in fact keep evolving and getting better. And when you know the captain has your back, you need no second invitation to go out and express yourself. To be honest, every moment in this team is like spending time with your own people — family," he said.
The season starts with the Lanka series, but heats up as India go to South Africa next. But Kuldeep doesn't wish to think about the South Africa series at present. He wishes to live in the present.
"One series at a time please. Right now, let us focus on the Sri Lanka series. We can talk about South Africa after this one ends. No long-term goal settings happening here. I take things as they come and live in the present," he signed off.
(The interview was done before the announcement of the squad for the Lanka series)