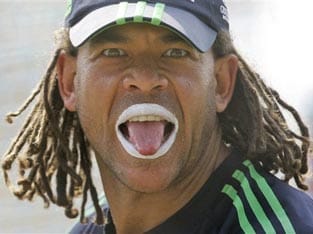 The racism debate surrounding Andrew Symonds doesn't seem to be calming, although both teams have said they want to move on.
ICC President Ray Mali has warned the BCCI to take the issue seriously or face action. Mali was quoted by the Sydney Morning Herald as saying, "Every member of the ICC is a signatory to the anti-racism code, and we expect everyone to follow it.
If there is someone not abiding by that, then certainly we will do something about it.
As the ICC President, I strongly condemn incidents of racism wherever they occur throughout the world. This is a serious issue, and we need to act on it to the best of our abilities."
Meanwhile, even the Australian cricket community seems to be divided over the issue, a day after Allan Border and Mark Waugh critcised Symonds for making too much of the issue, his skipper Ricky Ponting has jumped to his defence
The Sydney Morning Herald quoted Ponting as saying that Mark Waugh and Border played in a world that's slightly different to the one we are currently playing in.
Ponting went on to say that, it would be disappointing if the BCCI is accusing Symonds of lying because we all know that this is not the case. It wouldn't be written up in a referee's match report if it wasn't true.