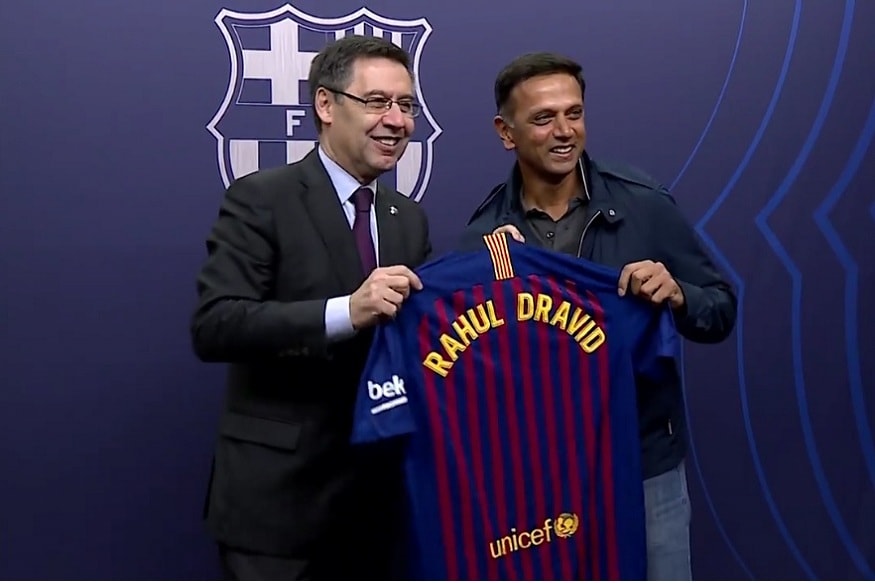 To watch the great Lionel Messi live in action is undoubtedly a sight to behold, and former India captain Rahul Dravid was on hand to do so when Barcelona saw off the challenge of Atletico Madrid.
Goals from Messi and Luis Suarez helped Barcelona beat Atletico Madrid 2-0 at Camp Nou on Sunday night and took them closer to retaining their La Liga crown.
Speaking after the match to the media, Dravid said he felt honoured to witness a match at Camp Nou and watch five-time Ballon d'Or winner Messi at his best.
"It's a huge honour and it's one of the things I've wanted to do to watch a football match at Camp Nou, to here and witness the atmosphere is absolutely electric. It's incredible to be able to watch players like Messi and Suarez play live is fantastic for me and my family," Dravid said.
Dravid, like many who watch Messi play, was left mesmerised and was all praise for the Barcelona legend.
"He's an absolute genius and it's incredible to see what he does. It's fantastic to see what he does with the ball but it's incredible to see him without the ball and be able to find spaces. I don't think there's been a better player than him ever and it's fantastic to watch him play."
Dravid, who said the atmosphere at the iconic Camp Nou was similar to some of the nights in the IPL, was also presented with a Barcelona jersey by club President Josep Maria Bartomeu.