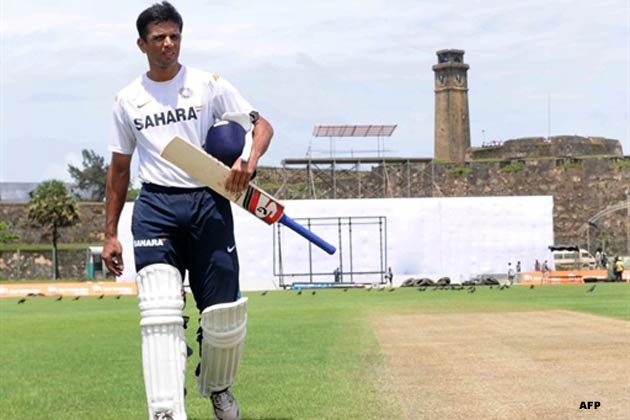 "I don't believe that you judge careers, or what people have done for 15-20 years based on one or two matches at the end. It is the body of work over a lifetime that goes into making a success story."
These words, spoken by Rahul Dravid during India's crushing 4-0 Test defeat in England last year, ring true on the day Indian cricket's most successful No. 3 batsman called time on his international career. A terrible final tour of Australia – 194 runs in eight innings, seven bowled dismissals in a row and no catches for the first time in a series of three or more Tests – and India's collective poor showing cost him the chance of a fitting swansong but the memories will live long. Dravid's poor returns in his final series did nothing to take away from the greatness of the man, the batsman and the Indian, or of what he has achieved in an international career spanning nearly 17 years.
Where does one begin to pay tribute to Rahul Sharad Dravid? How do you assess his contributions to Indian cricket? He finishes as the second-highest run-scorer in Test cricket – just pause and read that again, let the words settle in your head – while being a role model for players the world over. He captained India to Test series wins in the West Indies and England to snap decades-long droughts, and played starring roles in some of Indian cricket's most famous overseas victories. Along the way, he adjusted his game to suit one-day cricket and collected over 10,000 runs. And they said he couldn't play ODI cricket.
The list goes on. Dravid was the first batsman to score a century in all Test-playing countries, the first batsman to score 10,000 runs at No. 3, the batsman to face the most deliveries in Test cricket, the longest in ODI cricket to not score a duck (120 innings), and he even batted 173 consecutive innings in international cricket (Tests and ODIs) without a duck between 2000 and 2004 – the longest sequence for any batsman. And in case there was any doubt as to what else he could do, Dravid ended up as the owner of the most catches in Test cricket.
Through it all, across the world and in varied conditions, Dravid was the consummate gentleman, the hard-working player. He rarely displayed anger, was not prone to rage or contempt, stayed clear of controversy (you can hardly call a lozenge a controversy). He batted where the team needed him to, even opening in Tests without hesitation; he didn't compromise on his fundamentals, even when crossing 10,000 ODI runs; he donned the wicketkeeper's gloves, he captained his country; he sealed chases and help set up victories; he gave his best to help India out of trouble; and even when the victim of the BCCI's whimsical hire-and-fire policy he turned up to work and didn't complain. You name it, and Dravid has done it. Such was the man's duty to his cause.
That he did all this under adversity, with team-mates getting more attention, didn't seem to bother Dravid. He was overshadowed on Test debut by Sourav Ganguly, and spent his career overshadowed by Sachin Tendulkar. What it must have been like to play under the shadow of India's greatest player – hell, he was even booed when he came out to bat because he wasn't the next player in, he wasn't Tendulkar – only Dravid can know. The closest we may ever come to know about that was in Dravid's admission, years ago, that "most people want me to get out quickly so they can watch Sachin bat."
Tendulkar was worshipped, VVS Laxman pulled off the unbelievable with silky wizardry, Virender Sehwag put bums in seats, and Ganguly had a legion of followers in Kolkata. What did Dravid get? The epithet of 'The Wall', symbolizing something solid yet distinctly drab, resistant but not repelling. It could hardly have been the sobriquet he envisioned when taking his first strides in competitive cricket as a youngster in Bangalore.
Yet like a wall, he weathered the tough times. His form started to wane from the series against South Africa in late 2006, and continued for two years. But Dravid came back from his slump, and defied his critics. He scored over 1,000 Test runs in 2011, at the age of 38. Those 1,000 runs, he admitted, were the most satisfying because people had doubted his ability to perform at that age.
And so, after 164 Tests and 13,288 runs spanning nearly 17 years, we Indians have much to thank Dravid for. For his repeated role in saving, setting up and winning matches for India, by standing up to the best in the world and in all sorts of conditions, for giving us the belief that victory and escape were possible as long as he was at the crease.
For Kolkata, Headingley, Adelaide, Rawalpindi, and Jamaica – five of India's most famous Test wins ever. In each, Dravid left his mark. Right up there with pride of place are his match-winning 233 against Australia in Adelaide; an epic 270 against Pakistan in Rawalpindi to help clinch a series win; that 180 in the company of Laxman at Eden Gardens to script Indian cricket's defining victory after the match-fixing scandal; his twin fifties on a dodgy surface in Jamaica to set up India's first win in the West Indies for 35 years.
There were also colossal innings to avert defeats in Port-of-Spain, Georgetown and Nottingham, to name three memorable instances. There were four Test centuries in consecutive innings, and four double-centuries in the span of 15 Tests. There were runs in ODI cricket, a format in which Dravid appeared a misfit earlier in his career, and loads of them. He even top-scored in a World Cup.
Today, at the age of 39, has taken the decision to retire with the precision with which he cut and drove the ball down the years. He knew the end was near, but held off until the Indian team returned from a difficult tour of Australia so as not to distract attention from his countrymen. His career is over, and now his legacy truly comes into being. You can only become a legend once you have retired, and from today we can rightfully term Dravid a legend.