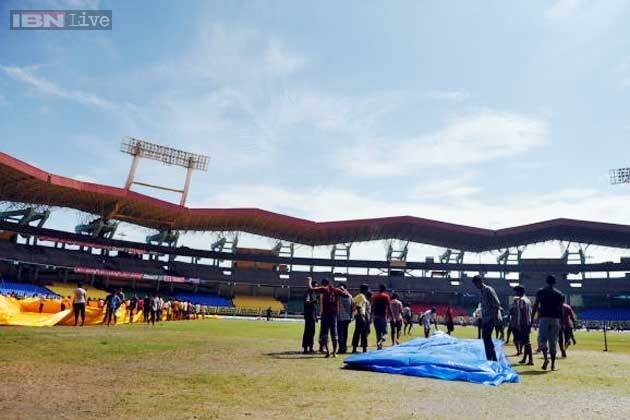 New Delhi: The Duleep Trophy final saw just one day's play possibile after rain left the Jawaharalal Nehru Stadium in Kochi unplayable, and the same threat hangs over the first ODI between India and West Indies on Thursday.
It rained heavily on Monday night in Kochi, with the whole ground kept under covers until Tuesday evening despite no more rain; however, president of the Kerala Cricket Association (KCA), TC Matthew, said the ground was in good shape and keeping the covers on was just a precautionary measure.
"We've only covered the whole outfield as a precautionary measure, because we've a four-day rain forecast here," The Indian Express quoted him as saying. "We've been working very hard on improving the facilities and are very cautious after the Duleep Trophy. We've already spent a lot of money on stadium upgradation and drainage. When the covers will be lifted, you will see how much progress we've made in terms of bettering the conditions," he said.
The run-laden series between India and Australia may have attached similar expectations to this series, but the match may not see a total in excess of 300. In the last ODI played here, England managed just 158 in 36 overs to lose the match while chasing.
Pitch curator Ramachandran, however, said that a score between 270 and 280 will be chaseable. "I won't call it a 300-plus pitch but 270-280 should be gettable, batting first or second," he told The Indian Express. "There's some grass cover which will ensure even bounce and carry and will encourage stroke-play. At the same time, the new-ball bowlers will get some assistance," he said.
But for that to happen, the rain has to stay away, which is what the local fans and organisers will be hoping for on Thursday.