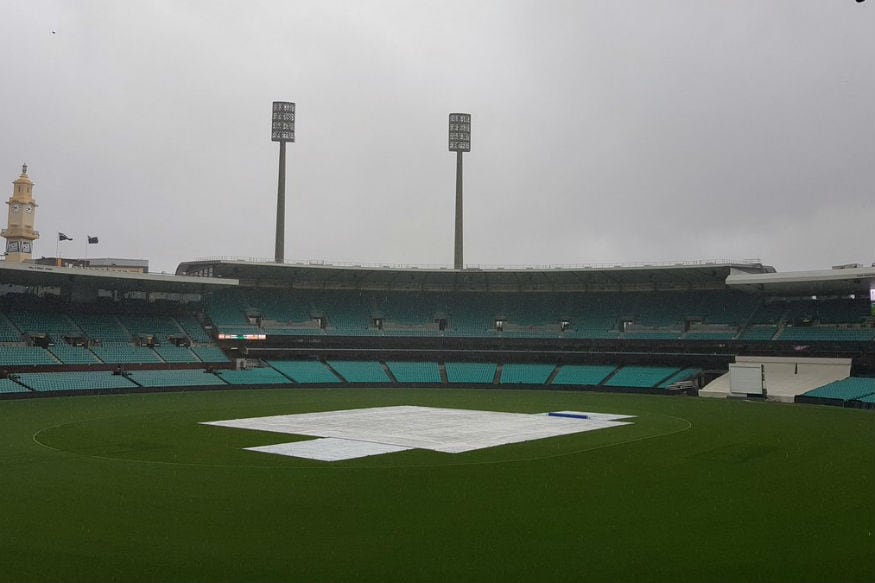 The Abu Dhabi T20 match between Deccan Gladiators and Team Abu Dhabi on Wednesday ended on a controversial note, with players ready to continue play after a rain break but officials in confusion over resumption, according to a report in ESPNcricinfo.
Gladiators were 25 for 1 in 2.2 overs, chasing 119 when rain stopped play in Abu Dhabi. The tournament rules require a minimum of five overs to be played in both innings to constitute a result. A revised target of 62 in five overs was set for the Gladiators, who got set to chase it down with Mohammad Shahzad (24*) and Anton Devcich (0*) taking the field along with Team Abu Dhabi fielders.
However, the officials and umpires were stuck in discussion beyond the cut-off time of 10pm.
The Twitter handle of the tournament simply stated that the game was abandoned due to rain.
Day 6, Match 3, Deccan Gladiators vs Team Abu Dhabi abandoned due to rain.#AbuDhabiT10#t10league#t10season3#inabudhabi#aldarproperties#deccangladiators#teamabudhabipic.twitter.com/OyKfO7GIXv

— T10 League (@T10League) November 20, 2019
The tournament organisers confirmed that the game was called off due to unavailability of DLS print out sheets, or 'supporting documents'.
"Match officials confirmed play would resume at 21.46pm, with the view to reduce the match to five overs, implementing the [DLS]," the organisers wrote in a statement the following morning, according to The National.
"DLS target discussions continued between team management and match officials as both teams took to the field.
"Supporting documentation was requested, and this was not immediately available before the scheduled 21.59 match cut-off time. The match referee subsequently decided to abandon the match."
Each team received a point for the no result, which makes Abu Dhabi's task of qualifying tougher. Naturally, their captain Moeen Ali was not too pleased.
"It is a bit frustrating but we are professional players, and I'm sure everyone throughout their career would have experienced something like this before," Moeen said.
"These things happen. It is not a T20, where everything is laid out for you. T10 is quite new.
"It is a great format, and maybe we can get together as players and officials and work something out better, but it is fine.
"We still have a slim chance. Hopefully, if things go our way, we can still get through. I'm sure everybody is going to learn from this, and something will come up and I think we just need to work it out as a group of players and with the guys behind the scenes."