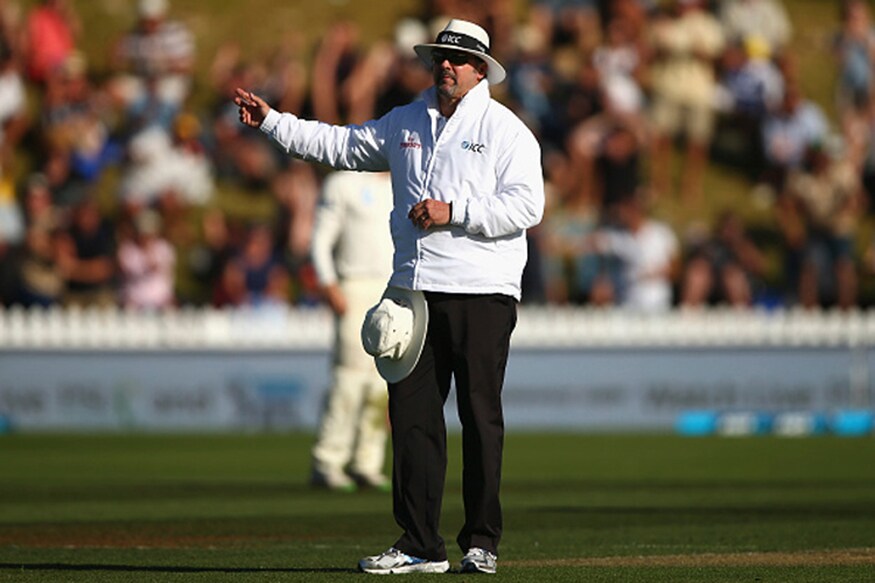 It's hard to dismiss Cheteshwar Pujara twice in a match. Ask Australia.
Imagine how tough it is to be asked to dismiss him four times in a match. Ask Karnataka.
Umpire Saiyed Khalid's twin mistakes, one in either innings, allowed Pujara reprieves that proved too costly for Karnataka in the semifinal against Saurashtra in Bangalore.
Pujara edged Abhimanyu Mithun to the keeper in the first innings when on one. Mithun ran across in celebration, as did his teammates, only to realise that Khalid was unmoved. So was Pujara. Mithun was shocked, Karnataka captain Manish Pandey pleaded with the umpire and even Pujara. But nothing worked. Pujara went on to add 45 more runs.
An encore happened in the second innings. Vinay Kumar had Pujara nicking behind on 34, but Khalid didn't hear or see it. Pujara stood firm, marked his guard like nothing happened. As in the first innings, Karnataka pleaded. Vinay even pointed to his eyes, gesturing the umpire should be more watchful. That didn't stop Pujara from batting on; he remained unbeaten on 131 to guide Saurashtra home in a big chase.
Speaking after the game, Saurashtra captain Unadkat sympathised with the umpires but said they were neutral in that both sides were at the receiving end of poor decisions. While Pujara's non-dismissals created an artificial controversy and a bit of an online storm, Saurashtra too suffered from umpiring errors. Mayank Agarwal was lucky to survive an lbw call. Prerak Mankad was adjudged caught behind in the first innings when he hadn't edged.
"I think anyone can have a tough game. The ball was moving a lot, deviating from the wicket," Unadkat explained. "I'd just say that it has been neutral for sure. Doesn't really matter if it can be anyone else... they thought it was out, we thought it was not out. There were a couple of other decisions as well which went against us and we didn't really take it in our mind and play the game, which I think they did.
"I'm really happy, don't want to take any credit away from how we played this game, how we fought after being 23 for 3, and playing the way Cheteshwar and Sheldon (Jackson) played. Even the second innings when we bowled, it was one of those innings which I felt was really absorbing. We were all drained out after that third day of play. To be playing that kind of cricket against a side as good as Karnataka is what really matters to me rather than anything else in this game, and I wouldn't want to focus on anything else."
There were plenty of umpiring errors in Karnataka's quarterfinal against Rajasthan as well. The incidents in these two matches, thanks to them being televised, have turned the focus on the quality of umpiring in domestic cricket.
What must also be taken into account, though, is that these are overworked and tired umpires approaching the fag end of the season. The addition of nine new teams to the Indian domestic circuit this year created a paucity of umpires, which even forced the board to rejig their domestic schedule.
In such a scenario, umpires could do with all the help they can get. One possible option is the use of DRS in knockout games - an idea both camps welcomed.
"Definitely, if they can use DRS, there would be nothing like it. We would have a fair game," said Karnataka coach Yere Goud.
Unadkat too echoed the opinion.
"It's good for the game to include as much technology as you can. It can be good for all the teams for sure," he said. "We've seen it at the international level as well. It has really helped teams to take those decisions. I think the BCCI would be the best judge to look at it. I'm sure people there would be looking at it and they are the best judges. Obviously, whatever technology you can include can help the game for sure."
The umpiring errors in the game have led to plenty of muck thrown on Pujara for not 'walking' - something he doesn't necessarily need to. But if all the noise does lead to better umpiring, or the BCCI considering DRS in Ranji knockouts, there will be some good to come out of it after all.