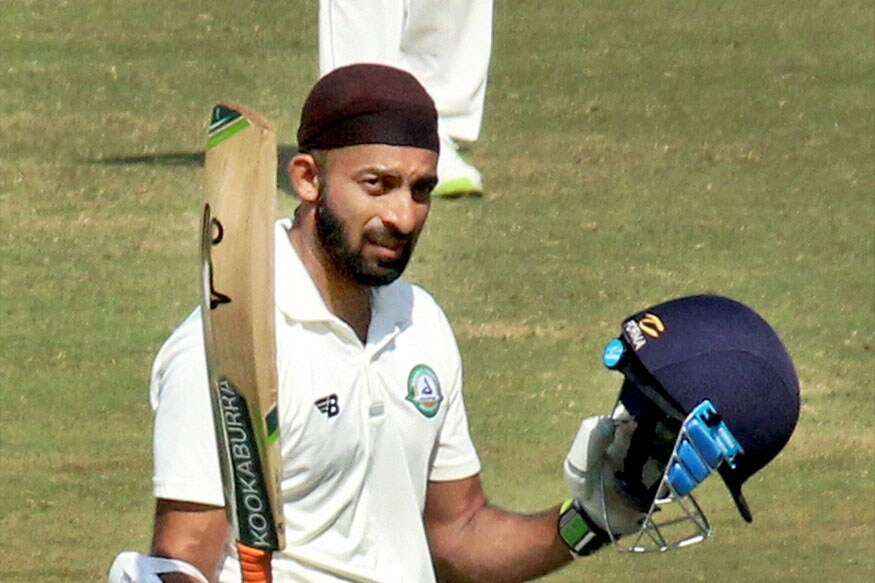 It was a day that belonged to the Plate Division teams in the fourth round of the Ranji Trophy as Uttarakhand thrashed Arunachal Pradesh to register their fourth win of the tournament while Meghalaya got past Manipur in Kolkata. Bihar, who had been struggling in the tournament till now, put up a much-improved show and won their encounter against Sikkim.
Here are the major takeaways from day three of the fourth round of Ranji Trophy:
Uttarakhand move closer to knockouts, Bihar get vital win
The Rajat Bhatia-led Uttarakhand showed why they are better than the rest in the Plate Division as they hammered Arunachal Pradesh by an innings and 73 runs. This was their fourth win in as many games and has in all probability taken them into the next round. AP were skittled out for 105 in the first innings, while Uttarakhand replied with a strong 470/4. Facing a big defeat, AP made 292 in their second innings with Kshitiz Sharma scoring 118. Left-arm spinner Mayank Mishra bagged eight wickets in the match.
In another match, Bihar recorded their maiden win this season and beat Sikkim by a whopping 395 runs. Chasing 503, Sikkim were never in the match and could only manage 108 in reply. The star for Bihar was Ashutosh Aman, who bagged 10 wickets and scored a crucial 89 in the first innings.
Sachin, Vinod deny MP innings victory
It wasn't the best of start for Kerala in the match, as they were bundled out for 63 in their first innings. Even in the second sojourn they did not fare any better as they were 38/4 at one stage. But the home side's captain Sachin Baby and Vishnu Vinod played out of their skins to avoid an innings defeat, stitching together a stand of 199 runs for the seventh wicket. While Baby was dismissed on 143, Vinod continued to battle on and went on to score his maiden first-class century, finishing on 155. This effort by the Baby-Vinod duo meant that Kerala lead by 125 runs at the end of day three.
Faiz Fazal and Akshay Wadkar continue to sizzle
One of the reasons for Vidarbha's success has been the heaps of runs skipper Faiz Fazal and Akshay Wadkar have been getting for the team. Both batsmen continued their top form and brought up their third tons of the season in the encounter against Chhattisgarh. With four opposition wickets already down for 28 runs in the second innings, Vidarbha are on course for an innings victory.
Just one wicket falls on day three in Baroda vs Saurashtra encounter
It was a perfect outing for Baroda batsmen, who in reply to Saurashtra's 521, took their team to 268/1 at the end of day's play. Kedar Devdhar slammed his ninth first-class ton while Vishnu Solanki scored 58 from 190 deliveries. In what turned out to be a long day for the bowlers, Baroda just lost one wicket in the day and scored runs at 2.9 RPO.
Brief Scores:
Assam 310 bt Haryana 97 & 178
Meghalaya 326 & 58/1 bt Manipur 211 & 172
Odisha 212 & 111/5 vs Tripura 122 & 304
Uttarakhand 470/4d bt Arunachal Pradesh 105 & 292
Bihar 288 & 296/7 bt Sikkim 81 & 108
Chhattisgarh 232 & 28/4 vs Vidarbha 332/6d
Karnataka 186 & 54/0 vs Maharashtra 113 & 256
Mumbai 297 & 157/7 vs Gujarat 281
Saurashtra 521 vs Baroda 268/1
Punjab 282 & 8/0 bt Delhi 107 & 179
Hyderabad 352 vs Himachal 351
Kerala 63 & 390/8 vs Madhya Pradesh 328
Tamil Nadu 263 & 141 vs Bengal 189 & 87/2
Goa 364 & 10/1 vs Jharkhand 390
Services 252 & 67/5 vs J&K 95 & 261
Uttar Pradesh 214 vs Rajasthan 311 & 136/4
Puducherry 375/8d vs Mizoram 92 & 40/8