Ranji Trophy 2016-17 Live: Round 4, Day 3
09:16 (IST)
Tamil Nadu finally declare after putting on pile of runs
End Innings: Tamil Nadu - 555/7 dec in 176.6 overs (Aswin Crist 15 off 44, N Jagadeesan 123 off 204) #TNvMP @paytm #RanjiTrophy

— BCCI Domestic (@BCCIdomestic) October 29, 2016
09:16 (IST)
First of all here are all the scores from last night.
Kerala vs Chhattisgarh, Chhattisgarh 179/9, Trail by 28 STUMPS
Railways vs Bengal, Bengal 208/9 (2nd innings), Lead by 307 STUMPS
Haryana vs Andhra, Andhra 95/3 (2nd innings), Lead by 245 STUMPS
Punjab vs Baroda, Punjab 121/1, Trail by 408 STUMPS
Vidarbha vs Jharkhand, Vidarbha 48/0 (2nd innings), Lead by 209 STUMPS
Rajasthan vs Maharashtra, Rajasthan 76/2, Trail by 385 STUMPS
Hyderabad vs Himachal, Himachal 99/7, Trail by 63 STUMPS
Tripura vs Goa, Goa 220/8, Trail by 63 STUMPS
Tamil Nadu vs Madhya Pradesh, TN 547/7 STUMPS
Gujarat vs Uttar Pradesh, UP 147/4, Trail by 200 STUMPS
Jammu & Kashmir vs Services, J & K 96/1, Trail by 381 STUMPS
Odisha vs Delhi, Delhi 351/6, Lead by 114 STUMPS
Assam vs Karnataka, Karnataka 223/2, Trail by 102 STUMPS
09:15 (IST)
Hello and welcome to the Ranji Trophy Live Blog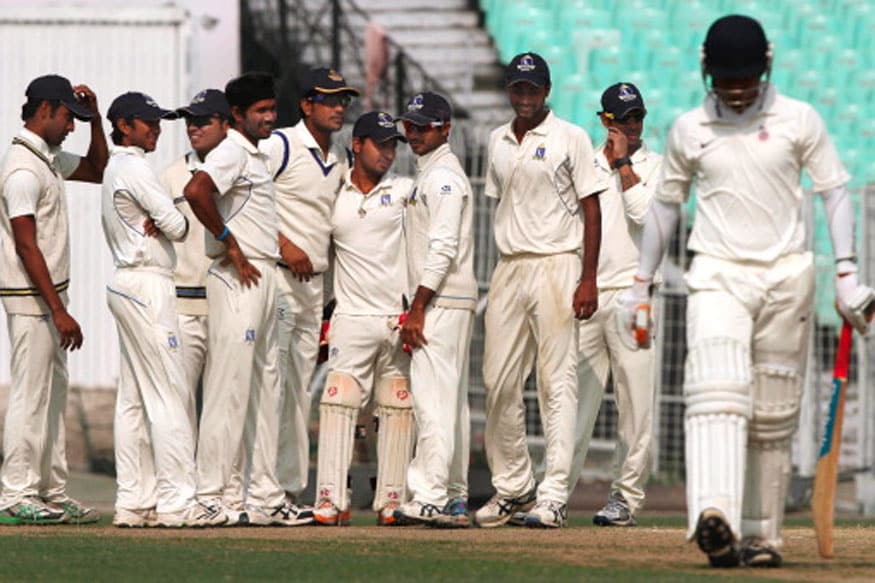 Hello and welcome to the live blog of Day 3 of the Ranji Trophy 2016-17 Round 4 action. Catch all the live scores and updates from India's premier domestic competition.
Here are all the final scores of the matches at stumps on day two.
Kerala vs Chhattisgarh, Chhattisgarh 179/9, Trail by 28 STUMPS
Railways vs Bengal, Bengal 208/9 (2nd innings), Lead by 307 STUMPS
Haryana vs Andhra, Andhra 95/3 (2nd innings), Lead by 245 STUMPS
Punjab vs Baroda, Punjab 121/1, Trail by 408 STUMPS
Vidarbha vs Jharkhand, Vidarbha 48/0 (2nd innings), Lead by 209 STUMPS
Rajasthan vs Maharashtra, Rajasthan 76/2, Trail by 385 STUMPS
Hyderabad vs Himachal, Himachal 99/7, Trail by 63 STUMPS
Tripura vs Goa, Goa 220/8, Trail by 63 STUMPS
Tamil Nadu vs Madhya Pradesh, TN 547/7 STUMPS
Gujarat vs Uttar Pradesh, UP 147/4, Trail by 200 STUMPS
Jammu & Kashmir vs Services, J & K 96/1, Trail by 381 STUMPS
Odisha vs Delhi, Delhi 351/6, Lead by 114 STUMPS
Assam vs Karnataka, Karnataka 223/2, Trail by 102 STUMPS