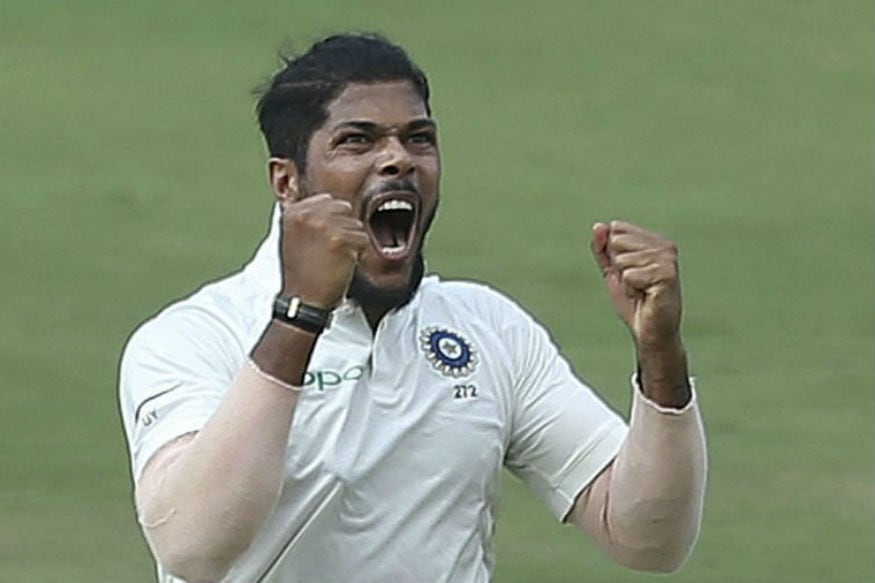 Umesh Yadav was the star of the show with the ball for Vidarbha as he once again proved his credentials on Indian pitches, returning with figures of 9/113 to help his side storm through to the Ranji Trophy semi-finals after an innings and 115 runs victory against Uttarakhand.
Coach Chandrakant Pandit and captain Faiz Fazal both spoke highly of the 'humble' Umesh, who was also named man-of-the-match for his performance.
"He is an exception I would say to other players, despite being an international player, he gives his 100% for the state and there is no question about his commitment, he has played with most of these players throughout his career and there is mutual respect. He is always willing to help and share tips with other bowlers," says Pandit.
Fazal said his ability to continuously bowl at 140kph makes a difference irrespective of the conditions.
"There are not many bowlers who can bowl continuously above 140kph. If you see the way he bowled in the second innings, then you'll realize his importance. The wicket was still good to bat on and pretty much dead, but facing any bowler who bowls so accurately at high pace is always difficult, he is extremely humble and approachable as well for the team," says Fazal.
Pandit also praised his team for stepping up their game and bringing in that extra effort required in the knockouts.
While they were some standout performances, notably by the likes of Umesh, Wasim Jaffer, Akshay Wadkar among others, Pandit credited the team effort for victory.
"We came into the match with some great momentum behind us, but in the knockouts you have to give your extra effort. Playing a five-day game is different from a four-day game and how you utilize that extra day makes a lot of difference," said Pandit.
Fazal further elucidated that, saying that a five-day game always gives an opportunity to the other team to comeback,
"The game between Saurashtra and UP is a perfect example, in a five day game you can't be complacent. We as a team wanted to do our basics well, Uttarakhand had batted well in the first innings and posted a challenging total (355). But we wanted to bat big and wanted a score above 600," said Fazal.
Fazal was especially pleased by the knock of fellow opener Sanjay Rangaswamy (142) along with all-round performance by Aditya Sarwate, who scored 102 and then followed it up with 5/55 in the second innings.
"He (Sanjay) had been a bit unlucky in the group stages so good to see him coming back into form. Sarwata was brilliant with bat and ball. Wadkar played a solid knock as well so it's good to see everyone performing well," he said.
Jaffer continues to be among the runs with a fine double ton but Pandit talked about his influence in the dressing room, saying he makes his job easier as a coach.
"I have known Wasim for a long time, he is a senior player and he knows his job. Even my jobs in terms of communicating to the team becomes easier with him around. He also brings a certain calmness with him," said Pandit.
Vidarbha will now face Kerala in the semi-final - a team that will be making its first appearance in the Ranji Trophy semi-final – both coach and captain said it won't be an easy challenge, with Fazal singling out their fast bowlers as a major threat.
"Having seen some of their games, they have a dangerous bowling lineup. Even their batting has clicked and though they might miss Samson in the semis, it doesn't make our job any easy. We will be playing away so we have to be careful," said Fazal.
Pandit, meanwhile had a word of appreciation for his counterpart Dav Whatmore,
"He has done a fantastic job, it can be difficult for a foreign coach working in India especially in terms of language but credit to him for the way he has improved the Kerala team," said Pandit.