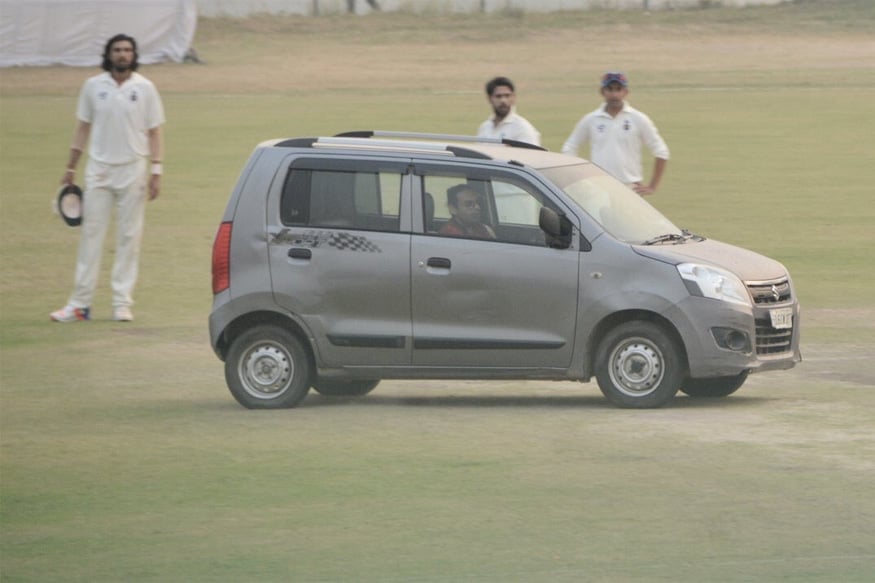 New Delhi: The Ranji Trophy match between Delhi and Uttar Pradesh had to be stopped briefly after a man drove his car onto the pitch at the Air Force Sports Complex in Palam in New Delhi on Friday.

A major security breach at the venue allowed the man to come inside the ground when international players like Gautam Gambhir, Ishant Sharma, Suresh Raina and Rishabh Pant were in action in this particular match.

Delhi skipper Ishant took to social media to express his concern about the entire incident and his Twitter post read: "Drive in theater just progressed to #DriveIn match. Shocking scene in between #RanjiTrophy match today witnessed with @GautamGambhir"


Drive in theater just progressed to #DriveIn match. Shocking scene in between #RanjiTrophy match today witnessed with @GautamGambhir
I:NDTV pic.twitter.com/fNq44TlZBZ

— Ishant Sharma (@ImIshant) November 3, 2017



At around 4:40 pm, 20 minutes from close of play, a silver grey Wagon R suddenly drove onto the field of play with Uttar Pradesh batting in their second innings. The man, who identified himself as Girish Sharma, tried to swerve his car twice on the 22-yard strip before stopping, an eyewitness said.

It was learnt that the main gate of the Air-force ground, which only allows entry of cars after proper checking remained open with the security not in his position. This allowed the man free access inside the complex and instead of moving towards the designated parking lot, which is behind the main pavilion, he drove straight towards the field of play, leaving everybody in a state of shock.

Later, the match referee took a good look at the pitch and then only allowed the play to resume. The end of day's play was extended by 20 minutes to make up for the lost time.

BCCI acting president CK Khanna said: "The BCCI will enquire into the incident. The relevant department will get in touch with the Services Sports Control Board as this is a matter of serious concern.

"This is a breach of security measure at the Services Sports Control Board (SSCB) ground. Imagine if the man had any sinister motive, then lives of international cricketers could have been in danger," Khanna added.

Delhi team manager Shankar Saini, who was present at the ground said: "Thank God, nothing untoward happened. There was a possibility that it could have been more serious."

The allegedly inebriated man was first detained by the Air-force Police before being handed over to the Delhi Police for interrogation. However, as per senior Delhi Police official, none of the involved parties lodged a formal complaint against the intruder.

"No formal complaint has been lodged. Preliminary investigations suggest that the Air-force security guard was not present at the gate. We have detained the man identified as Girish for questioning. He is around 30 years old and claimed that he works in a private firm. He seemed mentally disturbed," a senior Delhi Police official said.

A DDCA official present at the ground said: "The man looked a complete mess. He was driving the car wearing a lungi. In fact, when he was being bashed up for his act, he hardly reacted. He did not look in perfect mental health."

Although the match is being held at the Services' home ground, the host of this particular match is Delhi & Districts Cricket Association (DDCA). The Services is only the facilitator as they are providing the ground for the game.

The match was supposed to be held at Feroz Shah Kotla but with India's T20 game against New Zealand being held on November 1, the match was shifted to the Air-force ground.

((With PTI Inputs))



First Published: November 3, 2017, 6:42 PM IST