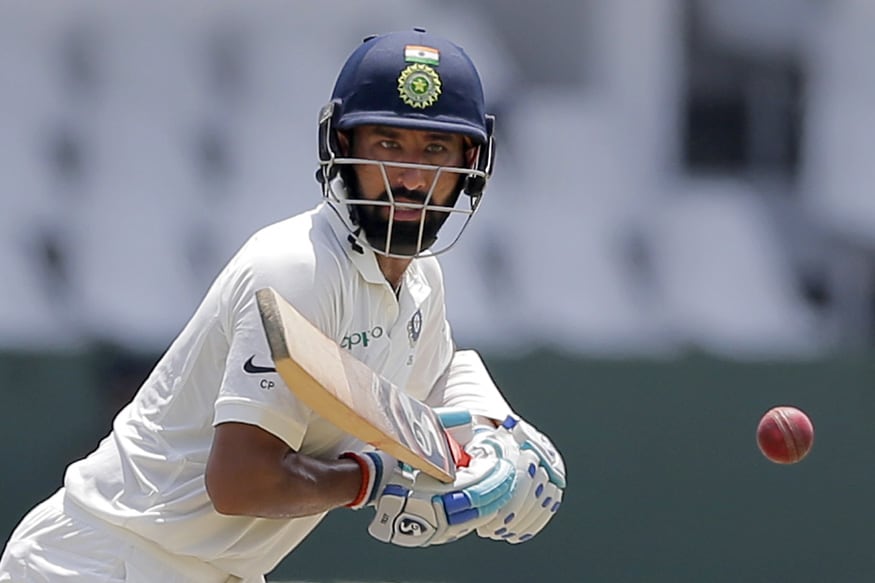 The first round of the 2018-19 Ranji Trophy got underway at multiple venues across India on Thursday. From Cheteshwar Pujara retiring hurt to Sikkim's stunning comeback, here are the takeaways from the first day's action.
How did India's Test stars go?
Cheteshwar Pujara turned out for Saurashtra against Chhattisgarh but his hopes of getting quality batting-time ahead of the Australia tour was hit when he was forced to retire hurt with a sore neck. Pujara was on 30 off 64 balls when he was forced out. Saurashtra, who were asked to bat first, were on 282 for 3 at stumps with opener Snell Patel top-scoring with 91.
Tamil Nadu's R Ashwin bowled 21 overs for one wicket against Madhya Pradesh on an attritional day of cricket in Dindigul. Asked to field first, Tamil Nadu got Ankit Dane in the second over but Aryaman Birla and Rajat Patidar kept them at bay with a 124-run stand for the second wicket. It was Ashwin who broke that stand when he had Birla caught at silly point for 51. Ashwin ended with figures of 21-4-49-1 as Madhya Pradesh finished on 214 for 3.
Tamil Nadu's M Vijay, Gujarat's Parthiv Patel and Andhra's Hanuma Vihari are the other players in this round of Ranji Trophy to have been selected for the Australia tour. They are yet to bat.
Under-19 players watch
Shubman Gill has had a bumper year, first with India Under-19 and then with India A. He began the Ranji Trophy season on a decent note scoring 56 off 92 balls against Andhra in Visakhapatnam. Opening the batting after his side lost the toss, Gill hit two sixes and five fours, and helped Punjab recover from 4 for 2 with a 91-run stand for the third wicket with captain Mandeep Singh. Punjab ended the day on 261 for 6.
Uttar Pradesh pacer Shivam Mavi started his Ranji Trophy career on a successful note with a four-wicket haul against Goa in Kanpur. He ran through the middle and lower orders and ended with 4 for 25 from 10 overs, as Uttar Pradesh bowled Goa out for just 152. The hosts then ended the day on 153 for 1, with a lead of one run.
Sikkim's stunning comeback
Less than an hour into the day, Manipur reduced Sikkim to 15 for 5 at the Jadhavpur University Ground in Kolkata. By the time play ended, Sikkim had recovered to 299 for 9. As many as 202 of those runs were scored by Milind Kumar, who remained unbeaten. He walked in at 12 for 3 at the end of the sixth over and batted 248 balls for two sixes and 29 fours. Milind, who has played 29 first-class matches for Delhi, received decent support from Bipul Sharma, who has earlier played for Himachal Pradesh. The two added 107 for the sixth wicket. Lee Yong Lepcha then chipped in with 25 vital runs to support Milind.
Defending champions watch
Vidarbha showed the tenacity of a champion side and fought back in the latter stages of the day to keep Maharashtra to 284 for 6 in Pune. Maharashtra were at one stage in control at 226 for 2 but left-arm spinner Aditya Sarwate struck twice to trigger a mini collapse. Each of Maharashtra's top four batsmen scored more than 40, but only opener Chirag Khurana made it a half-century (89). Off-spinner Akshay Wakhare got two wickets too, while Aditya Thakare and Lalit Yadav bagged a wicket apiece.
Vijay Hazare trophy winners watch
Opting to bat first, Mumbai ended the day on 278 for 5 against Railways in New Delhi with Siddhesh Lad unbeaten on 80, and Suryakumar Yadav top-scoring with 83. Only 80 overs were possible in the day as smog ended play early. Yes, it's that time of the year in Delhi. In fact, Lad was seen batting with a mask on. A few other players from Mumbai wore masks in the pavilion too.
Uttarakhand on top after 17-wicket day
Uttarakhand pacer Deepak Dhapola bagged the season's first five-wicket haul as Bihar were bowled out for just 60 in 22.1 overs after being sent in to bat. Dhapola ended with figures of 6 for 13 from 8.1 overs. Uttarakhand too lost seven wickets in their reply but managed to score 201 for a 141-run lead.
Centuries:
Milind Kumar (202* for Sikkim v Manipur)
Bishal Ghosh (151* for Tripura v Services)
Chetan Bist (146* for Rajasthan v Jammu & Kashmir)
Anurag Sarangi (114 For Odisha v Haryana)
Rajat Patidar (110* for Madhya Pradesh v Tamil Nadu)
Five-wicket hauls:
Deepak Dhapola (6 for 13 for Uttarakhand v Bihar)
Gurinder Singh (5-50 for Meghalaya v Arunachal Pradesh)
Siddharth Desai (5 for 109 for Gujarat v Baroda)
Brief scores of all matches:
Meghalaya 87/6 v Arunachal Pradesh 166
Tripura 268/7 v Services
Nagaland 189/4 v Mizoram 106
Jharkhand 266/6 v Assam
Odisha 232/6 v Haryana
Sikkim 299/9 v Manipur
Punjab 261/6 v Andhra
Gujarat 15/0 v Baroda 290
Maharashtra 284/6 v Vidarbha
Mumbai 278/5 v Railways
Saurashtra 282/3 v Chhattisgarh
Bengal 266/6 v Himachal Pradesh
Kerala 231/4 v Hyderabad
Madhya Pradesh 214/3 v Tamil Nadu
Rajasthan 300/3 v Jammu and Kashmir
Uttar Pradesh 153/1 v Goa 152
Uttarakhand 201/7 v Bihar 60