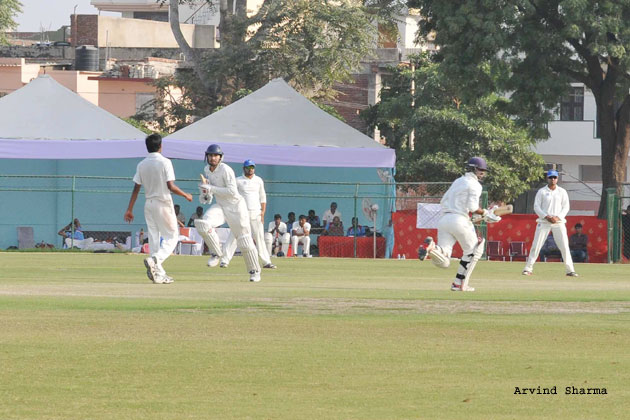 New Delhi: Round three of the 2012-13 Ranji Trophy season produced just two wins, one of which ended a four-year drought for Odisha, and of the ten draws only three could be termed as hard-fought.
The round also saw 25 centuries scored, with Services veteran Yashpal Singh making his career-best 250* and Amol Muzumdar picking up two in the same match to reclaim the tag of leading run-getter in tournament history. With the ball, Jharkhand captain Shahbaz Nadeem continued plucking wickets with his left-arm spin to stay top of the wicket-takers' list.
Basant Mohanty helps Odisha end winless streak
Four years. That's how long it took Odisha to claim an outright win in the Ranji Trophy. The previous time they do so, they were called Orissa and their current coach, Debashish Mohanty, was their strike bowler.
The drought was broken up north in Lahli, where Odisha beat hosts Haryana by four wickets. The common factor? Medium-pacer Basant Mohanty, who took nine wickets – seven in the first as Punjab were scuttled for 60 – in 2008 and nine against Haryana this year. Four years ago at Bhubaneshwar, Basant took 7 for 27 on the opening day; in this round, he grabbed 5 for 24 to help shoot Haryana out for 66. His new-ball partner in 2008, former India seamer Debashish, took two seven wickets in that win over Punjab, and in 2012 watched proudly from the dressing room as coach of Odhisha.
Of the XI that featured in that ten-wicket win over Punjab at Bhubaneshwar on November 26, 2008 only three were part of Odhisha's victory on Tuesday - the wicketkeeper Haladhar Das, left-arm spinner Dhiraj Singh and Basant.
Muzumdar reclaims Ranji record
At 38, Amol Muzumdar has seen it all in domestic cricket; success, failure, heaps of runs, records and three teams. From being hailed as the future of Mumbai batting, and a potential India candidate, after 260 in first-class debut in the 1993-94 season, it was with adopted teams that Muzumdar broke the record for must runs in the Ranji Trophy – twice.
Playing his first match for Assam in 2009-10, he surpassed Amarjeet Kaypee's record of 7623 runs. In 2011, his former Mumbai team-mate Wasim Jaffer went past Muzumdar's tally of 8237. This season, playing for Andhra, Muzumdar went past Jaffer's 8320 with a century in the first innings against Himachal. In the second, he extended that lead with 104 to score his 25th Ranji Trophy century.The two batsmen's healthy rivalry is set to resume when Jaffer, presently on Haj, links up with the Mumbai squad for the second half of the league stage.
Muzumdar, who became the most capped Ranji player during Andhra's season opener, spoke to Cricketnext [LINK TO http://cricketnext.in.com/live/news/ranji-trophy-has-given-me-everything-amol-muzumdar/69273-13.html]. Read on for an engaging interview.
Yashpal continues to torment Tripura
Services' veteran Yashpal Singh has scored a lot of runs (5623 at 53.74 to be precise) in his 11 years of cricket. And if there's one team he has really given a tough time too, it's Tripura. Four of Yashpal's 13 first-class centuries have come against them, and both his doubles have come at their expense too. A decade ago, he took 240 off their bowlers. Over the weekend, he made a career-best unbeaten 250 against them at Agartala out of a first-innings total of 563 for 4, which took him to 920 career runs against Services at an average of 102.22. His next best returns have come against Vidarbha (398 runs at 39.80). Talk about having a punching-bag attack.
Jiwanjot is finally halted, Punjab fail to win
With scores of 213 and 158 from his first two innings in first-class cricket, Punjab opener Jiwanjot Singh hade made one of the most remarkable starts to a career. And with those two innings, Punjab have made a terrific start to the season with two consecutives wins. Then the 22-year-old was dismissed for 44, and Punjab were bowled out for the first time this season, for just 301 after totals of 565 for 6 and 579 for 7. Punjab claimed three first-innings-lead points thanks to Uday Kaul's century, but must be hoping that young Jiwanjot gets back to his big-scoring ways. He did finish unbeaten on 27 in the second innings, so ...
Paras' purple patch
In 10 previous first-class seasons, Himachal Pradesh's Paras Dogra crossed 500 runs thrice – in 2006-07, 2010-11 and 2011-12. In those ten seasons, he never crossed more than two centuries per year. In four innings in the current season, he has 462 at 115.50, with three centuries. At 28, this could be a watershed season for Dogra.
Group C spinners rule the roost
This may be most unglamorous of the three Ranji groups, but there's a troika of bowlers making claims for respect – and they all happen to be spinners. Jharkhand captain Shahbaz Nadeem added seven Goa wickets to consolidate himself as the leading wicket-taker this season with 24 at 16.79, while his slow-bowling team-mate Sunny Gupta picked up eight from the same match to move to third pace with 18. Sandwiched between them was another Group C tweaker, Assam's Arlen Konwar who took six against Kerala to take his tally to 20. Lets hear it for the bowlers.
Help for seam bowlers heartening to see
Nitin Chouhan, our reporter who covered the Rajasthan v Madhya Pradesh game in Jaipur, reflects: "When there have been runs aplenty so far in the domestic season, it was refreshing to see bowlers, especially pace bowlers, getting a little bit of help from the pitch at the KL Saini Stadium. The surface had a tinge of grass on it and the way the seam bowlers from both sides got purchase off the deck throughout the match was quite heartening.
"Twenty-four of the 30 wickets that fell during the draw were taken by the fast men, with Rajasthan's pacers claiming 14 of them. While Pankaj and Rituraj Singh were the wrecker-in-chiefs for the home side with 12 wickets in two innings, Ishwar Pandey was the pick of the MP attack with seven scalps. Pitches with more help for seam bowlers not only add to the excitement of watching a four-day game but creates more of a contest between bat and ball."
Ranji draws aren't always dull
At the Eden Gardens, a remarkable eighth-wicket stand between Rujul Bhatt and Rakesh Dhurv denied hosts Bengal a victory and three points when Gujarat looked down for the count. At 18 for 4 on the final morning, Gujarat's day started off on a bad note when the experienced Venugopal Rao departed first ball. Rush Kalaria and Manpreet Juneja put on 49 to stem the rot, but it was Bhatt and Dhurv's partnership that really thwarted Bengal. Bhatt's unbeaten 102 was his second century in a row, while Dhurv's 98-ball 83 followed 41 in the first innings and 65 against Saurashtra before that. In a round in which dull draws were the norm, this spirited rearguard was refreshing.
But then there was the Kotla …
The Feroz Shah Kotla is never far from controversy. After throwing up a sporting wicket in which 30 wickets fell before lunch on day four, including 13 on the opening day, the pitch presented for Delhi's third match against Baroda was as dead as a dodo. The match saw 1066 runs scored in four days, with four centuries and six half-centuries, for the loss of just 16 wickets. And all Delhi and Baroda got for it was one point each.
What made this Group B match even more of a poor advertisement for first-class cricket was the fact that Baroda batted for an hour on the third morning instead of declaring when having crossed 500 runs, and the captain Ambati Rayudu's deliberate go-slow tactics on day four. Rayudu put eight fielders on the leg side and instructed his pace bowlers to bowl outside leg stump, sometimes even into the batsmen's ribs. Though Delhi had consigned themselves to a draw, Rayudu did not bother to take wickets. Fast bowler Firdaus Bhaja was even seen bowling offspin off two steps, with the wicketkeeper standing back and six fielders on the boundary.
This was later defended with the logic that Baroda did not have a penetrative bowling attack, but this was a sad indictment of the points system, revamped though it may be.