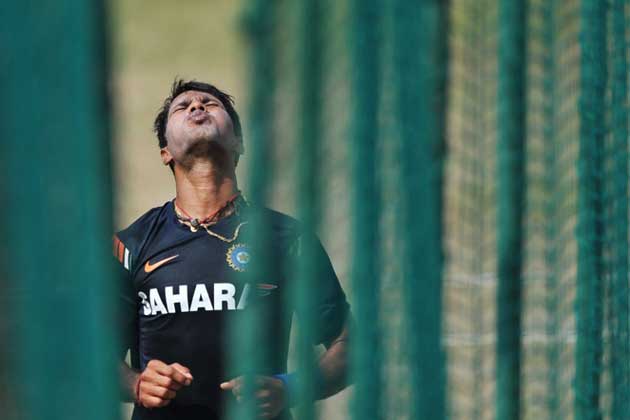 New Delhi: The fourth round of the 2012-13 Ranji Trophy season gets underway across the country on Saturday, with eight teams having posted outrights wins so far. With several others having moved up the points table with draws in round three, the middle area is getting packed and that puts pressure on the lower-rung teams.
Here's a look at the Group A matches starting November 24.
Punjab v Saurashtra at Mohali: Punjab should be glad to return home to the PCA Stadium, where their two matches this season have resulted in innings wins. Their one match away, against Railways in Bhubaneshwar in the last round, brought just three points but against Saurashtra the hosts will be keen to get back to winning ways.
Punjab sit at the top of the Group A table with 17 points, 11 ahead of Saurashtra at second place. Their success has been driven by the batsmen, with rookie opener Jiwanjot Singh (442 runs) and Uday Kaul (331) leading the way, but at home Siddarth Kaul has played a hand in victories so he remains a key player in helpful conditions.
Saurashtra's six points have come down to first-innings leads. Against Gujarat, a record 539-run stand between Ravindra Jadeja (303*) and Sagar Jogiyani (282) gave them three points and in round three it was Jadeja's left-arm spin that sealed three more. With a total of 260 in the first innings Saurashtra owed it all to Jadeja's six wickers which kept Hyderabad to 186. A declaration at 232 for 6 gave Saurashtra the entire final day to try and bowl Hyderabad out, but they could not pull off an outright win.
Captained by 20-year-old Manpreet Singh, Punjab should be wary of an in-form Jadeja.
Hyderabad v Mumbai at Hyderabad: Mumbai will continue to be led by middle-order batsman Rohit Sharma in the absence of regular captain Ajit Agarkar in their match against hosts Hyderabad. Mumbai are tied with Saurashtra and Bengal on six points, while Hyderabad languish at the bottom of the Group A table with two from three matches.
Mumbai did not feature in round three, and will hope that the break from play has rejuvenated their players. Unable to force victories against Railways and Rajasthan, they can take confidence from the way their batsmen ensured the first-innings lead against the defending champions in round two. They could do with more runs from Rohit, who has scores of 18, 20 and 79. Against a Hyderabad bowling attack that has failed to bowl out a side yet – just 13 wickets have been taken in two matches – Rohit must be eyeing a return to form.
Hyderabad's problems are not restricted to the ball. Of their batsmen, only two – captain VVS Laxman (210) and opener Akshath Reddy (202) – have crossed the 200-mark and only Laxman has a century. Reddy has a team-high three fifties and will need to bat on to bigger innings to lift his struggling team-mates. The home team can take some comfort from the hard-fought draw clinched against Saurashtra.
Madhya Pradesh v Bengal at Indore: One point separates Bengal from hosts Madhya Pradesh, but without the services of Ashok Dinda their task becomes tougher. Manoj Tiwary's team failed to claim an outright win over Gujarat in round three, on which they needed to take six wickets. And without Dinda, who has been called to India's Test squad, they will be without a strike bowler against a side whose strength is batting.
Dinda's place is likely to be taken by young pace bowler Veer Pratap Singh who was left out of the last match. Bengal, who have six points from three ties, will at least take solace from Tiwary's return to form with 191 in the last match but the form of their openers remains a worry. With stands of 6, 5, 16, 24 and 5 its evident where the troubles start.
MP have been inconsistent so far. Their batsmen have been called on to bail them out of trouble twice, but Devendra Bundela's team will have to get the entire unit working to push for a maiden victory. Coming off one point against defending champions Rajasthan, MP will hope to gain on Punjab with victory.
Railways v Gujarat at Bhubaneshwar: Gujarat have five points from three matches and will be out to pick up their first win over Railways at their 'home' ground, who have two points from two outings.
Gujarat are coming off a match against Bengal which they looked set to lose on the final day.
At 103 for 7 in their second innings with 44 overs remaining in the day, they were staring at an innings defeat, but Rujul Bhatt (102) and Rakesh Dhruv (83) put up an outstanding 149-run partnership for the eighth wicket to deny Bengal an outright victory. Against a weaker side, Gujarat's batting prowess could ensure them their first win of the season.
Railways have yet to lose this season but neither have they been able to consistently dominate. Their bowling was taken apart in Mumbai where three batsmen scored centuries, and against Punjab they were thwarted by an excellent century from Uday Kaul. Gujarat boast a batting line-up bursting with talent and the Railways attack won't get away if they allow them room to fire.