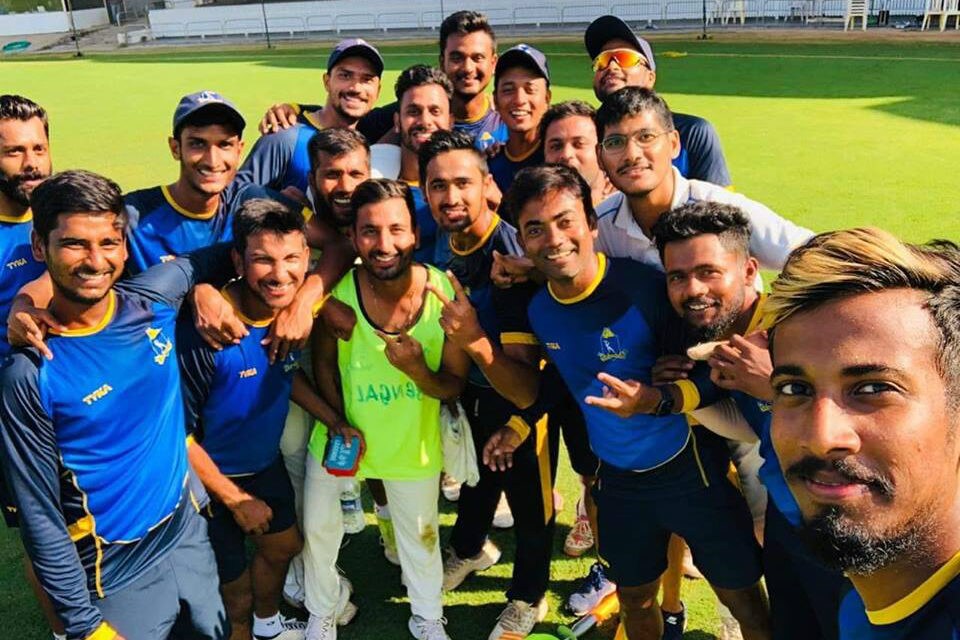 An edge of the seat thriller between Tamil Nadu and Bengal headlined Round 4 of the Ranji Trophy 208-19 with the away team, Bengal, winning by 1 wicket in Chennai. Chasing 216, Bengal lost 9 wickets before the last pair took a crucial leg-bye to take them to a crucial win. In the other Group B clashes, Hyderabad, Madhya Pradesh and Punjab registered wins.
The Madhya Pradesh-Kerala thriller at Thiruvananthapuram had some brilliant individual performances which the hosts fell short by five wickets.
Group A also saw results with the only drawn game being the one between Saurashtra and Baroda. The biggest surprise, though, was Gujarat emerging victorious against a strong Mumbai side. A sublime Priyanka Panchal overshadowed Shivam Dubey's performance to take Gujarat to a comfortable nine-wicket win chasing 205 in the final innings. Karnataka (by 7 wickets) and Vidarbha (by 10 wickets) also registered wins over Maharashtra and Chattisgarh respectively.
Gujarat and Kerala are the only teams in Group A and B to have more than two wins.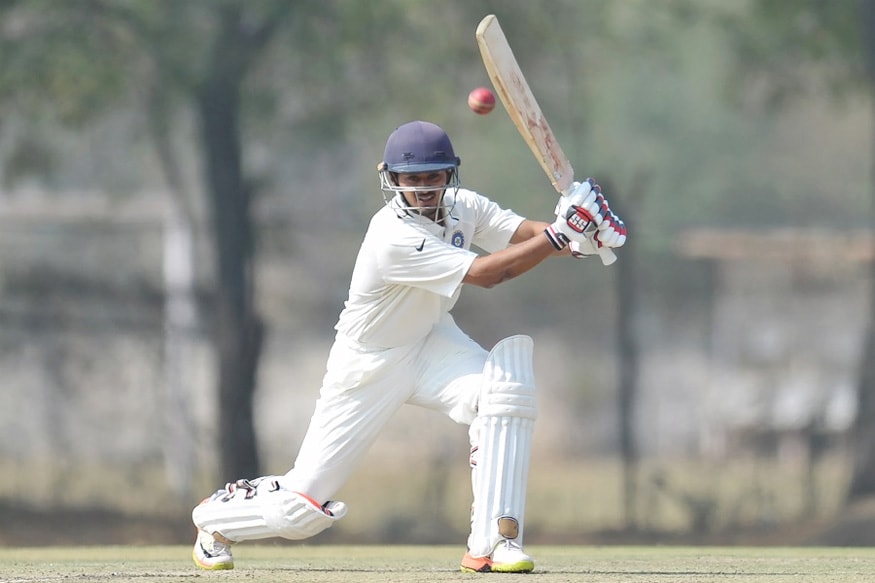 Priyank Panchal. (Image credit: AFP Photo)
Group C also saw a result-oriented week with only one of the five games ending in a draw. Services, Jharkhand, Odisha and Assam registered wins while the Uttar Pradesh and Rajasthan clash ended in a draw. Assam registered the biggest win as they defeated Haryana by an innings and 35 runs courtesy an inspired performance from seamer Arup Das, who picked nine wickets in the match.
Rajasthan conceded points after a draw but maintain their position at the top of Group C with three wins in four matches.
In the Plate Division, Bihar thrashed Sikkim by 395 runs with Ashutosh Aman, the all-rounder, picking up 10 wickets in the match aside from a fine half-century in the first innings. Meghalaya beat Manipur by 9 wickets while Puducherry drubbed Mizoram by an innings and 235 runs with the latter failing to a sub-100 total in either innings. Uttarakhand, meanwhile, beat Arunachal Pradesh to maintain their clean sheet in the tournament.
Uttarakhand now lead the Plate Division with four wins in four matches,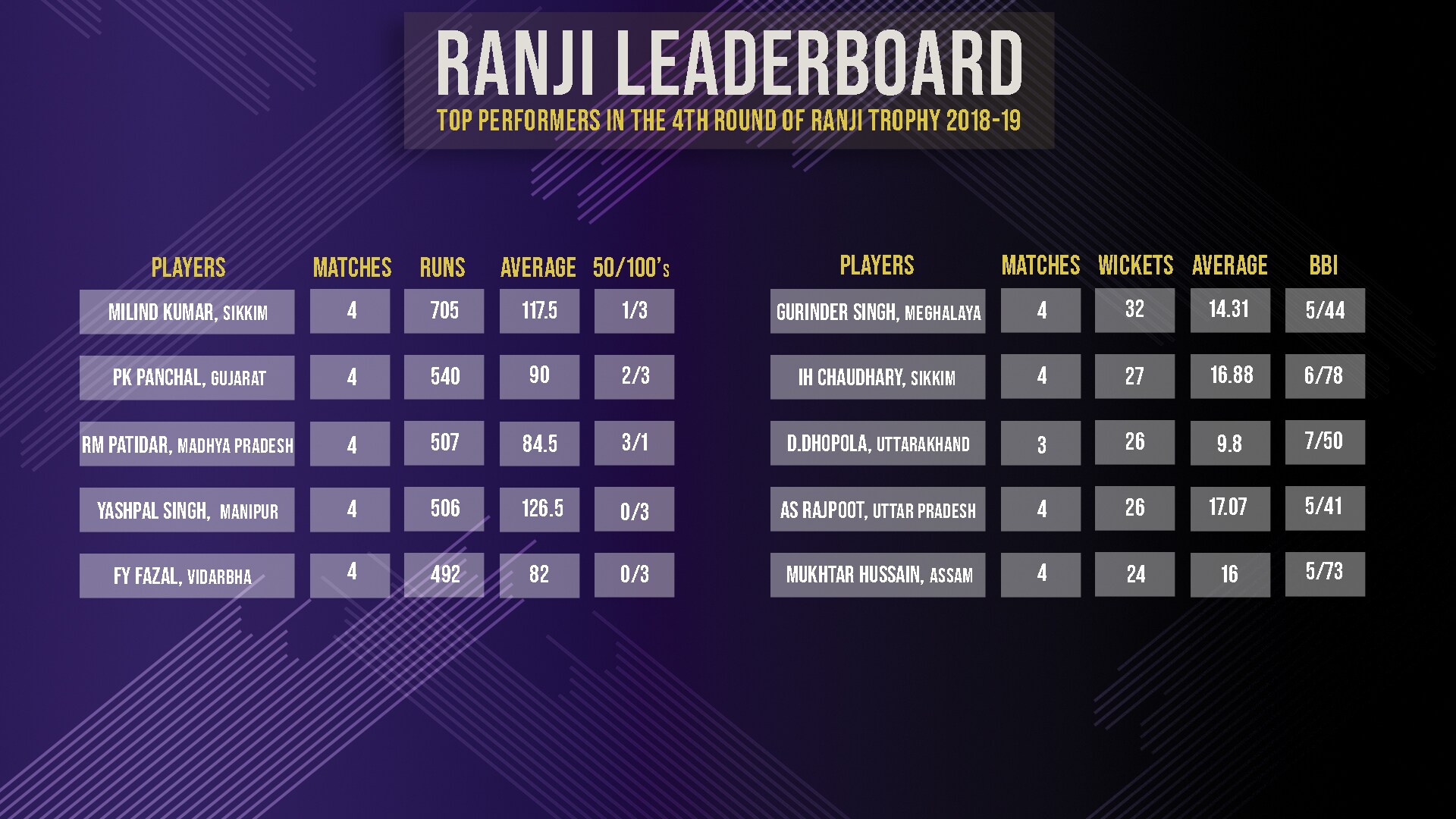 After four rounds, left-arm spinner Gurinder Singh from Meghalaya stands atop the wicket-takers chart with 32 wickets in four matches while Ishwar Chaudhary and Deepak Dhopola from Sikkim and Uttarakhand respectively follow closely with 27 and 26 wickets apiece.
Milind Kumar from Sikkim continues to be miles ahead in terms of runs with 705 of them in four matches at an average of 117.5. He already has three hundreds in the competition so far, matched by Priyanka Panchal of Gujarat - second in the run-getters chart with 540 runs - Yashpal Singh of Manipur and the evergreen Faiz Fazal. All of them alongside Rajat Patidar occupy the top five of the run-scorers list after round four.