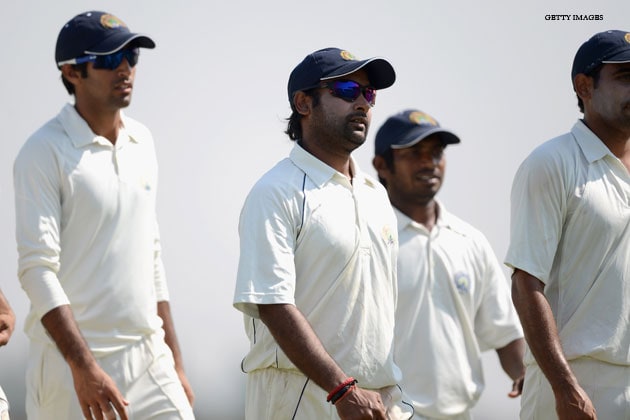 New Delhi: Round four of the 2012-13 Ranji Trophy season was the most thrilling yet, with six outright wins including a humdinger in Lahli. Punjab remained the team to beat in Group A, winning their third outright win; in Group B, Odisha capped a terrific week with their second consecutive win to top the table; in Group C, Services beat leaders Assam for their first bonus-point win in six years and Andhra got their first win of the season.
It was also a special round for Madhya Pradesh captain Devendra Bundela, who capped his 100th Ranji Trophy appearance with victory over Bengal. The match to beat all others, however, was Baroda's one-wicket win over Haryana, only the 13th time in the Ranji Trophy that a match has been decided by that slim a margin.
The round also saw four members of the Indian team that lifted the Under-19 World Cup in Australia this year score centuries, while the three best match figures this season all came in this round: Shami Ahmed's 11 for 151, Sandeep Sharma's 10 for 82 and Vinay Kumar's 10 for 89.
Read on for a recap of the highs and lows and in-betweens of round four.
Longing in Lahli
Seventeen wickets fell on the last day's play between Haryana and Baroda, but it was the elusive 18th which proved heart-breaking for last-year's semi-finalists who have now lost all three matches this season.
The final day began with little chance of an outright win, with Haryana 127 for 2. But, true to form, their batting jitters set in and the next eight wickets fell for 33 runs in 19 overs. Set a target of 132, Baroda found the going extremely tough as Haryana launched a tremendous fightback. Kedhar Jhadav was dismissed first ball by Mohit Sharma, who proceeded to take three more as Baroda slumped to 48 for 6. Saurabh Wakaskar (22) and Gagandeep Singh (24) put on 37 for the seventh wicket – the best partnership of the innings – before Wakaskar was run out. Six runs later, Sharma bowled Gagandeep for his fifth wicket of the topsy-turvy innings and ninth of the match.
At 91 for 98, Baroda needed 41 to win. Under immense pressure, Utkarsh Patel and Murtuja Vahora stitched together 18 runs for the ninth wicket. Then Haryana captain had Vahora run out at 108 for 9, leaving Baroda still 24 runs away from what would be an epic win. In extraordinary manner, Patel and Bhargav Bhatt completed the job, with the last man even having the audacity to hit a six when the finish line was in sight. It was one of the most remarkable finishes in domestic history.
Odisha find that winning feeling
Four years separated Odisha's previous two outright wins. Eight days separated the next two. Having beaten Haryana by four wickets in round three, Odisha went top of the Group B table with an upset win over Karnataka in Bangalore. Few would have given Natraj Behera's team a chance against Karnataka at home, but they defied the odds to hand the hosts a 65-run defeat.
Unlike the win in Lahli, though, this victory was a genuine team effort. Niranjan Behera's first-innings 61, wicketkeeper Subhrajit Sahoo's 45 and 48, Biplab Samantray's four wickets and 86 in the second innings, Basant Mohanty's three big wickets, Deepak Behera's five and Alok Sahoo's four all had a factor in Odhisha's second straight win. Things are certainly looking up and as the team coach Debashis Mohanty told Cricketnext, the team will only benefit from getting used to winning.
Punjab on a roll
Last season, Punjab won one match in seven tries. This season, they have won three of four matches. Their latest success – which kept them at the top of Group A with 23 points – came against Saurashtra and was fashioned by the pace-bowling duo of India Under-19's Sandeep Sharma and Siddarth Kaul, who was a key member of the World Cup-winning U-19 side of 2008. Sandeep's 7 for 25 sparked a dramatic collapse from 73 for 1 to 90 all out, and gave him the best figures of the season so far. Saurashtra's last seven wickets fell in 32 deliveries. Punjab then eked out a 115-run lead, which was made to look like much more once Kaul took a career-best 6 for 63 and Sandeep added three more. A chase of 119 was anchored by opener Karan Goel, who returned to form with an unbeaten 75.
Services take flight over Assam
Vineet Ramakrishnan, our reporter who covered the Services' ten-wicket win over Assam in New Delhi, their first with a bonus point since 2006, reflects: "As Services inched closer to victory there was a definite buzz around the stadium, but if you are in the Air Force premises that seems a bit out of place. Yet, witnessing their team push for a victory even the sternest of the officers let his guard down. There were no cheers or hurrahs – as if the celebration also followed some kind of a discipline. There were handshakes all around and when Air Commodore M Baladitya came out to greet the players, believe it or not they stood in a straight line waiting for their turn to accept his congratulations."
MP give skipper Bundela 100 reasons to celebrate
Reaching 100 Ranji Trophy matches is a very special occasion. Winning that 100th match is even more special. Madhya Pradesh captain Devendra Bundela was able to celebrate reaching the coveted milestone – only 25 players before him have achieved the feat – at his home ground of Indore on November 27 when his team beat Bengal 138 runs.
At one stage it looked as if MP weren't going to be able to bowl out Bengal, but in the end they did the job in 45.5 overs. Medium-pacer Ishwar Pandey was the star with his second five-wicket haul of the match, achieved when he bowled the last man for 0 to seal a great win.
Bundela's 61 in MP's first innings was one of just three fifties, and though he made just 6 in the second the 35-year-old was able to oversee a win that took his team to second place in the Group A table with 11 points. Bundela also took a wicket with his part-time medium-pace.
Three in three for Shami Ahmed
If there was one bright spot for Bengal this round it was the bowling of medium-pacer Shami Ahmed, who took the first hat-trick of the season. The 22-year-old dismissed the last three men in the MP line-up - Anand Rajan, Amarjeet Singh and Pandey – to finish with 7 for 79 in the first innings. Four wickets in the second gave Ahmed 11 for 151 in the match, the best bowling figures of the season.
Double delight for 31-year-old debutant
He may be the oldest member of Maharashtra's squad, but 31-year-old Virag Awate must be feeling like a kid after capping a memorable debut in Nagpur. Amazingly, Awate marked his first appearance in any format with twin centuries – 126 and 112 – in a draw against Vidarbha. His first innings in domestic cricket saw him post the highest total of Maharashtra's 282 – the next best was 45 – and in his second he outdid his team-mates with another century. This remarkable achievement made Awate just the second Indian, after Nari Contractor, to score two centuries on first-class debut. Talk about making it worth the wait.
Under-19 heroes rise as one
It is often remarked that little can be judged by success at the Under-19 level, and there are indeed several examples from past success stories in the junior World Cups that validate that theory. But in round four, five members of the victorious World Cup-winning side of 2012 made themselves accounted for.
At the Feroz Shah Kotla, Delhi opener and India U-19 captain Unmukt Chand scored 138 in Delhi's first innings of 555 for 4. In Hyderabad, Hanuma Vihari made his maiden first-class century a large one (191) while putting on 336 for the second wicket with Akshath Reddy – Hyderabad's largest Ranji partnership for any wicket. At Indore, Gujarat left-arm medium-pacer Rush Kalaria followed a duck in the first innings with 100 in the second, batting at No. 9, to help earn a draw against MP. In Ranchi, Prashant Chopra reached three figures for the first time in his fourth Ranji appearance as Himachal Pradesh took the first-innings lead over Jharkhand. Sandeep Sharma's ten-wicket haul against Saurashtra took the bowling star of the U-19 World Cup final to fourth on the wicket-takers' list this season.
Earlier in the season, Tamil Nadu allrounder Baba Aparajith scored his maiden first-class century. This generation seems determined to stake their claim.