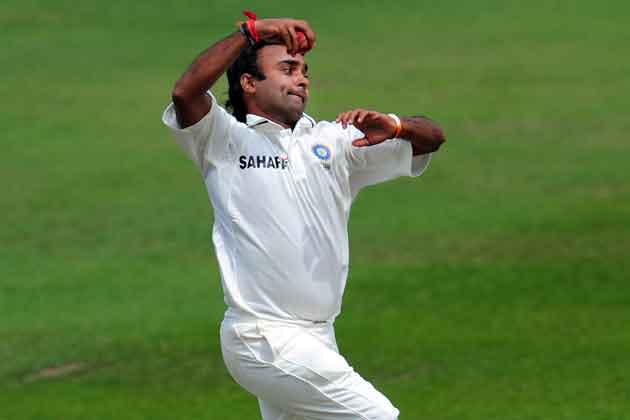 New Delhi: The fifth round of the 2012-13 Ranji Trophy season continued the excitement of the previous phase, with five outright wins in 12 matches to go with two exciting draws. Punjab claimed their fourth outright win in five matches to surge to 29 points, Uttar Pradesh hit back from a series of indifferent matches with a big win over Baroda to go top of Group B, and Jammu & Kashmir, Haryana and Tripura all won their first of the season. The last two won thrillers to keep interest in the Ranji Trophy going.
Elsewhere, 39-time champions Mumbai came within three wickets of their first victory while Vidarbha claimed the first-innings lead over Tamil Nadu in marathon in Nagpur. Odisha missed a hat-trick of wins but three wickets over Maharashtra kept them at No. 2 in Group B.
Read on for a recap of the highs and lows and in-betweens of round five.
Haryana end up on the right side of another Lahli result
The venue was the same for Haryana, but the result very, very different. After three consecutive losses at the Bansi Lal Stadium at Lahli, a village near the city of Rohtak, Haryana pulled one of over the favorites for this match, seven-time Ranji Trophy winners Delhi.
Lahli is known for throwing up close encounters, especially in the north Indian winter. Before their match against Delhi, Haryana had lost to Vidarbha (by eight wickets), Odisha (by four wickets) and Baroda (by one wicket) with the last match being a humdinger. Against Delhi, who came into the fixture with 11 points from four matches, the odds were stacked against last year's semi-finalists.
Lahli lived up to its reputation of throwing up outright wins, but this time Haryana won. It was their first win over their neighbors in tournament history. Leading the way was the captain Amit Mishra, whose second-innings 73 helped extend the total to 209 and set Delhi a target of 293, and four wickets to spin Haryana to victory. Mishra began with the wicket of Mohit Sharma, bowled for 42, and then took out Rajat Bhatia and Puneet Bisht in the 45th over. Mishra's final wicket was that of Mithun Manhas for 73. The margin of defeat – 83 runs – was exactly that as the first-innings lead Haryana had taken. Mishra and Co. will hope this is the upswing in fortunes that the team desperately need. With all their home matches completed and four more remaining on the road, maybe Haryana won't miss playing in Lahli.
Tripura give Himachal a bout of vertigo
Tripura's season had improved with each match, and in their fourth appearance they finally got a win to their credit. Against Assam in their season opener, Tripura were hammered by ten wickets; against Andhra they managed one point via draw; against Services they took another point and made their highest score so far, 484; and moving farther north to Nadaun, they beat hosts Himachal Pradesh by 109 runs to claim six points.
It was a surprise win, considering Himachal's batting strength. The batsmen clicked to put up 441 in the first innings and the bowlers – in particular Manisankar Murasingh and Rana Dutta – responded by securing a lead of 181. Fifteen wickets fell on the final day as Himachal bowled Tripura out for 177, but set a target of 359 their batsmen succumbed. It took Tripura 60 overs to bowl the hosts out for 189 – out of which 105 came from Paras Dogra – and claim a 109-run win. Only one other batsman (Aatish Bhalaik with 30) made more than 15.
J&K get their groove back
There was another team to claim their first win of the season, and considering the backdrop of selection controversies, player strikes and two innings defeats this season, it was a sensational result for Jammu & Kashmir.
The star was 23-year-old allrounder Parvez Rassol, with the top scores in either innings and nine wickets in the match. Rassol's 67 was one of just two half-centuries in J&K's first innings of 323, but it was his seven wickets that bowled J&K to a 158-run lead. Having never taken more than four in an innings before this match, Rassol ran through Assam's batting order with his offspin, finishing with outstanding figures of 23-9-41-7. He wasn't finished.
In the second innings, Rassol finished unbeaten on 120 off 106 balls after adding 198 with his captain Ian Dev Singh (118) as a declaration set Assam a target of 477. They never got close. Six of eight bowlers who turned their arms over picked up wickets, with Ram Dayal the best with 3 for 50. Rassol picked up the wickets of J Syed Mohammad and Abu Nechim to cap an excellent all-round performance, while Waseem Raja took 2 for 40.
UP, up and away
The biggest win came in Kanpur, where Uttar Pradesh moved to the top of the Group B points table after pocketing a bonus point with a ten-wicket win over Baroda. Baroda began their second innings trailing the hosts by 107 runs and collapsed for 114, with Bhuvneshwar Kumar claiming 5 for 34, and a target of eight runs was achieved in nine deliveries. Starring with the bat was Arash Alam, whose century on a difficult, green pitch gave UP the first-innings lead.
Jiwanjot and Sandeep keep Punjab rolling
Punjab's fourth outright win saw two of their most promising youngsters play influential roles. After a brief lull – scores of 44, 27*, 61, 5 and 1 – young opener Jiwanjot Singh got back to his big-innings ways with an unbeaten 110 in the home team's nine-wicket win over defending champions Rajasthan. With the ball, young pacer Sandeep Sharma took eight wickets – 5 for 57 in Rajasthan's second innings – to move to top of the bowler's table. As Sandeep told Cricketnext, his mantra is really quite simple.
Bengal survive Nayar storm
There was an engaging draw at the Brabourne Stadium, where Bengal narrowly averted defeat against an Abhisek Nayar-inspired Mumbai. On the final day, Nayar – who had scored 62 and 73 not out – returned remarkable figures of 19-12-13-6 but it wasn't enough to clinch victory for the 39-time Ranji champions. With time running out, Mumbai failed to take the last three wickets in seven overs, with Wriddhiman Saha remaining unbeaten on 38 off 152 balls to earn Bengal one point. Mumbai were left to rue a drop by Kshemal Waingankar at long on off Nayar when Saha was on 12. The match ended with the visitors 198 for 7.
It was a one-man show, with Nayar removing Bengal openers Arindam Das (54) and Rohan Banerjee (59) and No. 3 Writam Porel in the space of nine runs. His fourth wicket was Bengal captain Manoj Tiwary, bowled for 14, and then Nayar came back for a second spell of 6-5-1-2 in which he added Abhishek Jhunjhunwala and Laxmi Ratan Shukla in one over. Looks like Nayar is finally doing justice to his allrounder tag.
Jadeja joins elite company
Elsewhere in the round, the somewhat forgotten man of Indian limited-overs cricket stirred discussions over his potential as a Test player with a significant achievement. By reaching 300 against Railways in Rajkot, Saurashtra's Ravindra Jadeja became just the eighth batsman and first Indian to score three triple-centuries in first-class cricket – three days before his 24th birthday. His company? WG Grace, Bill Ponsford, Don Bradman, Wally Hammond, Graeme Hick, Brian Lara and Michael Hussey. Jadeja is not yet 24.
Jadeja's 501-ball, 707-minute 331 took Saurashtra from 90 for 4 to 576 for 9. As happens in such marathon knocks, he was dropped early on. It was Jadeja's second triple-century this season after his unbeaten 303 in 561 minutes against Gujarat.