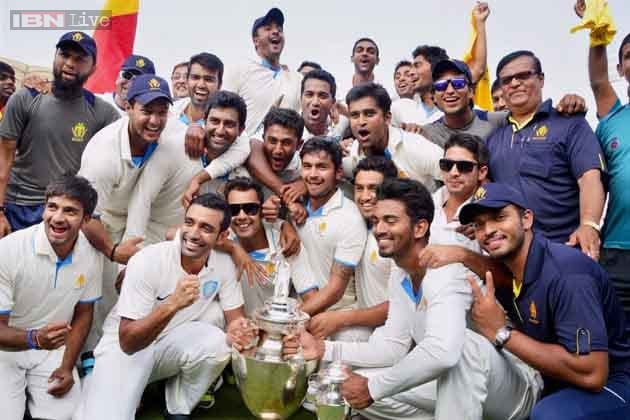 New Delhi: The BCCI tournament committee has decided to kick start the current domestic season with the Duleep Trophy starting October 15 while the prestigious Ranji Trophy will start from December 7 and continue till March 12.
The Duleep Trophy will be a three-week affair from October 15 to November 3.
With 50-over World Cup in Australia and New Zealand slated in February-March next year, the BCCI will conduct the National One Day Championship from November 7-25. The zonal phase will be held from November 7-14 while the Vijay Hazare Trophy for the knock-out phase will be held from November 19-25.
The Deodhar Trophy inter-zonal one dayers will be held between November 29-December 3.
The Ranji Trophy's group league fixtures will be held between December 7-February 8 followed by the quarter-finals between February 15-19. The two semi-finals will be held between February 25-March 1 while final will be held from March 8-12.
The Ranji Trophy will be followed by Irani Cup from March 17-21 while the zonal leg of the National T20 Championship for the Syed Mushtaq Ali Trophy will be held between March 25-28.
The final leg will be played from April 1-7.
The Ranji Trophy groupings have also been done with almost all the top teams like defending champions Karnataka, 40-time champions Mumbai, formidable Uttar Pradesh and Tamil Nadu all clubbed in the same group.
Delhi are in a relatively less tough group with notable teams being last year's runners-up Maharashtra and Punjab.
Ranji Trophy groupings
Group A: Karnataka, Bengal, Mumbai, Railways, Uttar Pradesh, Baroda, Tamil Nadu, Jammu and Kashmir, Madhya Pradesh
Group B: Maharashtra, Punjab, Gujarat, Saurashtra, Rajasthan, Delhi, Vidarbha, Haryana, Odisha
Group C: Goa, Himachal Pradesh, Kerala, Hyderabad, Andhra, Assam, Tripura, Jharkhand, Services.