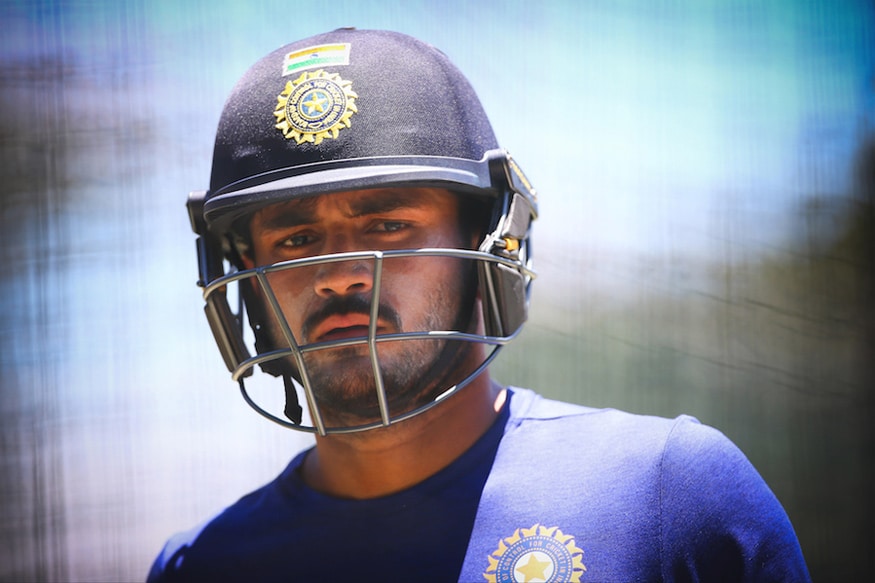 The penultimate and eighth round of the Ranji Trophy 2018-19 season came to an end on Wednesday with Karnataka inching closer to the quarterfinals while Delhi are now out of the race after going down to Bengal. Here are the major takeaways after Day Four:
Gopal, More send Chattisgarh packing
Karnataka skipper Manish Pandey scored an unbeaten 102 off 102 balls to set up a huge 198-run win over Chattisgarh in Alur on Wednesday (January 2). Pandey, batting on 57 overnight, completed his 19th first-class century before declaring the innings at 219/7 and set a target of 355 runs.
Leg-spinner Shreyas Gopal and medium-pacer Ronit More picked up four wickets each as Chattisgarh were bundled out for 156. Chattisgarh opener Avinash Dhaliwal was the only one to provide a semblance of resistance, scoring 61.
Karnataka are now second on the Group A and B points table with 27 points after seven matches, behind Vidarbha on 28, and will face Baroda in their final group tie. The top-five teams of Group A and B will move into the quarterfinals followed by two teams from Group C and one from Plate Group.
The top five in Group A and B after Round 8 are: 1. Vidarbha (28), 2. Karnataka (27), 3. Gujarat (26), 4. Saurashtra (26) and 5. Madhya Pradesh (24). Only Gujarat among these have played all their eight matches of the first round.
Bengal's Easwaran scores century in Eden chase
Bengal opener Abhimanyu Easwaran scored an unbeaten 183 off just 211 balls to help the home side chase down a 322-run target against Delhi with ease at the Eden Gardens in Kolkata. Easwaran first put on 121 for the opening wickets with A Raman (52) and then his unbroken 186-run stand for Anustup Majumdar (69 n.o.) led Bengal to a seven-wicket win in just 70.2 overs.
Easwaran's 9th First-Class Century was studded with 23 fours and two sixes and gave Bengal their second win of the season which puts them seventh on the Group A and B table with 22 points from seven games. Delhi only have 13 points from seven games and are out of the reckoning for a quarterfinals berth with their final game against Tamil Nadu starting on Monday.
Jharkhand fall tantalizingly short
In a Group C match, Jharkhand needed 153 runs to win against Tripura in the final session in Jamshepur but ended their innings in 144/7 in 21.5 overs when bad light ended play. The home side walked away with three points for bagging the first innings lead. The top two teams from Group C after the penultimate round are: Team Rajasthan (44 points) and Uttar Pradesh (28)
In the Plate group, Sikkim's export Milind Kumar continued his sublime form with the bat, scoring his fifth hundred of the season to ensure a draw against Meghalaya. Former Delhi batsman Milind scored 127 in only 121 balls with 20 fours and a six as Sikkim ended on 304/4 in their second innings.
Team Uttarakhand are leading the Plate Group with 37 points, closely followed by Bihar on 34.
Brief scores:
Arunachal Pradesh 135 & 122 lost to Nagaland 377/9 decl
Assam 128 & 245 lost to Jammu & Kashmir 144 & 231/6
Bihar 440/9 decl bt Mizoram 77 & 147
Delhi 240 & 301 lost to Bengal 220 & 323/3
Hyderabad 271 & 251/5 drew with Andhra Pradesh 502/7 decl
Sikkim 219 & 304/4 decl drew with Meghalaya 826/7 decl
Madhya Pradesh 265 & 193 bt Himachal Pradesh 127 & 191
Baroda 313 & 157 bt Railways 200 & 106
Goa 244 & 295 lost to Rajasthan 513/8 decl & 27/0
Haryana 110 & 129 lost to Uttar Pradesh 133 & 110/4
Kerala 121 & 223 lost to Punjab 217 & 131/0
Karnataka 418 & 219/7 decl bt Chattisgarh 283 & 156
Maharashtra 230 & 185 lost to Gujarat 545/8 decl
Manipur 132 & 118 lost to Pondicherry 238 & 13/0
Odisha 177 & 256/5 drew with Services 417/8 decl
Vidarbha 511 bt Mumbai 252 & 114
Tripura 253/9 & 308 drew with Jharkhand 409 & 144/7