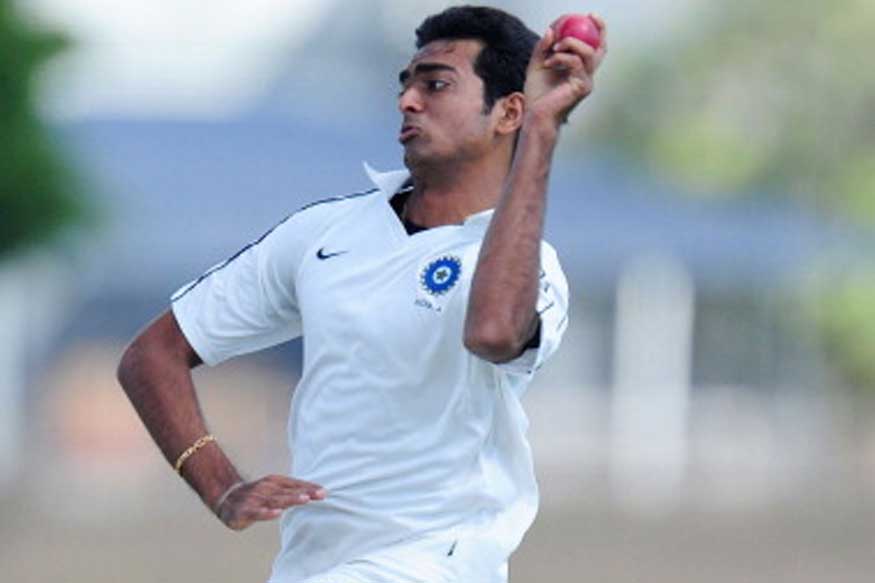 Day three of Ranji Trophy 2018-19 saw all the plate group games finish, Vidarbha fight back and Mumbai strengthen their position. Here are the takeaways:
India Test stars watch
Gujarat and Saurashtra were fielding on Day 3, which meant Parthiv Patel and Cheteshwar Pujara have to wait for their turns to bat.
M Vijay and R Ashwin had literally nothing to do, with rain washing out the day's play in Dindigul between Tamil Nadu and Madhya Pradesh.
Hanuma Vihari fell early on Day 2, which meant he had to watch from the pavilion the entire day as his teammates put up a strong batting response against Punjab.
Vidarbha fight back against Maharashtra
The defending champions had a tough first two days, but fought back well on the third day through the senior batsmen Faiz Fazal and Wasim Jaffer. Following on after being bowled out for just 120 in response to Maharashtra's 343, Vidarbha made 287 for 3 with captain Fazal unbeaten on 116. They lead by 64 and maybe there's more fight left in them on the final day.
Mumbai on top against Railways
Mumbai ended the day with a lead of 161 runs with eight wickets in hand, firmly poised to take at least three points. Railways started the day on 115 for 6 in response to Mumbai's first-innings score of 411. They did well to get to 307 from there, with the last wicket stand adding 66. Railways then had Jay Bista and Ashay Sardesai early but Mumbai ended the day on 57 for 2. They took 25 overs for the effort and could perhaps score quicker in a push for an outright win on the final day.
Unadkat picks seven out of eight Chhattisgarh wickets
Jaydev Unadkat was in the scheme of things for India in T20s after a successful IPL 2017. He was bagged for Rs. 11.5 crore in the IPL 2018, but a disappointing season there meant he fell behind in the race.
The left-arm pacer has taken one big step towards bouncing back by picking up 7 for 66 against Chhattisgarh. Responding to Saurashtra's 475 all out, Chhattisgarh were derailed by Unadkat and were 315 for 8 at stumps.
Kalaria 3-3-0-3, Baroda 0/3
A tight contest was brewing when Gujarat and Baroda fought for the first-innings lead, which Gujarat eventually managed by just 12 runs. Baroda's response started on the worst note possible as they lost Kedar Devdhar, Vishnu Solanki and Deepak Hooda without scoring, all to left-arm pacer Rush Kalaria. At one point, Kalaria's figures read 3-3-0-3 and Baroda were 0 for 3. In fact, Baroda took seven overs to get off the mark!
Pinal Shah then made 71 to help Baroda fight back and end the day with a glimmer of hope and a lead of 149.
Plate games done and dusted
Uttarakhand had defeated Bihar under two days, and the other three games from the group didn't take much longer to finish. Sikkim thrashed Manipur by an innings and 27 runs, Nagaland beat Mizoram by an innings and 333 runs, while Meghalaya defeated Arunachal Pradesh by seven wickets.
Rain plays spoilsport in south India
Not for the first time in this time of the year, incessant rain played spoilsport and washed out any chance of rain in Dindigul where Tamil Nadu and Madhya Pradesh are playing. Madhya Pradesh were bowled out for 393 over the first two days. Unless something dramatic happens, both teams should settle for a point each on the final day.
Things were only slightly better in Thiruvananthapuram where Kerala are playing Hyderabad. 21 overs were possible, and Hyderabad moved from 1/0 to 30 for 1 in response to Kerala's 495 for 6 declared.
Brief scores of all matches:
Uttarakhand beat Bihar by 10 wickets
Sikkim beat Manipur by an innings and 27 runs
Nagaland beat Mizoram by an innings and 333 runs
Meghalaya beat Arunachal Pradesh by seven wickets
Tamil Nadu 0/0 v Madhya Pradesh 393
Mumbai 57/2 and 411 v Railways 307
Andhra 327/5 v Punjab 414
Goa 123/8 and 152 v Uttar Pradesh 564/4
Chhattisgarh 315/8 v Saurashtra 475
Vidarbha 287/3 & 120 v Maharashtra 343
Baroda 161/7 & 290 v Gujarat 302
Odisha 50/1 & 324 v Haryana 442
Tripura 110/0 & 360 v Services 238
Jharkhand 44/1 & 344 v Assam 298
J&K 34/0 &204 v Rajasthan 379 & 219/4 decl
Kerala 495/6 d v Hyderabad 30/1