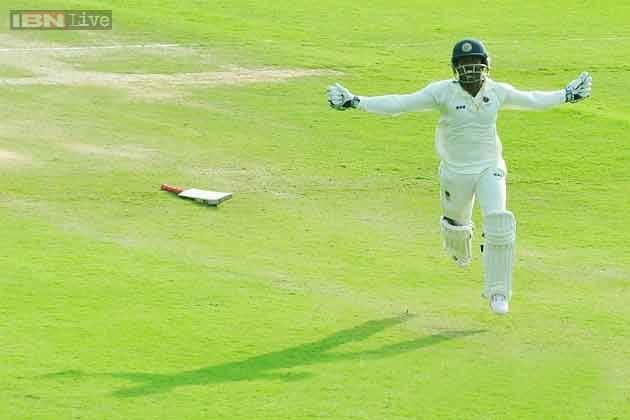 The current state of any side is actually a true replica of their domestic cricket and gone are the days where people used to turn up in domestic matches just to go through the motions.
Players like Rahul Dravid and VVS Laxman are the products of a lifelong system in place and the BCCI should be lauded for improving the domestic structure of cricket in the country which keeps on producing great players.
Sachin Baby is one such player from Kerala and his coming up the ranks is a true testimony of the fact that cricket is now not only played in the metro cities of the country but is spreading like wildfire to every corner of the state.
Kerala being a football crazy state have some pretty good players to look upto, Sanju Samson being one such exciting prospect along with Sachin.
Although Sachin has not scored heaps of runs in domestic cricket but there is no doubting his talent and the double-century against Hyderabad might just be the turning point of his career as he looks determined in pursuit of the Indian cap.
Cricketnext caught up with Sachin Baby after his scintillating knock.
Below are the excerpts of the interview.
How does it feel to score a double century?
It was an amazing feeling. Playing a big knock for my team was itself a very big thing. It is a big day for me. From the beginning of the tournament, I wanted to play a big innings for my team. And, this happened today. We were 4 for 116 and I came at number 5. After Anthaf's five-wicket haul helped us to bowl out Hyderabad for 270, we wanted to take the first innings lead. I went on batting and was getting support from Monish (Kareparambil). He also batted brilliantly. I know him for many years and have played many tournaments with him. He gave me great support from the other end.
Any Technical adjustments you made recently?
Yes. I have worked on my off-side shots. That is the area I was actually working on. I have been practicing hard and spending a lot of time in the nets. My coaches and seniors really helped me a lot.
What is your target in this year's Ranji Trophy?
I want to play the long innings and I did it in this match. I am very happy and satisfied after this knock. I won't stop and will carry on the show in the upcoming matches too.
Do you think as young cricketers the incident of Phillip Hughes will have any impact on players mentally?
Yes, they were in a state of shock after the tragic death of Phillip Hughes. But our coaches and trainers had played a major role in making sure that we are not distracted by the incident. We all were sad because after all we are also cricketers. It took time to get over it but we did and moved on. Otherwise, to focus on the game would be difficult.
How do you prepare yourself before a long innings?
I promise myself not to play a loose shot and stick to the basics. I always try to play the long innings. I really love playing under pressure. I want to continue what I did today.
Sanju Samson, who has been included in the World Cup probables, has not been much impressive in the season so far. Your comments?
Every cricketer goes through a lean patch. He is going through one. But he is a talented batsman. He just needs an innings to get back in his true colours. We all know that he will score runs in the upcoming matches.