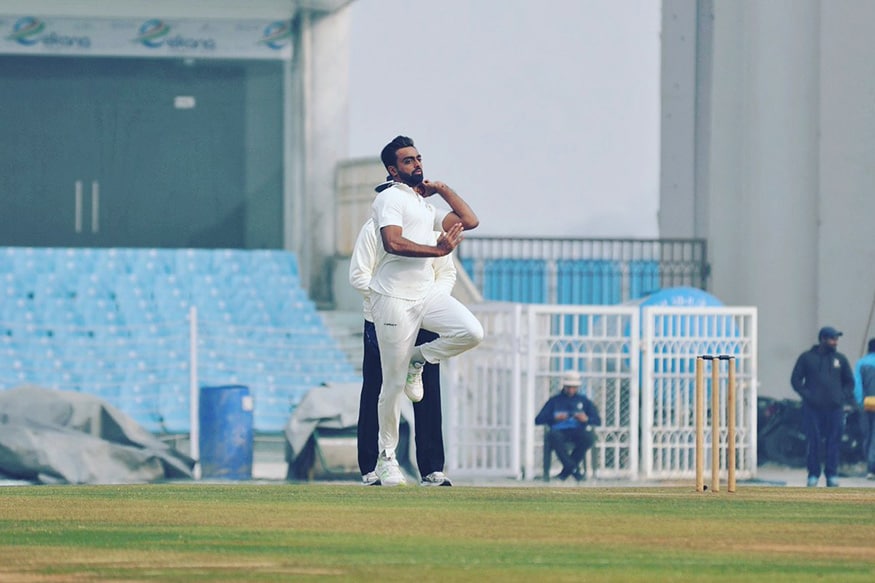 Andhra v Kerala
A combined batting effort saw Andhra take the first-innings lead but Kerala's bowlers ensured the game didn't go too far beyond them at CSR Sharma College Ground, Ongole.
Kerala were bowled out for 162 on the first day, after which Andhra resumed Day 2 on 57 for 1. Opener Prasanth Kumar scored 79 to take Andhra past Kerala with just four wickets falling, but pacer Basil Thampi and off-spinning captain Jalaj Saxena picked up three wickets each to bowl Andhra out for 255.
Andhra ended the innings with a lead of 93.
Rain washes out Day 2 in Mumbai v Himachal Pradesh
Persistent rain at HPCA stadium in Dharamsala prevented Sarfaraz Khan from extending his dominance with the bat.
Sarfaraz was unbeaten on 226 on Day 1, where Mumbai reached 372 for 5. Sarfaraz had smashed his maiden triple-century in the previous match, against Uttar Pradesh.
Railways v Karnataka
More rain was in store at Karnail Singh Stadium, New Delhi where only 23 overs were possible in the match between Railways and Karnataka.
Railways, who were reeling at 98 for 6 at the end of Day 1, reached 160 for 7. Captain Arindam Ghosh was unbeaten on 50 while No. 8 Avinash Yadav made 62. Prateek Jain picked up 4 wickets for Karnataka.
Vidarbha v Gujarat
Vidarbha pacer Aditya Thakarey picked up five wickets but that wasn't enough to prevent Gujarat from taking a first innings lead at Lalabhai Contractor Stadium, Surat.
Gujarat bowled Vidarbha out for only 142 on the first day before ending on 88 for 1.
Parthiv Patel scored 58 but Gujarat slipped to 123 for 6, before the tail rescued Gujarat. Chirag Gandhi remained unbeaten on 49 as Gujarat folded for 211. Vidarbha ended the day on 89 for 4, a lead of 20 runs, with Faiz Fazal unbeaten on 45.
Saurashtra v Baroda
Just like Day 1, Day 2 too saw 16 wickets fall at Moti Bagh Stadium, Vadodara in the game between Saurashtra and Baroda.
At stumps, Saurashtra were 23 for 2, needing 177 runs for victory.
Saurashtra began the day 114 for 6 after bowling Baroda out for 154 on the first day. Saurashtra folded for 142 with Lukman Meriwala pickig up 5 wickets.
Captain Jaydev Unadkat then got 6 wickets to bowl Baroda out for 187, even as Deepak Hooda fought with 52 and Yusuf Pathan made a quick 46. Saurashtra then lost two wickets to end another bowler dominated day.
Brief scores
Bengal 318 v Delhi 192/6
Mizoram 318/3 v Nagaland 243
Andhra 255 v Kerala 162
Tripura 121 & 166/3 v Maharashtra 208
Bihar 208 & 67/2 v Meghalaya 179
Gujarat 211 v Vidarbha 142 & 89/4
Hyderabad 171 & 101/6 v Rajasthan 135
Himachal v Mumbai 372/5
Madhya Pradesh 230 & 105/3 v Uttar Pradesh 216
Railways 160/7 v Karnataka
Baroda 154 & 187 v Saurashtra 142 & 23/2
J & K v Chhattisgarh 270/4
Odisha 436 v Assam 59/3
Services 279 v Jharkhand 145/9
Uttarakhand 109 v Haryana 50/5
Chandigarh 134 v Pondicherry 37/4
Goa 589/2d v Arunachal Pradesh 83 & 19/3
Sikkim 169 & 266 v Manipur 91 & 7/0