Ranji Wrap | Bengal Complete Win, Haryana Lose by One Wicket Again, Sarfaraz Keeps Mumbai Afloat
Bengal drowned Hyderabad in a mountain of runs to win by an innings and 303 runs
Updated: January 21, 2020, 7:55 PM IST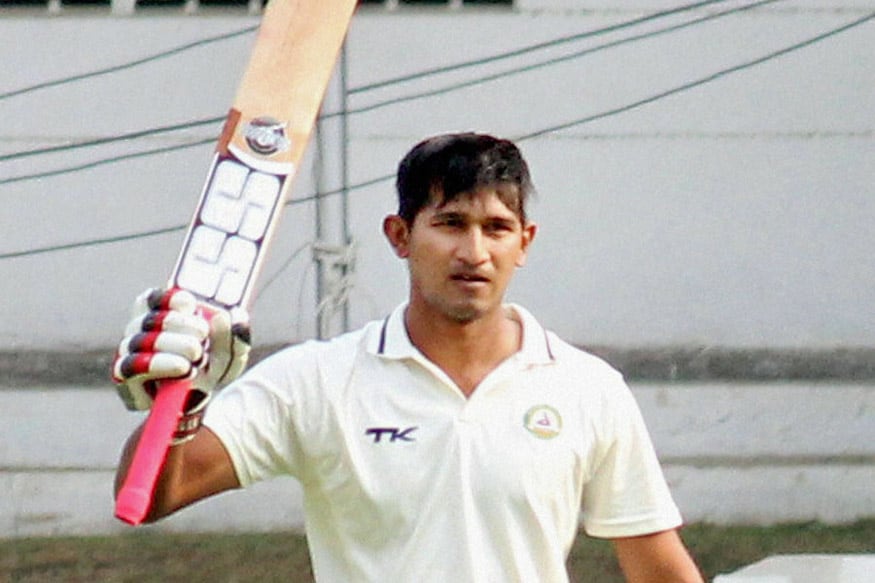 Bengal beat Hyderabad
Medium pacer Akash Deep bagged eight wickets in the game while left-arm spinner Shahbaz Ahmed got six including a hat-trick as Bengal drowned Hyderabad in a mountain of runs to win by an innings and 303 runs at Bengal Cricket Academy Ground, West Bengal.
Manoj Tiwary's unbeaten 303 had taken Bengal to 635 for 7 over the first two days. Hyderabad began Day 3 on 83/5 in their first innings and were bowled out for 171, with only Jaweed Ali fighting for 71 runs.
Bengal naturally enforced the follow on and didn't take much time to get Hyderabad all out in the second innings, bowling them out for 161 in 46.2 overs. Ravi Teja made 52 but there was little support from the other batsmen. Akash Deep got four wickets in either innings, while Shahbaz got four in the first and two in the second. Shahbaz got the last three wickets in Hyderabad's first innings to take a hat-trick.
Haryana lose by one wicket, again
After losing to Odisha by one wicket in the previous round, Haryana lost by the same margin to Services at Palam A Stadium, Delhi.
Day 2 ended with Haryana 133 all out in their second innings, setting Services a target of 213. Services were in trouble at 13 for 3 but Gahlaut Rahul Singh scored 115 from No. 4 to win the game for the hosts.
Even as Services kept losing wickets through the innings, Rahul Singh kept one end firm with an innings that saw one six and 16 fours. He fell with Services two runs away from the target but No. 10 Sachidanand Pandey hit a boundary to take Services over the line.
Mumbai v Uttar Pradesh
Sarfaraz Khan made an unbeaten 132 while Siddhesh Lad scored 98 as Mumbai fought back with the bat after conceding 625 to Uttar Pradesh at Wankhede in Mumbai.
Mumbai began the day at 20/2, trailing by 605 runs, and ended it on 353 for 5, reducing the deficit to 272. Hardik Tamore, the No. 4, had set the platform with a 51 before Lad and Sarfaraz took over with a 210-run stand for the fifth wicket. Lad fell towards the end of the day, two away from a century. Captain Aditya Tare was on 5* at stumps along with Sarfaraz, who hit 6 sixes and 14 fours in his 160-ball knock.
An unbeaten 203 from Upendra Yadav had taken UP to 625 for 8 over the first two days.
Delhi v Vidarbha
A century from Ganesh Satish helped Vidarbha set Delhi a target of 347 at the Arun Jaitler Stadium in Delhi.
At stumps on Day 3, Delhi were 10 for no loss.
Vidarbha had begun the day 35 for no loss in the second innings, leading by 51 runs. After scoring just 179 in the first innings, their batsmen put on a much improved show, set up by a 67-run opening stand between Faiz Fazal (43) and Sanjay Ramaswamy (57). Wasim Jaffer then made 40, while Satish scored an unbeaten 100 in just 92 balls with 11 fours and two sixes.
Akshay Wadkar, meanwhile, made an unbeaten 70 in 82 balls as Vidarbha declared on 330 for 3.
Results:
Bengal 635/7d v Hyderabad 171 & 161
Bengal Won by an innings and 303 Runs
Services 97 & 215/9 v Haryana 176 & 133
Services Won by 1 Wicket
Pondicherry 209 & 351 v Arunachal Pradesh 192 & 72
Pondicherry Won by 296 Runs
Sikkim 139 & 163 v Mizoram 201 & 179
Mizoram Won by 78 Runs
Tamil Nadu 330 v Railways 76 & 90
Tamil Nadu Won by an innings and 164 Runs
Kerala 90 & 82 v Rajasthan 268
Rajasthan Won by an innings and 96 Runs
Chhattisgarh 225 v Tripura 53/9 & 144/9
Chhattisgarh Won by an innings and 28 Runs
Odisha 161 & 166 v J & K 124 & 205/6
J & K Won by 4 Wickets
Meghalaya 235 v Manipur 27 & 92
Meghalaya Won by an innings and 116 Runs
Brief scores
Assam 244 & 12/0 v Maharashtra 175 & 365/9d
Nagaland 166 & 76/2 v Bihar 509/7d
Jharkhand 298 & 76/1 v Uttarakhand 227 & 273
Goa 251 & 87/2 v Chandigarh 580/7
Delhi 163 & 10/0 v Vidarbha 179 & 330/3d
Gujarat 281 & 167 v Punjab 229 & 87/4
Himachal 496 v Baroda 150/2
Madhya Pradesh 280 v Saurashtra 344 & 165/2
Mumbai 353/5 v Uttar Pradesh 625/8d
---
---
Team Rankings
Rank
Team
Points
Rating
1
New Zealand
3198
118
2
Australia
3028
116
3
India
3085
114
4
England
4326
106
5
South Africa
2499
96
FULL Ranking
Rank
Team
Points
Rating
1
England
5405
123
2
India
6102
117
3
New Zealand
3716
116
4
Australia
4344
111
5
South Africa
3345
108
FULL Ranking
Rank
Team
Points
Rating
1
England
6877
275
2
Australia
6800
272
3
India
10186
268
4
Pakistan
7516
259
5
South Africa
5047
252
FULL Ranking