Ranji Wrap: Shubman Gill Scores Ton, TN Salvage Draw, Pujara and Saurashtra Crumble
Shubman Gill was among the runs as he scored a century against the defending champions Vidarbha.
Updated: December 28, 2019, 6:44 PM IST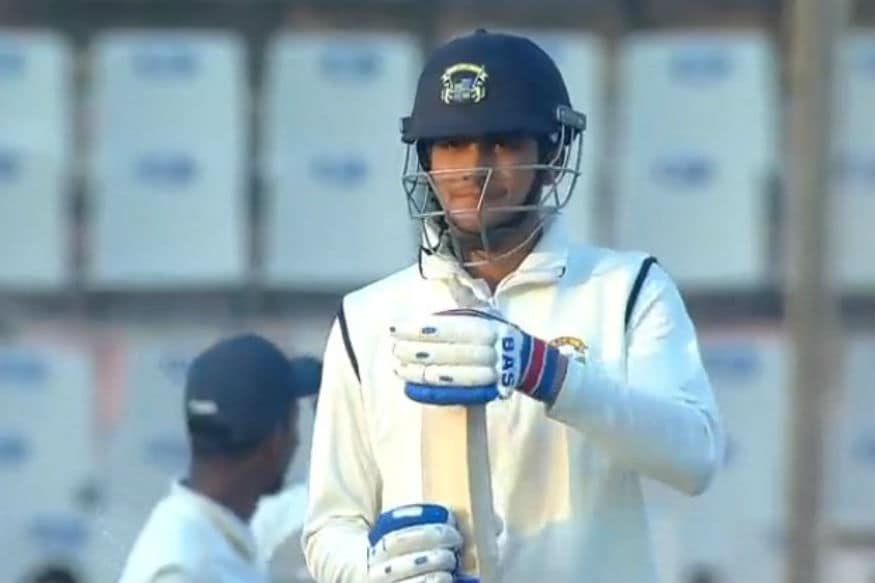 On the final day of Ranji Trophy cricket in 2019, the Shikhar Dhawan led Delhi won comprehensively against Hyderabad while Tamil Nadu and Karnataka drew. Meanwhile, young Shubman Gill was among the runs as he scored a century against the defending champions Vidarbha.
Here's how the teams ended the year.
Delhi beat Hyderabad
The result was inevitable as Delhi needed 60 to win with Shikhar Dhawan in form and the rest of the batting to follow too. But Hyderabad's Mohammed Siraj and Ravi Kiran picked three wickets to raise some concerns. However, Dhruv Shorey's and Jonty Sidhu's fourth wicket stand of 32 was enough to take Delhi home by seven wickets.
Tamil Nadu Salvage Draw Against Madhya Pradesh
After a few disappointing displays with the bat, Tamil Nadu were well aware that they the task on hand would be tough.
Kaushik Gandhi and Baba Aparajith (39) continued to build and kept the opposition at bay. Gandhi finished with 154 and Karunakaran Mukunth added 52 vital runs apart from playing 119 deliveries.
Eventually, TN batted the day out and at 377/7 both captains shook hands.
Karnataka Settle for Draw against Himachal Pradesh
Karnataka lost wickets at regular intervals on the final day and that pegged them back. Karun Nair (64) and Devdudtt Padikkal (99) could not add a lot of runs to the overnight score, leaving the lower order with some work to do. BR Sharath (42) and Abhimanyu Mithun (22) added some important runs as they managed to set Himachal a 183-run target.
Himachal dug deep when they came out to bat, but lost two wickets. However, Karnataka could not engineer a collapse as Prashant Chopra (12*) and Akash Vashist (2*) held on for a draw.
Shubman Gill Scores Ton Against Vidardbha
The talented Gill picked up from where he had left off the night before as he went onto score 100. While he could not add any more to his score, Gurkeerat Singh kept Vidarbha bowlers at bay and scored 149 off 101 deliveries. Captain Mandeep Singh also got himself some batting practice with 59 as the game eventually finished in a draw, along expected lines.
Saurashtra Crumble Against Uttar Pradesh
On day four, Saurashtra needed their stalwart Cheteshwar Pujara to do what he does best, bat for hours. But Pujara fell for 3 and even though Harvik Desai scored 50, the rest failed to hang in there. Saurabh Kumar took six wickets and Zeeshan Ansari another three as they ran through the Saurashtra lineup and skittled them out for 120 to win by an innings and 72 runs.
Other Scores
Manipur (196 & 215) beat Arunachal Pradesh (143 & 184) by 84 runs
Bengal (289 & 46/0) drew against Andhra Pradesh (181)
Puducherry (458/5d) beat Mizoram (73 & 113) by an innings and 272 runs
Haryana (371) drew with Jharkhand (408/5)
Odisha (253 & 63/0) beat Uttarakhand (117 & 195)
Bihar (326 & 162/1) drew with Goa (470)
Nagaland (296 & 113/1) beat Sikkim (274 & 133) by 9 wickets
J&K (460/5d) drew against Assam (82/2)
Maharashtra (289 & 149/3d) drew against Chhattisgarh (286)
Chandigarh (455/9) beat Meghalaya (148 & 118) by an innings and 189 runs
---
---
Team Rankings
Rank
Team
Points
Rating
1
New Zealand
3198
118
2
Australia
3028
116
3
India
3085
114
4
England
4326
106
5
South Africa
2499
96
FULL Ranking
Rank
Team
Points
Rating
1
England
5405
123
2
India
6102
117
3
New Zealand
3716
116
4
Australia
4344
111
5
South Africa
3345
108
FULL Ranking
Rank
Team
Points
Rating
1
England
6877
275
2
Australia
6800
272
3
India
10186
268
4
Pakistan
7516
259
5
South Africa
5047
252
FULL Ranking