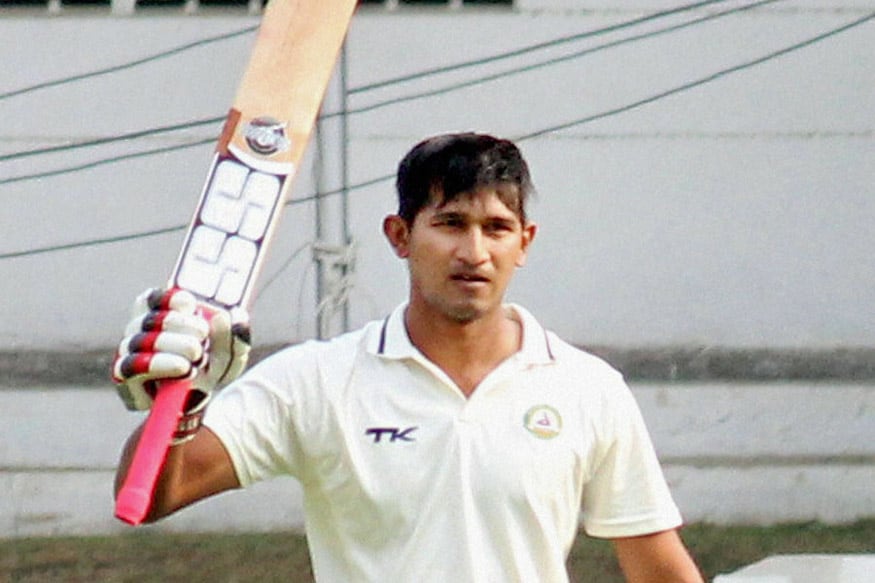 It was yet another eventful day in the Ranji Trophy with a host of teams already looking at the possibility of a win. Teams like Gujarat and Puducherry are in driver's seat and seem like finishing the matches on the third day itself. While some matches could only get underway on Thursday, after the first day was lost due rain and bad light.
Karnataka & Tamil Nadu Continue to Struggle
Southern giants Karnataka and Tamil Nadu seem to be having a tough time in their ongoing battles against Himachal Pradesh and Madhya Pradesh, respectively. TN after batting first could only post 149 and in reply MP scored 281/7, taking a lead of 132 runs. Their efforts were guided by Venkatesh Iyer (88) and Mihir Hirrwani (54), who had a partnership of 112.
In the other match, after Karnataka were all out for 166, HP got to 185/5. Opener Priyansh Khanduri scored an unbeaten 69 from 227 balls, and Rishi Dhawan too chipped in with 48.
Ganesh Satish Lifts Reigning Champions Vidarbha
After Vidarbha were reduced to 72/5, middle order batsman G Satish came with an excellent innings of unbeaten 88 to stabilize the innings. He added 94 runs with Akshay Wakhare as the team ended the day on 196/6 against Punjab. Baltej Singh took three wickets, while Sandeep Sharma bagged two.
Uttar Pradesh Come Up With a Strong Reply
After Saurashtra scored a formidable 331 against UP, the latter came up with a strong reply at Rajkot. Opener Aryan Juyal scored 52 from 84 balls, Akshdeep Nath scored an unbeaten 80 from 165 balls. This took their total to 222/3 at stumps. UP still trail by 109 runs.
Selector Devang Gandhi Ejected From Bengal Dressing Room
BCCI national selector Devang Gandhi was on Thursday was ejected from the Bengal dressing room for unauthorised entry at the Eden Gardens on Day 2 of the ongoing Ranji Trophy match between Bengal and Andhra. Devang, who is the national selector from East Zone, was ejected by Soumen Karmakar, BCCI anti-corruption official deputed for the match. The incident took place after senior players Bengal raised a question about the anti-corruption protocol which specifies only players and team support-staff selected for the match can be present in the dressing room. At stumps, Bengal were bundled out for 289.
Solar Eclipse Delays Start of Play
The start of as many as 17 matches across the country were affected due to a partial solar eclipse on Thursday. While the matches are usually scheduled to start at 9.30 am, the games started at 11.30 due to the astronomical phenomenon. The eclipse was visible for the maximum duration in Southern states of the country. The change in timings of all the encounters was confirmed the previous day of the event.
KER 70, 26/0 (7.0 Ovs) vs GUJ 127, 210, BEN 289-all out (104.0 Ovs) vs AP, MIZ 73, 30/4 (11.0 Ovs) vs PDC 458/5 decl, ODSA 145/6 (55.2 Ovs) vs UTK 117, HYD 69, 20/2 (10.0 Ovs) vs DEL 284, VID 196/6 (67.0 Ovs) vs PUN, HP 235/7 (93.0 Ovs) vs KAR 166, MP 281/7 (79.0 Ovs) vs TN 149, MUM 114, 64/3 (22.0 Ovs) vs RLYS 266, JK 210/2 (52.0 Ovs) vs ASM, UP 222/3 (70.0 Ovs) vs SAUR 331, HAR 285/6 (91.0 Ovs) vs JHKD, CG 131/3 (47.0 Ovs) vs MAH 289, TRI 126, 16/1 (8.0 Ovs) vs SER 173, GOA 65/2 (24.0 Ovs) vs BIH 326, MNP 196, 80/3 (35.0 Ovs) vs ARNP 143.