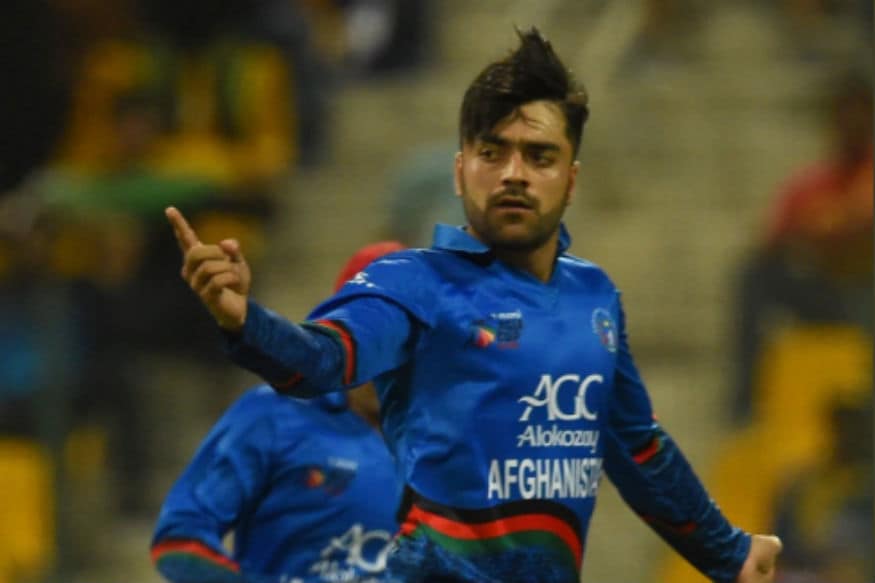 Rashid Khan produced the seventh hat-trick in international T20 cricket and returned figures of 5-27 in 4 overs to help Afghanistan sweep the three-match series against Ireland in Dehradun.
Rashid has a phenomenal record in T20I cricket. He has picked 75 wickets in just 38 bowling innings at a stunning average of 11.56 and strike rate of 11.5.
It is the best average and strike rate in T20I cricket history (min. wickets 50).
Rashid has five 4-plus hauls in T20I cricket – only Umar Gul has more (6) but in 22 more innings. Moreover, the leg-spinner's frequency of picking such a haul is also the best in T20I history.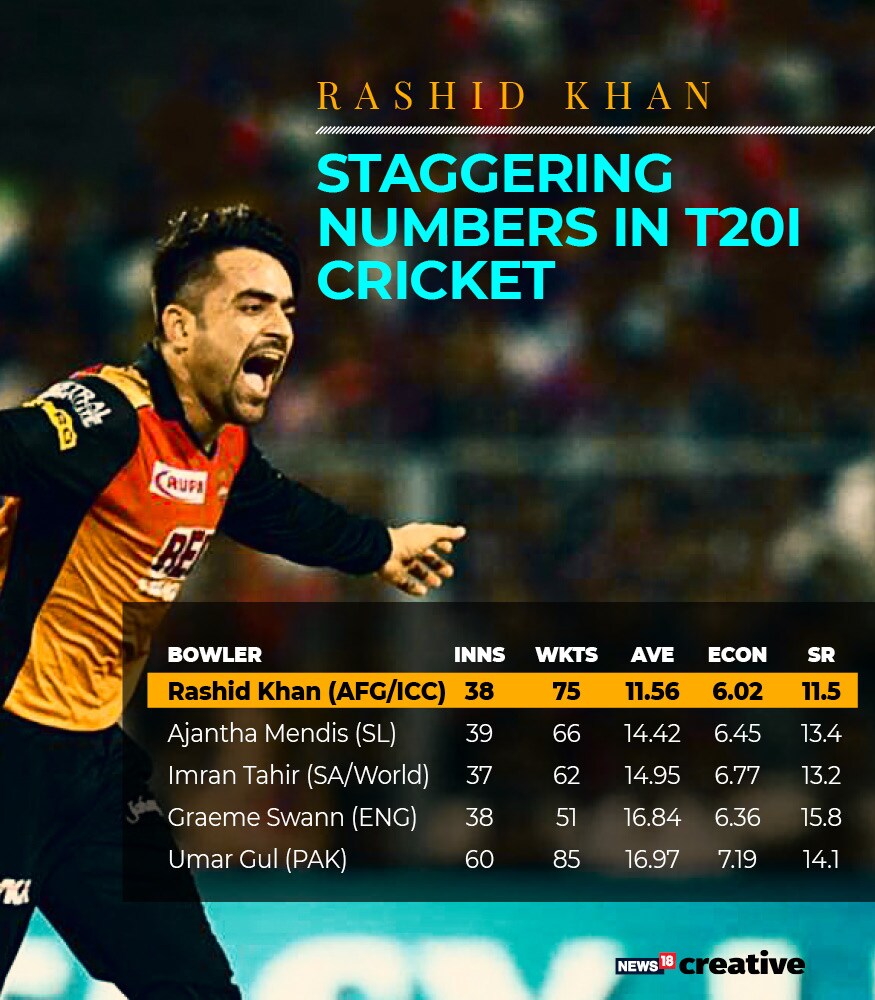 Rashid is also the most restrictive bowler in T20I cricket history and concedes just 6.02 runs per over (tied with Sunil Narine).
Critics claim that most of Rashid's wickets have come against weak opposition.
However, his record against the better sides in the world is also outstanding.
He has played 11 T20Is against Bangladesh, Sri Lanka, West Indies, England and South Africa. His 17 wickets have come at an average of 15.76 and strike rate of 14.8 and he has been very restrictive too, giving away just 6.38 runs per over.
He was instrumental in Afghanistan's sensational win over the West Indies – the eventual champions - in the World T20, 2016 in Nagpur. He picked the wickets of Marlon Samuels and Denesh Ramdin and conceded at a rate of just 6.5 per over.
CONTRIBUTION IN AFGHANISTAN'S RISE IN T20 CRICKET
Afghanistan has the best win-loss ratio in T20I cricket history. They have won 49 of the 71 matches they have played and lost just 22. Of course, these numbers have to be seen in perspective – they have mostly played the associate and affiliate nations. But even then, for a country which has struggled through the horrors of war and conflict, firstly to compete and then be the best among equals and occasionally upset the big and mighty – it has been a phenomenal rise for Afghanistan.
Their record since Rashid's debut (26th October, 2015) is even more impressive. They have won 32 and lost just 8 of the 40 matches they have played in this period.
Rashid has been a part of 30 such wins. He has picked 65 wickets at a brilliant average of 9.98 and strike rate of 10.4 in these wins. His average in winning matches is the third-best in T20I cricket (min. 10 matches and 20 wickets) only after Kuldeep Yadav and Ajantha Mendis. His strike rate in such matches is also the third-best ever after Kuldeep and Mustafizur Rahman.
That is how crucial he has been to Afghanistan's success in the format.
GREAT NUMBERS SINCE 2018
Rashid has been at his very best since 2018. He has been the highest wicket-taker in T20I cricket with 33 wickets in just 11 innings – that is a staggering 3 wickets per innings! He has picked these wickets at 8 apiece and a rate of 7.6 – those are the best average and strike rate in the time-frame (min. 10 wickets).
His exploits include three 4-wicket hauls and one 5-wicket haul. In addition, he has been extremely restrictive giving away just 6.28 runs per over.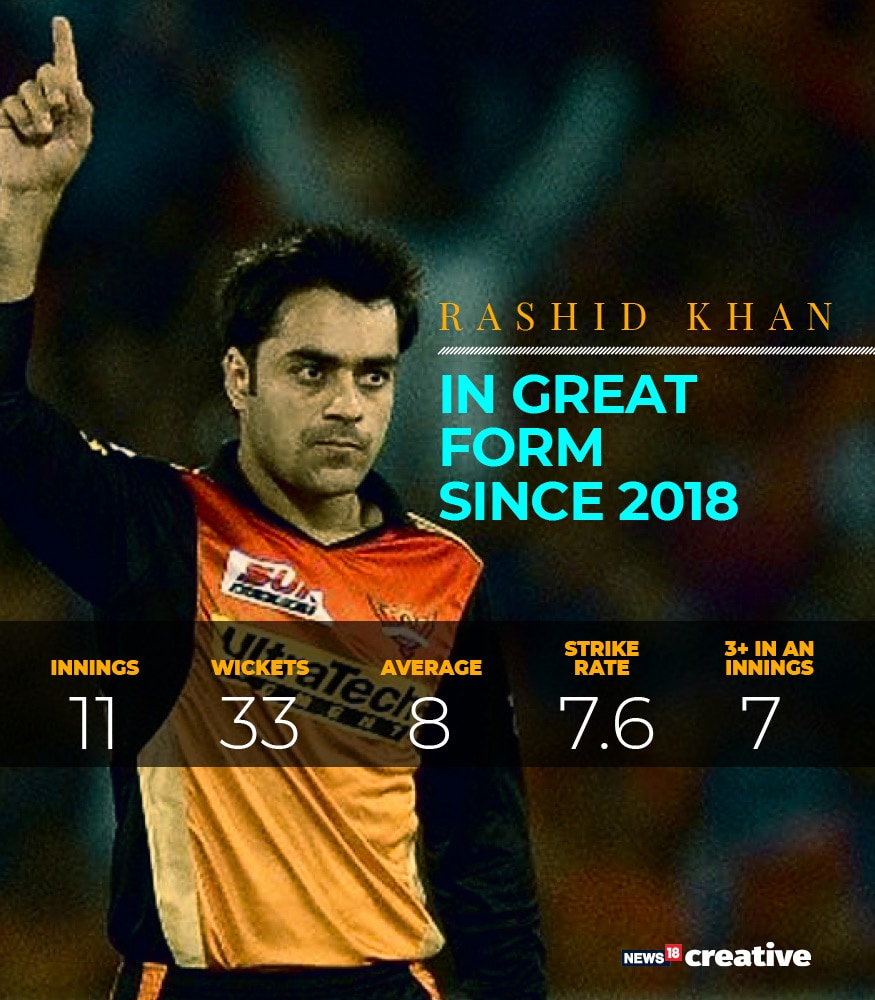 He hasn't gone wicket-less in even a solitary innings since 2018. In as many as 6 of these 11 innings, Rashid returned with at least two wickets and an economy of less than 6.
Afghanistan has swept 4 series in this period. They beat Zimbabwe (2-0) in UAE, Bangladesh (3-0) in India and Ireland (2-0 and 3-0) in Ireland and India.
Rashid has been the highest wicket-taker in each of these 4 series. His average and strike rate have been under 10 in all the series – these are sensational numbers to say the least.
Rashid's success isn't just limited to international T20 cricket.
A GIANT OF T20 DOMESTIC CRICKET
Rashid has picked 162 wickets in 116 innings at an average of 17.14 and strike rate of 16.81 in T20 domestic cricket. He has again been restrictive with an economy rate of 6.12.
He aggregates 38 wickets in 31 matches in two seasons of the Indian Premier League (IPL) at an average of 21.47 and strike rate of 19.26. His economy stands out at 6.68.
Rashid has the second-best average (min. 30 matches and 30 wickets) after Lasith Malinga and the fourth-best economy rate after Sunil Narine, Anil Kumble and Muttiah Muralitharan in IPL history.
He made a great impact for Guyana Amazon Warriors in his maiden Caribbean Premier League (CPL) in 2017, where with 14 wickets in 12 innings, he was the joint fifth-highest wicket-taker.
This included a hat-trick – the first in the CPL – in the Eliminator against Jamaica Tallawahs.
He was also the joint-highest wicket-taker in the 2017-18 Big Bash League with 18 wickets at an average of 13.83, strike rate of 14.6 and a phenomenal economy rate of 5.65 – this was arguably one of the best performances by a bowler in a season in the BBL. Adelaide Strikers went on to win the league.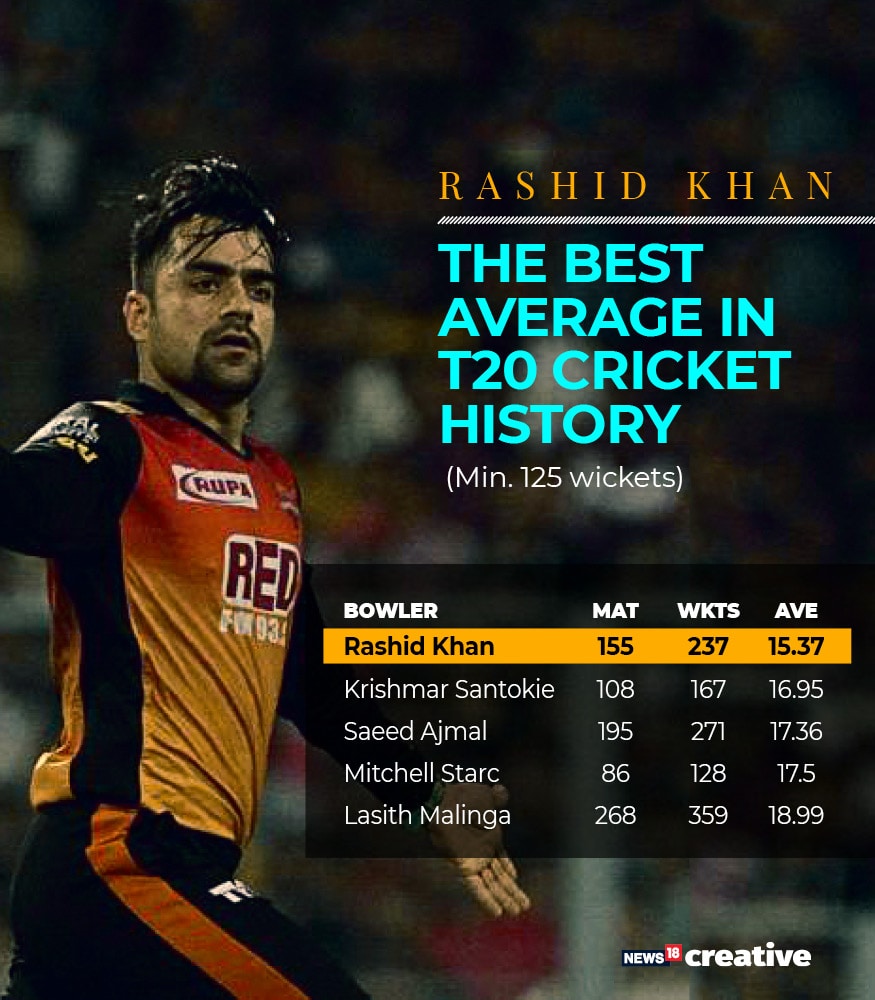 Overall, in T20 cricket (domestic and international), Rashid has picked 237 wickets in 154 innings at an average of 15.37, strike rate of 15.1 and economy of 6.09.
It is the best average (min. 125 wickets) and the third-best economy rate after Narine and Badree in T20 cricket history.
In a country torn with war and violence, Rashid Khan has risen against the odds and is today amongst the best in the business. This makes his achievement even more special. Combine his T20 record with his ODI numbers (the best average and strike rate for a minimum of 75 wickets) and he is a living legend of cricket from Afghanistan.