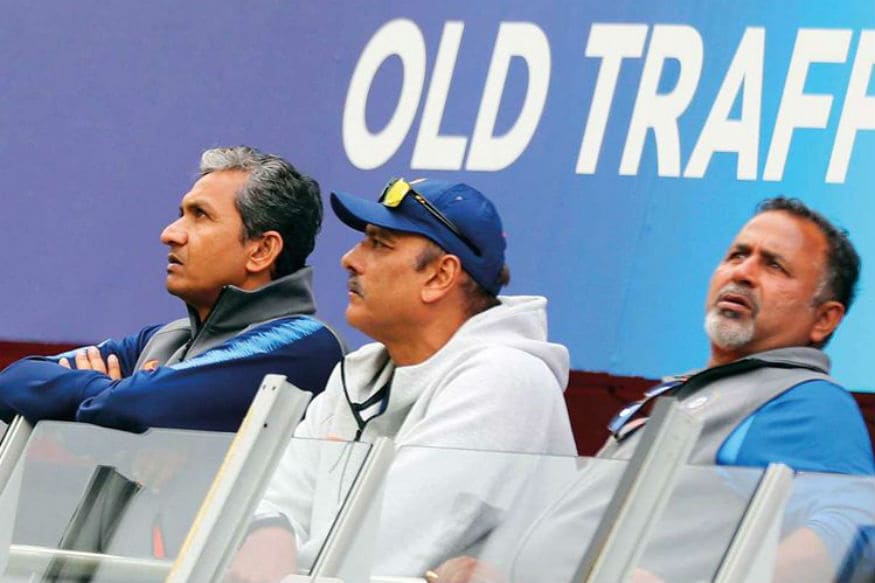 Former India opener and national selector Vikram Rathour is set to be India's new batting coach up to the 2021 World T20 on Thursday (August 22) after pipping a strong challenge from incumbent Sanjay Bangar.
The bowling and fielding coach will remain the same with the five-man senior selection committee choosing Bharat Arun and R. Sridhar to continue in the respective positions.
Just like the selection of the head coach, the selection committee ranked the top-three contenders for all three coaches. Rathour finished ahead of Bangar and former England batsman and assistant coach Mark Ramprakash.
In the race for the bowling coach, Arun was ranked 1st ahead of former Mumbai Indians bowling coach Paras Mhambrey and former India bowling coach Venkatesh Prasad.
Sridhar, who got the backing of head coach Shastri for India's improved fielding performances over the last couple of years, was ranked No. 1 with former Railways coach Abhay Sharma and Hyderabad fielding coach T Dilip ranked 2nd and 3rd respectively.
Beginning Monday, a total of 14 candidates for the position of batting coach, 12 for bowling coach, 9 for fielding coach, 16 for the position of physiotherapist, 12 for the post of strength and conditioning coach and 24 for the position of administrative manager were interviewed. The entire process lasted four days and concluded on Thursday evening.
Mumbai Indians physio Nitin Patel was picked as the first choice for new physiotherapist to replace Patrick Farhart, ahead of Andrew Leipus and Vaibhav Daga. Girish Dongre will be the new administrative manager, replacing Sunil Subramanium who was involved in a major controversy in the West Indies and was almost asked to return midway through the tour.
The selection committee has decided to call the following candidates for the post of strength and conditioning coach to the NCA for a second round of interviews to assess their practical skills. Luke Woodhouse, Grant Luden, Rajnikanth Sivagnanam, Nick Webb and Anand Date are candidates vying for the berth left vacant by Shankar Basu.
"We tried our level best to give enough time to everybody. Everyone was given at least 30 minutes time, applicants from abroad gave their interviews on Skype. They answered our questions and presented their vision documents, considering all these things we have finalised all the names," selection committee chairman MSK Prasad told the media in Mumbai on Thursday (August 22).
Former India all-rounder and Kings XI Punjab coach Bangar paid the price for India's exit from the 2019 World Cup semifinal. It is believed that the former Railways all-rounder played a big role in the decision to send MS Dhoni at No. 7 position in the semifinal defeat to New Zealand.
"Frankly speaking, if you see in the last five years there is lot of improvement in terms of fielding. Looking ahead with the Test championships coming up and two T20 World Cups, we thought there should be some freshness in the batting coach department. That's the reason we went ahead with Rathour as first choice.
"He was the director of Himachal Pradesh Cricket Association (HPCA) and coach of Punjab Cricket Association (PCA) and also assistant coach with Kings XI Punjab, so he has enough coaching experience behind him. Apart from that he has had a lot of assignments with National Cricket Academy (NCA). So with all his skill sets we thought he will be our first preference," Prasad said.
The BCCI, however, still have the task of figuring out if all the candidates that have been selected are free of 'conflict of interest'. Rathour's brother-in-law Aashish Kapoor is the India junior team's national selector but BCCI CEO Rahul Johri felt there was no 'conflict' in this case.
"During the interview process we asked every candidate about the conflict of interest. Since all of them agreed there was no conflict we went ahead with the interviews," Prasad said.
On Rathour's potential conflict, Johri said, "This was discussed at a COA meeting as well. His brother-in-law is a junior team selector and this is a position with senior team. So this would not fall under conflict of interest.
"We will inform all the candidates now and ask them if they hold any other position at the moment which could be in conflict. Once they confirm that we'll complete the rest of the formalities to ensure they are available at the earliest. New staff will be available before the start of the new home season in October."