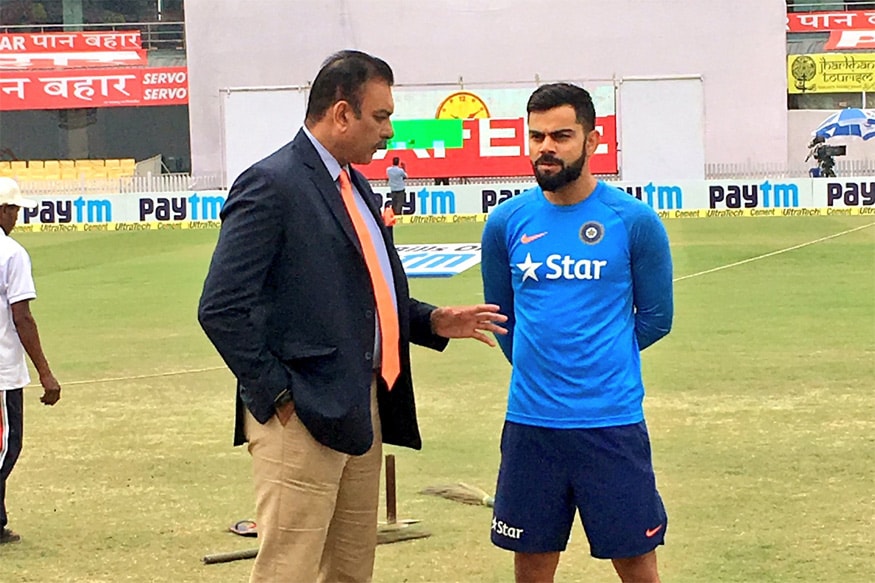 India coach Ravi Shastri has had a rather smooth ride till now with the Indian team totally dominant in the home run. Ever since taking over from Anil Kumble after the Champions Trophy, the Indian team has registered convincing wins over all the opponents it has faced.
But tougher challenges await Shastri and the team next year, starting in South Africa, with the team also set to travel to England and Australia later in the year. With the team currently taking on Sri Lanka in the three match ODI series, CNN-News18's Meha Bhardwaj caught up with Shastri before the third ODI in Vishakapatnam.
Q: What is your relationship with Virat? You both come across as strong-willed, emotional and slightly bad losers? What is the equation between the two of you?
Equation is great. We are similar personalities like you mentioned. There is an element of trust in our relationship. We are both strong minded and both play to win at all costs. We play to win. We don't go there to do time-pass. This is not a team that is out there to fill up the numbers. We want to compete. We want to take the game forward. He is pretty similar in his mindset when it comes to that and he is in your face kind of character. With Virat Kohli what you see is what you get.
Q: That's true for you as well?
Exactly so there is no hiding behind the curtain. He knows if he asks me a question, He will get the answer. There is no beating around the bush
Q: But when you have two strong minded individuals there is bound to be discord. How do you handle disagreements?
It's a dialogue. See at that end of the day the captain is the boss. He might ask me for my suggestions. It doesn't mean he has to agree with my suggestion. Because what I am looking for is for him to have his own mind as well and take the decision. We are there in the support staff to give suggestion which might help so there is a dialogue. I might believe in a certain combination.
Q: What was the last time that you believed in a certain combination and he didn't? What was that?
The last time I don't know but I was not on the field, I was in the commentary box where if I had met him I would have told him "Why did you field against Pakistan in the Champions Trophy final? You should have batted".
Q: Did you get to tell him that?
Not then but later on obviously there was a discussion because you know in big games you want to put the runs on the board but he likes chasing and they were doing well so you can't fault him that but like you said there would have been a dialogue. He would have said fielding, I would have said batting. Then he has to take the decision because he is the boss.
Q: I have to ask you about the newly married Indian Skipper. Tell us honestly at what point did you know of the wedding and have you had the chance to talk to him?
About ten days ago. I have sent him a message so we will catch up when he is back
Q: So you haven't had to chance to talk to him?
No, I haven't. I have messaged him a couple of times to congratulate him and Anushka. I mean they have been going around for a while so ya very happy for him.
Q: What has that been like though because these are under so much public scrutiny and then to have someone from the Indian film industry dating a cricketer?
It's been hectic but he is used to it. He has performed, he has captured the imagination of anyone and everyone who watches cricket not just in India but internationally and Anushka in her own right has been very successful in what she does so you know there is going to be paparazzi wherever they go. Now it's all settled so good for them. Let them enjoy their life.