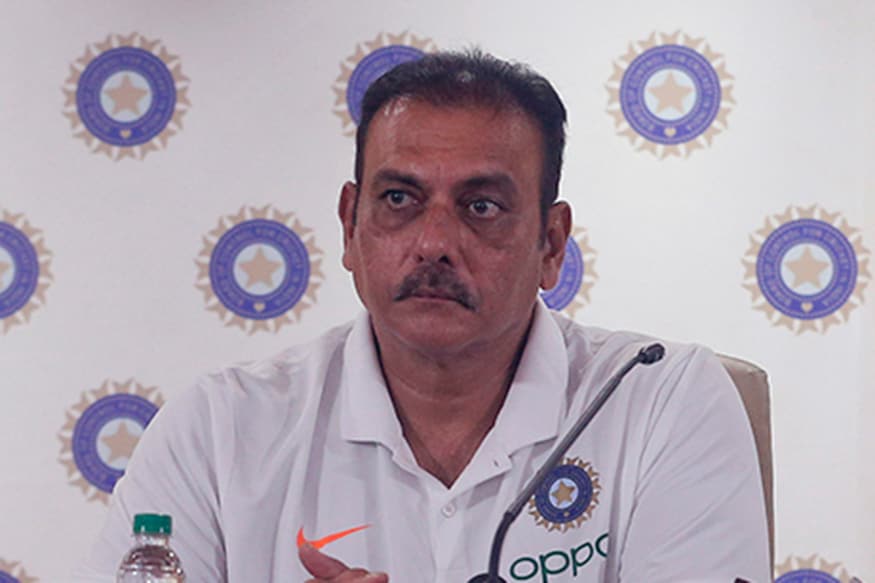 With the Board of Control for Cricket in India's (BCCI) deadline to apply for the posts of the Indian men's team head coach and support staff coming to a close earlier this week, it appears increasingly unlikely that Ravi Shastri will be unseated from his position. Although there are some pedigreed names among the applicants for the job including former Australian all-rounder Tom Moody, former New Zealand coach Mike Hesson, former India team manager Lalchand Rajput and former India fielding coach Robin Singh, Shastri is believed to be the clear frontrunner to stay put.
The three-member Cricket Advisory Committee (CAC) of Kapil Dev, Anshuman Gaekwad and Shantha Rangaswamy will be interviewing candidates on August 13 or 14 and Shastri, along with batting coach Sanjay Bangar, bowling coach Bharat Arun and fielding coach R Sridhar, has automatic entry into this selection process. The fate of support staff will be decided by the senior men's selection committee led by chairman MSK Prasad.
"Moody also applied to be the head coach in 2017 and the CAC back then didn't pick him and opted for Shastri," a senior BCCI official informed CricketNext. "Apart from him, the only one with top quality international experience is Hesson. The CAC consists of experienced cricketers and they will take a well-rounded call. But with BCCI elections set to take place on October 22, it will be interesting if the decision to hire a new coach or give Shastri an extension will stand after the board's AGM with new members,"
While Moody has experience of coaching Sri Lanka as well as Sunrisers Hyderabad to the IPL title, Hesson was instrumental in turning the fortunes of Black Caps around during his six-year stint with the side which included leading them into their first World Cup final in 2015.
Rajput has been coaching around the world in Afghanistan and Zimbabwe but these are far from being top Test-playing nations while Robin Singh has only had stints with T20 franchises like Mumbai Indians and Barbados Tridents since his two-year stint with India as the fielding coach ended over a decade ago.
Under Shastri's two stints, India has won over 70 per cent of their international matches including two Asia Cup titles and a historic away Test series win over Australia earlier this year. Virat Kohli's side are No.1 in the Test rankings and No. 2 in ODI rankings behind world champions England. On the flip side, the team lost overseas Test series against South Africa and England and couldn't get past the semi-finals at the 2015 and 2019 World Cups. However, despite these setbacks, Shastri has the unstinted support of Kohli, who backed him to remain in the job at the team's pre-departure press conference in Mumbai.
"If the CAC wants my advice or opinion, I'll speak to them. With Ravi Bhai, we share a great camaraderie and have mutual respect," Kohli said. "We will be very happy if he continues since we have done well under him. But I haven't been contacted by the CAC, I don't know what is going to happen in the process. That's where it stands."
Shastri even got a thumbs-up from CAC member and former India coach Gaekwad, adding further weight to his claim to remain in the job.
"Speaking purely from the results perspective, he (Shastri) has done quite well. So, besides Ravi, all other positions (in the coaching and support staff) in my opinion are open depending on who is applying, their credentials and whether they meet the criteria of the BCCI," Gaekwad had told Mid-Day.
The board now has to sort through over 2,000 applications for the roles of head coach, batting coach, bowling coach, fielding coach and administrative manager. Among the support staff, Arun will face competition from the likes of former India bowling coach Venkatesh Prasad and Rajasthan Royals assistant coach Steffan Jones, while Sridhar will be up against South African legend Jonty Rhodes for fielding coach.
Even as the process is set to begin, murmurs continue within board officials about whether it is entirely in keeping with the new BCCI constitution.
"The constitution states that CEO Rahul Johri has to approve the support staff but the CoA in guidance with their legal team have interpreted this as the CEO being merely signatory authority. The selectors have the power to pick the support staff of the junior teams but the CoA have applied that same rule to the men's senior team as well.
"While the CAC is supposed to a permanent body but the CoA have appointed one just for the purpose of selecting the head coach before the BCCI elections. All of these decisions might well be challenged once the new BCCI Apex Council is formed," an official told CricketNext.
Rangaswamy sends 'no conflict' declaration
Meanwhile, CEO Johri had asked all members of the CAC to send a declaration that they have no 'conflict of interest' in taking up this position. CricketNext has learnt that former India women's cricketer Rangaswamy has sent this declaration to the board.
"It is a massive honour for women's cricket to be allowed the opportunity to be part of the CAC to select the men's head coach. It is above any honourary director position that I hold with Indian Cricketers Association (ICA). If needed I'll step down from the ICA post if the board finds me conflicted in any way," Rangaswamy told CricketNext.
The other two members of the CAC also have to submit similar declaration before the process of selecting the men's coach can formally get underway.