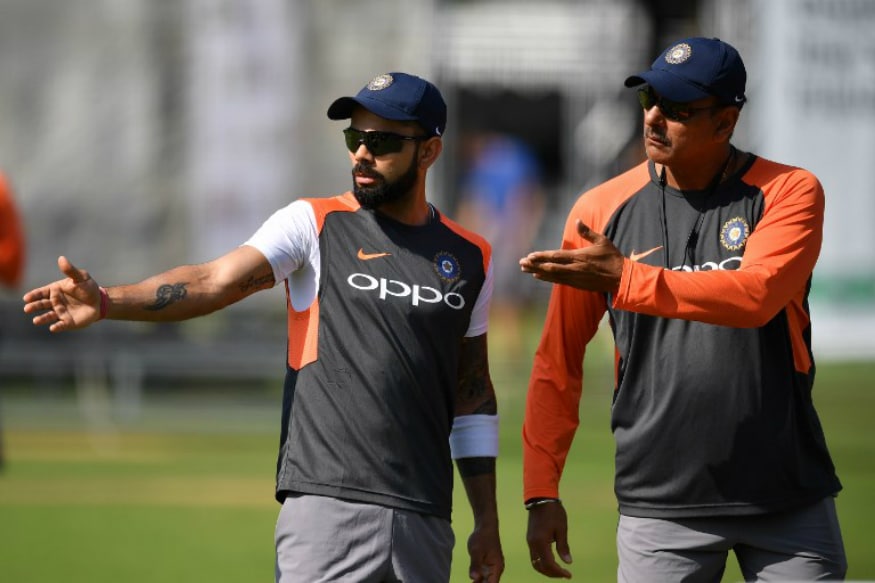 India coach Ravi Shastri will remain in charge of the team, at least till 2021, after the three-member Cricket Advisory Committee (CAC) picked him to continue in his job after day-long interviews in Mumbai on Friday (August 16).
Shastri managed to pip Australian Tom Moody and Mike Hesson of New Zealand by a very close margin, as announced by CAC member and former India captain Kapil Dev.
Kapil said that the top three finishers were Shastri at No. 1, Hesson at No. 2 and Moody at No. 3. "We had a marking system and all three of us were unanimous in our decision with marks that these were the results," Kapil told the media after the day-long coach interviews.
"Shastri's term will be till 2021. We didn't take any inputs from skipper Virat Kohli, if we did that then we would have taken inputs from the entire Indian team," the former India captain announced.
Apart from Dev, the other two members of the CAC were former India cricketers Anshuman Gaekwad and Shantha Rangaswamy.
"We were really surprised by how close the margins were between the three candidates, the differences were very small numbers which amazed all of us. There are four or five parameters and out of a total of 100 we marked the candidates. Coaching philosophy, experience, achievements, communication skills and knowledge of modern coaching tools were among the main parameters," Kapil informed about the selection process of the CAC.
While Shastri has been in charge of the Indian team since 2017, this will be his four stint with Team India after a couple of associations in the past as the Team director.
For Moody, who has been former Sri Lankan coach as well as coached Sunrisers Hyderabad successfully, this was second time unlucky after falling short in 2017 as well. Hesson, who flew down to Mumbai to give his presentation, finished a close second to Shastri.
However, Shastri's current association with the Indian team ultimately went in his favour. "Being the current coach, knowing the boys well and they problems well, knowing what needs to be done. He (Shastri) is well versed with the entire system, while the others are not and they probably would have had to start from scratch. So we were trying to figure out how it would be if any of the other candidates were to be appointed. So all of that gave Shastri the advantage," Gaekwad, also a former India head coach, said.
In his current stint, India played 21 Tests (including three away tours to England, South Africa and Australia) and won 13 of them under Shastri. In ODIs, India have won 43 out of 60 while in T20s the record is 25 out of 37 during this period.
While Indian skipper Virat Kohli had backed incumbent Shastri before the team left for the West Indies, CAC member made it clear that the opinion of the captain or any other team member was not sought before finalising the head coach.
"We did not speak to Virat Kohli and we did not have the chance either. If we had asked him, we would have asked the whole team," Kapil informed.
Apart from these three, former India fielding coach and all-rounder Robin Singh and former India team manager Lalchand Rajput also appeared for their interviews earlier in the day. West Indies' Phil Simmons was the sixth shortlisted candidate but didn't appear for the interview, pulling out of the race on the day of the interview.
"I don't think there was anything different in the process that selected WV Raman. We followed the same process what we followed then, there is total transparency in this process," Gaekwad, who was also part of the same panel which picked the senior women's team head coach earlier this year, said.
When asked if Shastri's failure to win an ICC Trophy or an away series apart from Australia should be held against him, Kapil said, "We weren't looking at their achievements or lack of in the recent past - that is up to the BCCI. We went as per the presentation given to us."
"Ravi Shastri in his presentation revealed what he did in the last two years, what help he needs in making the team better and how he will improve in the subsequent period," he added.
CAC's third member Rangaswamy added that all the short-listed candidates had charted out their own vision of taking Indian cricket forward.
"All of them spoke about the way forward and we compared it with past performances and that's how we picked on Ravi," Rangaswamy said.