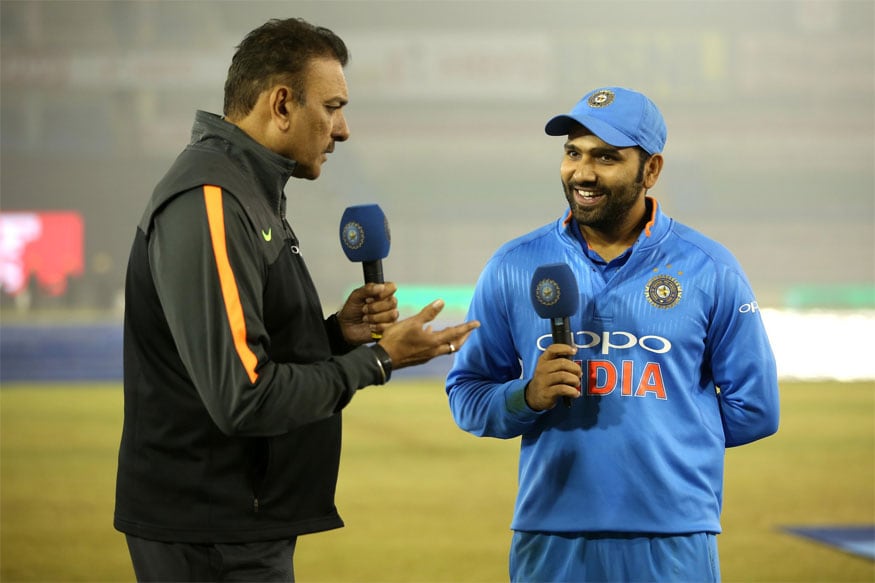 Team India coach Ravi Shastri donned the presenter's hat once again as he interviewed Mohali's double century hero Rohit Sharma about his match winning knock. Shastri was his usual self, as he went about asking Rohit Sharma the finer details of his mammoth knock of 208* against Sri Lanka in the second one-day international.
Shastri started by asking Rohit to choose a favourite out of the three double hundreds he has scored in ODIs so far but even he couldn't get an answer out of Rohit, who said that all three of them came in crucial junctures.
"It is difficult to pick one favourite as all three double hundreds have come in crucial junctures. The one against Australia was a series decider while the 264 against Sri Lanka was after a three-month long lay-off, I had a finger injury and I was nervous whether I will be able to score runs again or not."
"After the defeat in Dharamsala, we wanted to come back strongly as a batting unit. Throughout the innings I kept telling myself that I will not give my wicket away and I wanted them to get me out. I wanted to bat long and I knew the wicket was good and the outfield was fast. Just wanted to be in the right shape and hit it through the line." the stand-in Indian captain said.
When praised and asked by Shastri about his shot selection, the Indian opener said that he and his opening partner Shikhar Dhawan had a plan in mind and played accordingly.
"We spoke about shot selection as a batting unit before the start of the series. Shikhar and I knew that we needed to bat out the initial overs and after that batting would become easier and that is what exactly happened. I just did my routine and both of us kept rotating the strike and we never allowed a bowler to bowl six deliveries at the same batsman," Rohit said.
The Indian team coach also praised Rohit for becoming 'stronger' as he felt the batsman was clearing boundary with ease. To that Rohit responded by saying that it was more about timing the ball well rather than strength in his case.
"Thanks to our trainer Basu, he has worked a lot on us. My strength is timing, I don't have the power of a Dhoni or Gayle and that's why I rely a lot on timing the ball well to hit the big shots."
Shastri ended the interview in his famous style by christening the Indian opener as Rohit 'Paisa Vasool' Sharma.