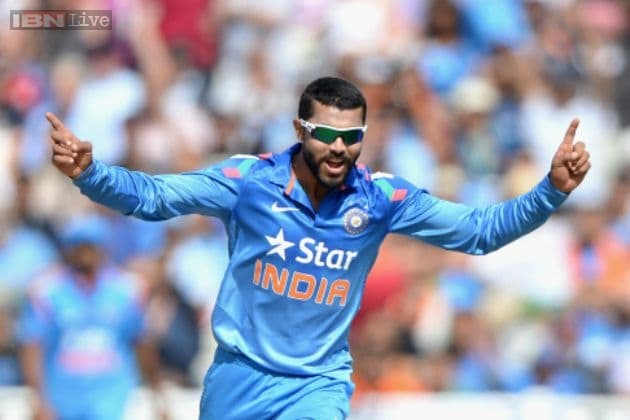 On India's last three engagements, incidentally all overseas, Ravindra Jadeja didn't find his name on the selectors' wish-list. Zimbabwe, then Bangladesh and lastly Sri Lanka - on all three tours Jadeja was given the boot and Harbhajan Singh thrown the long rope. But hope has returned for the left-armer.
BCCI has named Jadeja in the three-day fixture against the visiting Bangladesh A, which should reassure the Saurashtra allrounder that he's still very much on the selectors' drawing board.
Jadeja's containing job with the ball in hand ran out of time as the wickets column remained dry for most part across formats, and his promise with the bat as India's No. 7 also remained unfulfilled, often falling flat when needed the most.
His economy rate of 2.39 (Tests), 4.85 (ODIS) and 7.27 (T20s) will assure any captain that he has a man to keep a check on the flow on runs. But with a bowling average above 30 in all formats, wickets from Jadeja come too late for a captain's liking.
203 wickets in 155 international appearances is nothing great as a stat; and when his batting too went off the boil, especially in Tests with an average of just 21.41, the selectors were forced to look for options. It was highlighted even more considering Ravichandran Ashwin contributed better than Jadeja in the longer format at 32.44.
That's when selectors turned away from Jadeja; and while Axar Patel showed continued improvement in limited-overs format, he rightly wasn't considered ripe enough for the rigors of Test cricket. And when Pragyan Ojha too was overlooked, Harbhajan Singh got the lifeline he so desperately sought.
But from Zimbabwe to Sri Lanka, Harbhajan appeared nothing more than a wholehearted trier, well past his prime. India's all plans, including playing three spinners in the Test eleven in Sri Lanka, remained futile. Then, Stuart Binny was called in the eleventh hour to address two issues: one, add variety to the bowling and, two, address the No. 7 problem.
What the team management's hit-and-try with Harbhajan also highlighted is that Virat Kohli and Ravi Shastri are keen to play three spinners, especially considering the vulnerability of their next opponents against the turning ball - the South Africans.
With due respect to the Sri Lankans, the Proteas will present challenge of an entirely different calibre, testing India on every front. And Kohli's five-bowler theory in all likelihood has three spinners in it.
Considering that's the case, with Ashwin providing the off-spin option and Amit Mishra leg-spin, a left-arm spinner will be ideal to India's plans. Better still, if he can bat at No. 7 as well. No one but only Jadeja fits that bill.
Jadeja has been in the role previously, recognises its demands and should by now have figured out why he didn't click their consistently. That's probably why selectors want to see him against Bangladesh A.
And it should gladden Jadeja no end, for it signifies that he is very much still part of the core group; and at 26, having played 12 Tests, Sir should only improve.